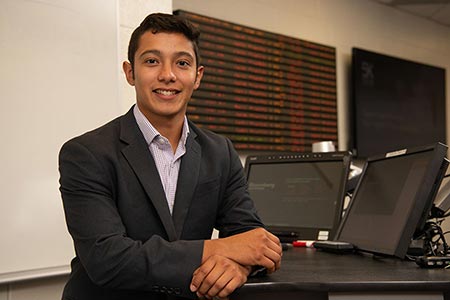 To say that Rudy Martinez's experiences as a St. Mary's Rattler were transformational would be an understatement. Martinez, who graduated in May of 2020, had four paid internships, volunteered extensively in the community, was a well-known leader on campus, and is ideally positioned to make a difference in the world as a high-integrity business leader.
Martinez's experience is a great example of the internships and professional development opportunities available to students in the Greehey School of Business at St. Mary's. His first exposure to the exciting world of financial services was with JPMorgan Chase & Co.'s Freshman Experience. He was selected from thousands of applicants to take an all-expense paid trip to the company's New York global headquarters to meet with senior executives and recruiters looking to develop the next generation of leaders.
During his sophomore year, Martinez was admitted to the SEO-Edge program in New York, which gave him more than 50 hours of individualized coaching to help him develop as a business professional, hone his technical skills and broaden his understanding and professional network in finance.
His internships are equally impressive. He interned as a risk analyst with Catto & Catto, where he developed decision-making models to reduce risk, as well as with Fortune 500 financial services giant USAA, where he automated forecasting techniques and prepared reports for senior management. And, he twice had internships with global technology leader Rackspace, where he served as a financial systems intern, working on a variety of mission-critical finance and accounting projects.
Travel is a big part of the Greehey School student experience. In his time at the Greehey School, Martinez traveled to Chicago, Boston, New York City, Los Angeles, Orlando, Tampa, Montreal, Tucson and Kansas City to compete in case competitions, visit corporate headquarters and attend conferences.
Says Martinez of his time as a student at St. Mary's, "It was a phenomenal experience. When I got to St. Mary's, I really had no idea what to expect. It was so easy to make friends and get involved at St. Mary's."
With the small classes, lots of student organizations to get involved with, and professors who are truly committed to my future, St. Mary's made it easy to stand out, both on campus and in the competitive race for internships.
In his spare time, Martinez enjoys running, Brazilian Jiu Jitsu, and competing in Olympic-style weightlifting.
After graduation, he joined USAA as a capital markets analyst, putting his education to work immediately for one of the world's largest financial institutions.