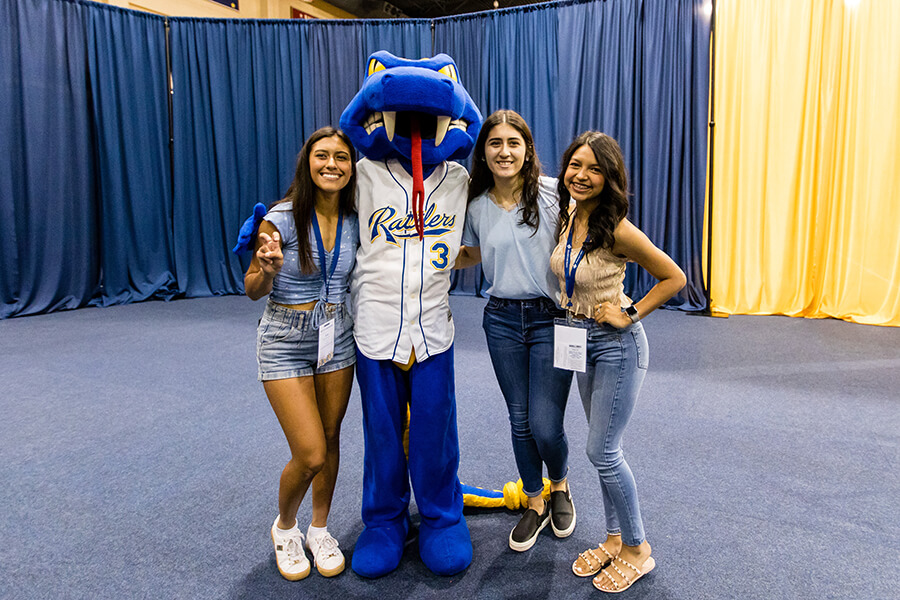 Congratulations on joining the St. Mary's University family! We are excited you are St. Mary's bound. Whether you are coming to St. Mary's as a first-year student or a transfer student, Rattler Orientation will help you with your transition to St. Mary's University.
Rattler Orientation Dates

Thursday, August 15, 2024

Looking for Graduate Student Orientation?

Graduate students in the Greehey School of Business, School of Science, Engineering and Technology, and College of Arts, Humanities and Social Sciences must complete an online orientation course before classes begin. Refer to the Graduate Student Orientation page for more information.
1. Complete your Enrollment Confirmation Process
Before you can register for Rattler Orientation, be sure you have completed your Enrollment Confirmation Process and paid your $200 non-refundable enrollment deposit. It can take up to two business days for your deposit to be processed and Rattler Orientation to become available to you.
If you have not completed this step, visit the Rattler Roadmap for instructions on how to do so. The Rattler Roadmap also has more steps to complete after you've registered for Rattler Orientation, so don't forget to return to finish getting Rattler 1st Day Ready!
2. Register for Rattler Orientation
All new freshmen and transfers are required to attend Rattler Orientation prior to the beginning at St. Mary's for the fall or spring semester. Space at each session may be limited and is available on a first-come, first served basis. We highly recommend registering as soon as possible to ensure your session best fits with your personal schedule.
Two guests are welcome to attend orientation with their students, but please note the students do separate from the guests during the program. There will be parent-centered activities to participate in as well.
3. Review the schedule for Rattler Orientation
Spring 2024 schedule coming soon! Schedule is subject to change.
4. Prepare to travel for Rattler Orientation
We are excited to welcome you and your family to campus. Check out the link below for a campus map, area accommodations and travel information.
Directions to AA&CC at St. Mary's University (on the campus of St. Mary's University, located at One Camino Santa Maria, San Antonio, TX 78228):

From I-35:
1. Merge onto I-10 W/US-87 N via EXIT 156 toward El Paso (0.7 miles)
2. Keep right to take I-10 W toward El Paso/Culebra Ave/Bandera (0.7 miles)
3. Take EXIT 568B toward Culebra Ave/Bandera (0.2 miles)
4. Turn left onto Culebra Rd (1.6 miles)
5. Stay left to stay on Culebra Rd as the road forks with Bandera Rd (1.7 miles)
6. Turn right onto Rattler Drive at the Culebra entrance to campus (0.15 miles)
7. Stop at the stop sign and turn right and then a quick left to enter parking Lot T.
8. The Alumni Athletics & Convocation Center (AA&CC) is adjacent to parking Lot T on the right-hand side.

From I-10 East:
1. Head west on I-10
2. Keep left to take I-35 N/I-10 W/US-87 N (1.3 miles)
3. Merge onto I-10 W/US-87 N via EXIT 156 toward El Paso (0.7 miles)
4. Keep right to take I-10 W toward El Paso/Culebra Ave/Bandera (0.7 miles)
5. Take EXIT 568B toward Culebra Ave/Bandera (0.2 miles)
6. Turn left onto Culebra Rd (1.6 miles)
7. Stay left to stay on Culebra Rd as road forks with Bandera Rd (1.7 miles)
6. Turn right onto Rattler Drive at the Culebra entrance to campus (0.15 miles)
7. Stop at the stop sign and turn right and then a quick left to enter parking Lot T.
8. The Alumni Athletics & Convocation Center (AA&CC) is adjacent to parking Lot T on the right-hand side.

From I-10 West:
1. Head east on I-10
2. Take EXIT 568 toward TX-421-SPUR/Culebra Ave/Bandera (0.2 miles)
3. Take the first right onto Culebra Rd (1.5 miles)
4. Stay left to stay on Culebra Rd as road forks with Bandera Rd (1.7 miles)
6. Turn right onto Rattler Drive at the Culebra entrance to campus (0.15 miles)
7. Stop at the stop sign and turn right and then a quick left to enter parking Lot T.
8. The Alumni Athletics & Convocation Center (AA&CC) is adjacent to parking Lot T on the right-hand side.

Driving directions to St. Mary's