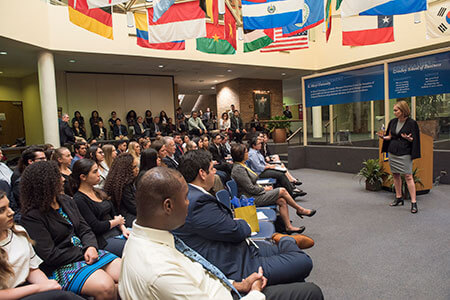 Business Week is an excellent forum for students to connect with and learn from top business and civic leaders.
The success of Business Week depends on our outstanding community and business support.
2021 Business Week Sponsors
Title Sponsor
Chevron Corp.
La Quinta Inn and Suites
Gold
NuStar Energy
Holt CAT
AT&T
Silver
AAA Auger Plumbing
Argent Trust
RSM US
Wells Fargo
Table
Tom G. Consulting Group, LLC.
iHeartMedia, Inc.
Sponsorship Opportunities
Summa Cum Laude Sponsor – $3,500

Invitation for two to attend the LaQuinta VIP Networking Reception
An invitation to attend a Forum on Entrepreneurship Breakfast Series event
Invitation for two and recognition of your contribution by the dean during her address at the Business Week Awards Recognition Celebration
Invitation for two to the Business Week MBA Reception
Acknowledgment of your company's support and listing of company name and logo on the Business Week home webpage, and a link to the page within the school's email newsletter, with recognition as a Summa Cum Laude sponsor
A listing of your company name and logo on all Business School video monitors, event publications, signage, promotional materials and event programs
Corporate logo included in the Business Week promotional video  
A mention on Greehey School of Business social media outlets
Invitation for two to attend the LaQuinta VIP Networking Reception
Invitation for two and recognition of your contribution by the dean during her address at the Business Week Awards Recognition Celebration
Invitation for two to the Business Week MBA Reception
Acknowledgment of your company's support and listing of company name and logo on the Business Week home webpage, and a link to the page within the school's email newsletter, with recognition as a Magna Cum Laude sponsor
A listing of your company name and logo on all Business School video monitors, event publications, signage, promotional materials and event programs
Corporate logo included in Business Week promotional video
A mention on Greehey School of Business social media outlets
Invitation for two to attend the LaQuinta VIP Networking Reception
Invitation for two and recognition of your contribution by the dean during her address at the Business Week Awards Recognition Celebration
Acknowledgment of your company's support and listing of company name and logo on the Business Week home webpage, and a link to the page within the school's email newsletter, with recognition as a Honor Roll sponsor
A listing of your company name and logo on all Business School video monitors, event publications, signage, promotional materials and event programs
Corporate logo included in the Business Week promotional video
A mention on Greehey School of Business social media outlets
Invitation for two to attend the LaQuinta VIP Networking Reception
Recognition of your contribution by the dean during her address at the Business Week Awards Recognition Celebration
Acknowledgment of your company's support and listing of company name and logo on the Business Week home webpage, and a link to the page within the school's email newsletter, with recognition as a Dean's List sponsor
A listing of your company name and logo on all Business School video monitors, event publications, signage, promotional materials and event programs
A mention on Greehey School of Business social media outlets