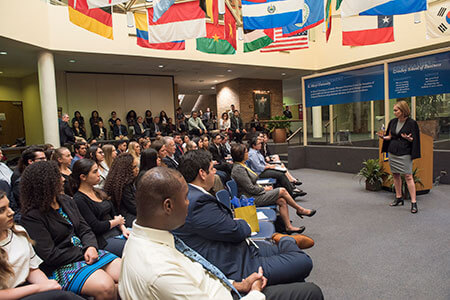 Business Week is an excellent forum for students to connect with and learn from top business and civic leaders.
While traditionally Business Week has been an in-person event, this year we are going virtual to accommodate the health and safety measures needed to keep our community safe from COVID-19.
2020 Business Week Sponsors
Title Sponsor
Chevron Corp.
Title Sponsor
La Quinta Inn and Suites
Silver
Frost Investment Advisors, LLC
RSM US
HOLT CAT San Antonio
Tom and Yvonne Grothues
Event
AAA Auger Plumbing
Bjorn's Audio Video
Union Pacific
Sponsorship Opportunities
Platinum Sponsor – $3,500

An invitation to the virtual Business Week Awards Ceremony for eight guests and two students
An invitation to attend a Forum on Entrepreneurship Series event
Recognition of your support during the dean's address at the Awards Ceremony
Acknowledgement of your support and listing of company name and logo on the Business Week web page, and a link to the page within the school's email newsletter
A listing of your company name and logo on all Business School television monitors, event publications, signage, promotional materials and webinar sponsor slides
Option to participate in the Business Week Virtual Career Fair*
A mention on Greehey School of Business social media outlets
An invitation to the virtual Business Week Awards Ceremony for six guests and four students
Recognition of your support during the dean's address at the Awards Ceremony
Acknowledgement of your support and listing of company name and logo on the Business Week web page, and a link to the page within the school's email newsletter
A listing of your company name and logo on all Business School television monitors, event publications, signage, promotional materials and webinar sponsor slides
Option to participate in the Business Week Virtual Career Fair*
A mention on Greehey School of Business social media outlets
An invitation to the virtual Business Week Awards Ceremony for four guests and six students
Recognition of your support during the dean's address at the Awards Ceremony
Acknowledgement of your support and listing of company name and logo on the Business Week web page, and a link to the page within the school's email newsletter
A listing of your company name and logo on all Business School television monitors, event publications, signage, promotional materials and webinar sponsor slides
Option to participate in the Business Week Virtual Career Fair*
A mention on Greehey School of Business social media outlets
An invitation to the virtual Business Week Awards Ceremony for four guests
and six students
Recognition of your support during the dean's address at the Awards Ceremony
Acknowledgement of your support and listing of company name and logo on the
Business Week web page, and a link to the page within the school's email newsletter
A listing of your company name and logo on all Business School television monitors,
event publications, signage, promotional materials and webinar sponsor slides
A mention on Greehey School of Business social media outlets