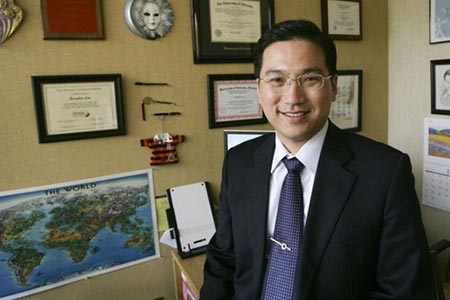 St. Mary's University business Professor Seongbae Lim, Ph.D., lives and breathes innovation and ethics. That's why the title of his new book is Living Innovation: From Value Creation to the Greater Good!
Lim, who is a professor of Finance and Quantitative Management in the Greehey School of Business, as well as Professor of Information Systems, published the book in 2018 and traveled around the globe giving speeches about how organizations can use innovation to build a better world. In fact, his work made such an impact he was invited to speak at the United Nations!
He has also written books on technology and innovation, including Meta Innovation, published in 2006, and Blockchain for Smart Governance, published in 2018.
An internationally-recognized authority on innovation strategy, Lim has given more than 200 special lectures and keynote addresses across the globe, including in Spain, Japan, China, South Africa and others.
Originally from South Korea, Lim came to the United States in 1999 to complete his Ph.D. in Management Information Systems at the University of Nebraska. He recently developed a new course for students in the Greehey School dealing with blockchain and financial technologies, a first among universities in Texas.
While Lim is clearly an expert in innovation strategy, what he loves most about his work is sharing his insights with students to help them become highly skilled and responsible business leaders.
"I love working with the students here at St. Mary's," Lim said.
Our business students are so interested in innovation and technology, and their enthusiasm about the topic pushes me to always learn more so I can make a difference in their lives.
Lim is a great example of how Greehey School of Business faculty combine leading-edge research with a focus on student success to create graduates who are both successful and committed to the greater good.