The Greehey School of Business offers innovative programs designed to prepare students for real-world leadership and lifelong achievement, as well as for today's ever evolving global and technological business environment.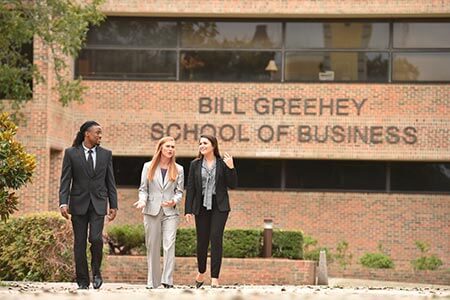 If you want to study abroad, participate in student competitions, attend leadership development programs and grow as a business professional, the Dean's Scholars Program has you covered. Dean's Scholars receive significant funding for these exciting opportunities.
Plus, they grow their leadership skills and professional networks by working closely with the Dean and our Advisory Council of Executives.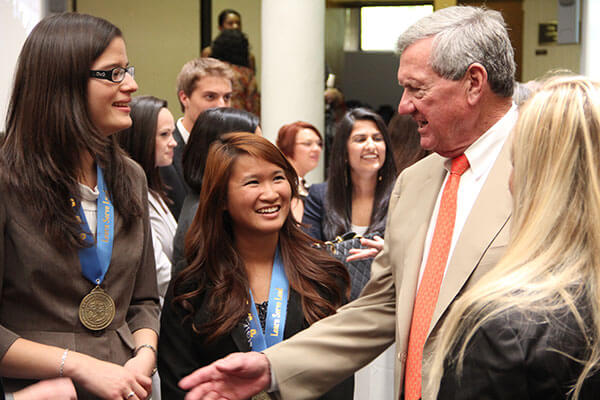 Become the leader you have always wanted to be by becoming a Greehey Scholar. This renewable, four-year scholarship and leadership development program will give you the opportunity to visit companies around the U.S., study abroad and intern at America's most prestigious corporations.
The Greehey Scholars Program covers your tuition.
The Greehey School of Business has established several centers that advance its mission to provide excellent business education grounded in faith, values and service. These endeavors are part of a continued effort to transform the lives of our students and empower them to change the world for the better.
Center for Global Business Studies
The Center for Global Business Studies is focused on developing international business knowledge and skills, cultural and linguistic proficiency, and high impact, experiential learning opportunities for students and faculty in the Greehey School of Business as well as for regional business leaders.
The Harvey Najim Center for Business Innovation and Social Responsibility is a partnership between the Greehey School of Business, the College of Arts, Humanities and Social Sciences, the School of Science, Engineering and Technology, and the School of Law, created by a gift from Harvey Najim.
Meadows Center for Entrepreneurial Studies
Brother Paul Goelz, S.M., Ph.D., followed his passion for education and entrepreneurship by devoting his life to teaching free enterprise at St. Mary's University and helping entrepreneurs succeed. He established the Algur H. Meadows Center for Entrepreneurial Studies in 1981 with a grant he obtained from the Meadows Foundation of Dallas, which later was supplemented by a gift from the Gulf Oil Foundation. The academic programs in entrepreneurship focus on the career preparation of students who plan to initiate and operate their own businesses rather than enter the corporate world of large companies in a line or staff position.