The Greehey School of Business at St. Mary's University is among the best business schools in the world. Our AACSB-International accreditation — the most prestigious accreditation a business school can achieve — places us in the top 7% of business schools worldwide. Because of this, you can have 100% confidence that your professors at the Greehey School will be outstanding.
That's why more than 90% of our students would enthusiastically recommend us to a friend or family member.
That's also one of the many reasons why U.S. News & World Report ranked St. Mary's #2 in the West for Best Value out of 140 universities! Their ranking takes into account academic quality and the net cost of attendance. Their numbers tell the story — St. Mary's gives you an outstanding education at a great price.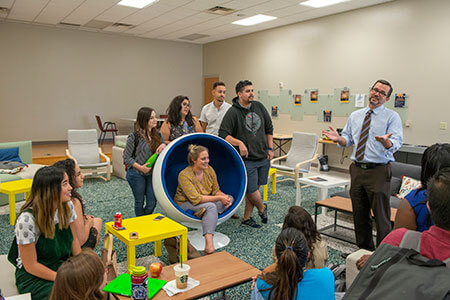 When you study business at St. Mary's, you'll be taught and mentored by experienced professors who are internationally-recognized experts in their fields. Because of our AACSB accreditation and our deep commitment to our students' success, our professors are held to the very highest standards of excellence.
And, they'll bring all of their knowledge and experience into your classes at a university with a student-to-faculty ratio of only 11-to-1.
Your professors will know you by name. They'll share in the joy of your successes, and they'll support you through the challenges you're facing. They'll work hard to find job and internship opportunities for you. They'll write letters of recommendation for you and help you find scholarships. They'll travel the world with you to attend conferences and competitions, to visit corporate headquarters, and to serve the less fortunate.
And, once you graduate, they'll be your mentors for years to come — to help you get into a top graduate school, to help you make a tough business decision, to help you through career transitions, and so much more.
Our professors have exactly what students like you are looking for — a laser-like focus on your success as a student and alumnus.
You have our word on that.
A St. Mary's business degree is powerful
We see the power of a St. Mary's degree when one of our alumni becomes the CEO of a major corporation like USAA, Valero or CPS Energy. We see it when a graduate wins an award for community service. We see it when our alumni call to thank our professors for writing the recommendation letters that got them into graduate school at a top university.
A St. Mary's degree is an incredible value
Compare our faculty's expertise, our small class sizes, our AACSB accreditation, and our total focus on student success with other business schools you're considering. Then, be sure to compare the out-of-pocket, after-scholarship cost of your business degree at St. Mary's with the other schools on your short list.  You'll see quickly why so many students apply for admission to the Greehey School of Business each year. 
Great professors. Small classes. Unparalleled opportunities for growth and development. A focus on faith, values, and service. A business school dedicated to transforming lives and building a better world. That's the Greehey School of Business at St. Mary's University.