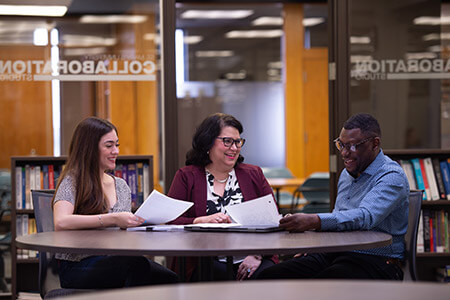 What is the Rattler Success Center?
At St. Mary's University, our goal is for every Rattler to be fully equipped to achieve their academic and personal development potential. It is our mission to build skills that help our students graduate and pursue a meaningful career.
The Rattler Success Center partners with all students to ensure academic excellence and empowerment through proactive professional advising, life skills training and comprehensive academic programming.
Visit with a learning strategist to help strategize your academic success goals. The Rattler Success Center has subject tutoring, writing center, academic peer coaching and mentoring appointments available for students. To schedule an appointment, please visit the RattlerNavigate system. For additional assistance, please email us at rattlersuccesscenter@stmarytx.edu
4,248
Unique Student Appointments
3,610
Tutoring Appointments
397
Writing Center Appointments
241
Peer Coaching Appointments
Rattler Success Center Services
Our academic support team believes a transformative education requires personal development, which includes experiential learning, study abroad opportunities and life skills development. With that in mind, the Center offers a range of programs to support every aspect of our students' academic lives and keep them on course for success.
All freshmen and transfer students are assigned academic advisers who provide individualized support for students as they transition to St. Mary's and offer guidance as they prepare a plan that leads to graduation.

The Rattler Success Center recognizes that students are challenged by juggling college, work and life. Peer coaches can help navigate your way to success.
Our dedicated student tutors are passionate about their chosen field of study and are available to provide help to their fellow students, no matter the subject.

Students in all majors are expected to have a clear grasp of written communication. The Writing Center is here to assist on research papers, essays and all other writing needs.
AMP/TRiO Student Support Services

Funded by the federal TRiO-Student Support Services division of the Department of Education, the goal of AMP (Achieving Maximum Potential) is to provide qualifying St. Mary's University's first-generation college students, low-income students, and students with disabilities the resources needed to earn their degree. All services are free for program participants and include:

Financial aid and financial literacy

College and career readiness

Career exploration and preparation

Post-graduate education exploration and preparation
Reach out to the Rattler Success Center with any questions about our services.