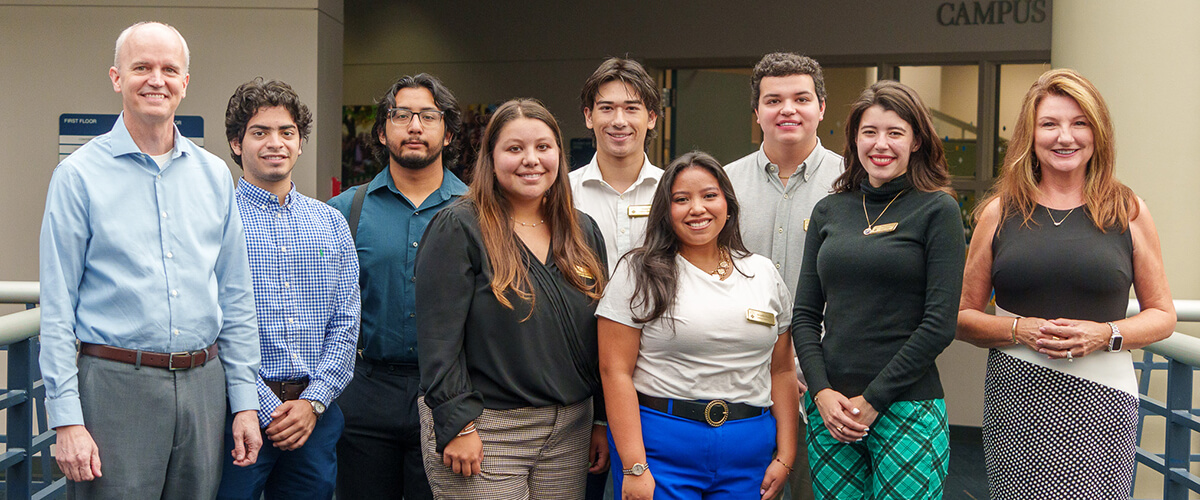 The Contreras Leaders in Risk (CLiR) Program provides unparalleled growth opportunities to students who have shown excellence and leadership in risk management and insurance at St. Mary's University. Freshmen, sophomores and juniors are invited to apply to participate in the program; those who are accepted commit to improving themselves as risk management professionals and in return are provided with numerous opportunities and mentorship to guide their journey.
The program, launched Spring 2022, grants participants a scholarship of $2,000 per semester for up to a maximum of four semesters.
Students can choose to continue participating in the program once the scholarship award has been granted for four semesters. Both CLiR and the Contreras Executive-in-Residence for Risk Management, who guides the program, are funded by a generous gift from distinguished St. Mary's alumni Tom and Leti Contreras.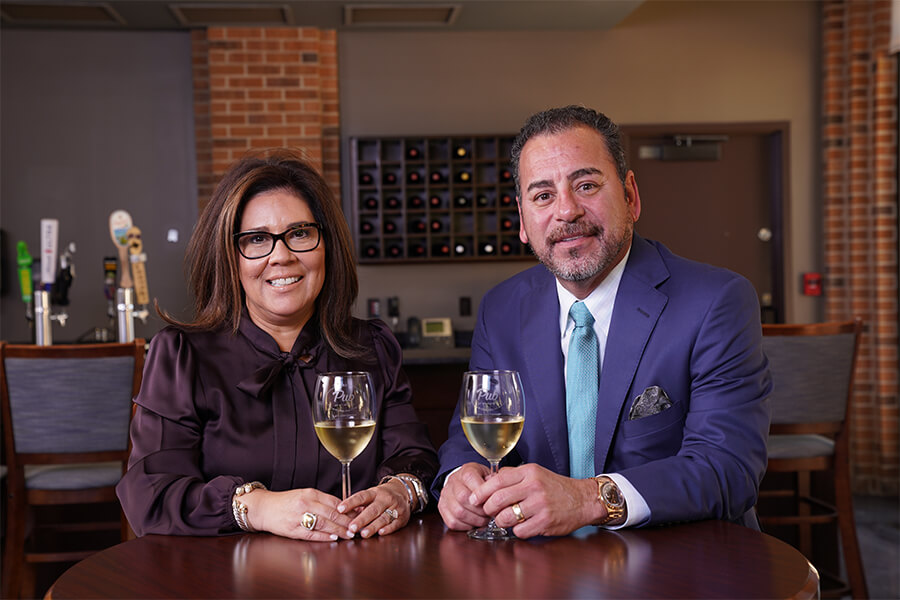 The program seeks to honor the Marianist charism of St. Mary's University, the mission of the Greehey School of Business, and the Contreras family's desire to provide opportunities to the next generation of leaders in the risk and insurance profession.
To grow as risk management and insurance professionals, students commit to:
Take one professional certification exam (e.g., CPCU) during the academic year or participate in at least one national/international RMI-related essay contest during the academic year.

Apply for at least two external RMI scholarships per semester.

Attend at least one local professional association meeting/event per semester.

Attend at least one RMI-related conference per semester, either in-person or virtual, and write a brief reflection on each. (All travel will be funded by the Risk Management Program.)

Have your resume reviewed each semester by a member of the Risk Management Program Advisory Board.

Participate in a mentoring program with an industry professional.

Attend the annual group meeting with Tom and/or Leti Contreras.

Actively seek internships or jobs in the field of risk management and insurance (though this does not preclude participants from exploring opportunities in other fields).
Near the end of each semester of participation, participants are evaluated to determine whether their participation in the program should be renewed for another semester. Renewal depends on meeting the program's activity requirements and demonstrating a continuing commitment to a career in risk management and/or insurance.
CLiR scholarships are limited to a maximum of four semesters, but students may have the option to continue in the program beyond four semesters without the scholarship.
CLiR participants are students who have shown excellence and engagement in risk management. To that end, eligible applicants must:
Be majoring in Finance and Risk Management.

Maintain a minimum 3.0 GPA.

Be at least three semesters from graduation.
Students already on full-tuition scholarships are eligible to participate in CLiR but are ineligible for the CLiR scholarship.
New participants apply near the end of the spring semester. The process includes the submission of a resume, submission of an essay, and interviews for the finalists. Selection criteria include:
The requisite level of professionalism

Demonstrated interest in a career in risk management and insurance

Strong commitment to fulfilling the obligations required of participants