About the School
Since 1923, we have been providing future leaders with an excellent business education grounded in faith, values and service. At the Greehey School of Business, we work hard every day to transform the lives of our students and empower them to change the world for the better. Everything we do ensures our graduates are ethical, highly skilled, professional, globally aware and in-demand by many of the world's most successful companies. Our students confidently walk the stage at Commencement knowing that they are well-educated and prepared for lives filled with meaning and purpose.

Faculty
In the AACSB International-accredited Greehey School of Business, our faculty meet the very highest standards for teaching quality, engagement with students, connectivity with industry and knowledge of their disciplines. Our professors serve on prestigious think-tanks and boards; consult with corporate, non-profit and government leaders; serve as senior leaders of professional associations; publish their research in top journals; deliver keynote addresses and other presentations at leading conferences around the globe; serve as visiting faculty at top international universities; volunteer in the community; and much more.
Apply Now
St. Mary's University is about tradition, values and community. We're a community of scholars coming together to nurture the unique contributions of students, just like you. For us, your success matters.
We are committed to helping you dive deeper into your passions and explore new interests. At St. Mary's, you will develop the skills to lead a productive and successful life. As you explore St. Mary's University, ask yourself, "What will I discover?"
Scholarships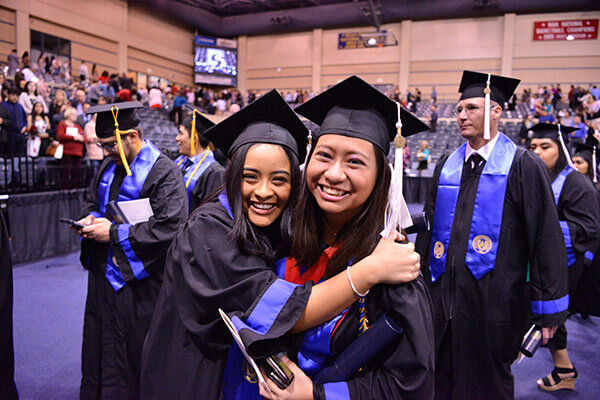 St. Mary's University offers several scholarships and awards to support students with an outstanding academic record and demonstrated financial need.
These scholarships are provided by gracious benefactors who wish to assist deserving students in their journey of achieving a quality education from an institution of higher learning.
St. Mary's strives to make college affordable. Nearly 100% of incoming undergraduate students receive scholarships and/or institutional grants.
Transforming Lives and Building a Better World
A powerful force in the state of Texas that has awarded more than 10,000 degrees, the Greehey School of Business has educated some of the finest business leaders anywhere. As an AACSB International-accredited School of Business, our prestigious accreditation places us in the top 7% of business schools worldwide. We have instilled in our students a sense of integrity and a firmly held belief in the power of business to improve humankind. Our graduates have created billions of dollars in value for our economy, while at the same time being an unstoppable force for good.
Ethics and real-world experiences are at the heart of our approach to business education. Our students travel the globe to serve the underprivileged. They volunteer thousands of hours in our community to help those in need. They manage more than $3.7 million of our endowment in a real trading room, being careful to invest only in ethical companies. They have won many national and international competitions and they engage frequently with exceptional business leaders in their classrooms.
Essential Skills
"The Greehey School of Business presented me with endless opportunities to develop myself academically, personally and professionally. My professors mentored me and helped me to make the most of my education. I gained the knowledge and skills needed to be successful after graduation. Most importantly, I was able to develop into a well-rounded, ethical leader fully prepared to go out and face the challenges of today's evolving business world." — Leanne Fuentes (B.B.A. '16)
Creating Future Leaders
Mission
The Greehey  School provides future leaders with a business education grounded in faith, values, and service within a learning community committed to the Catholic and Marianist ideals of education. We produce graduates who are skilled, ethical, professional, globally aware, committed to responsible business practices, and prepared for careers of meaning and purpose.
Vision
Transforming lives and building a better world through an excellent business education grounded in faith, values and service.
Our Approach to Research
As part of a teaching-focused institution committed to the Catholic and Marianist ideals of education, the Greehey School's faculty produce intellectual contributions that advance the teaching and practice of business and make a positive contribution to society, especially in the areas of Environmental, Social, and Governance (ESG), Pedagogy, and Emerging Technologies. Consistent with our mission, we encourage teaching- and practice-focused activities and contributions, while also valuing discipline-based research.
Core Values
Community
We are a caring, vibrant, diverse, and inclusive learning community that treats all members with respect.
Service
We serve God and humanity by preparing our students to serve others.
Integrity
We are a community committed to professional and ethical conduct.
Opportunity
We empower students with skills, knowledge and opportunities to transform their lives and create positive social change.
Societal Impact Statement
Mindful of our Catholic and Marianist identity and the Characteristics of Marianist Education, the GSB works to transform lives and build a better world by fostering increased economic prosperity, particularly within marginalized groups. We do this by:
providing our students, the majority of whom are from marginalized groups (low income, first generation, and/or Hispanic), with access to high-quality education and professional development opportunities that motivate and empower them to increase economic prosperity for themselves, their families, and their communities;
offering free programs and services that support increased economic prosperity among marginalized groups in the greater San Antonio area and beyond; and
encouraging faculty production of scholarship that promotes improvements to business pedagogy, theory, and practice, thereby increasing economic prosperity
A Word About Bill Greehey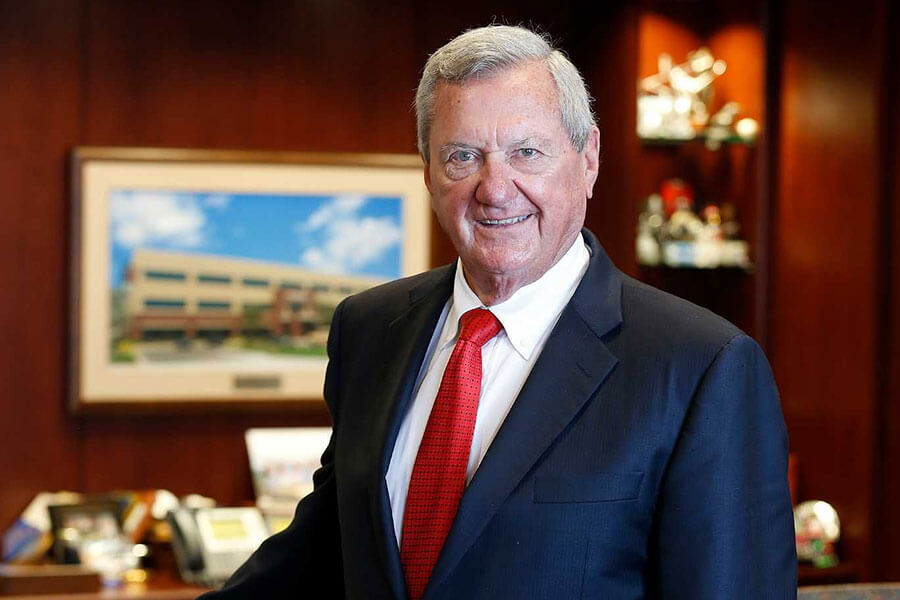 We are proud to be known as the Greehey School of Business. Our alumnus and benefactor, Bill Greehey (B.B.A. '60), is one of America's most successful business leaders and generous philanthropists. Named by the Harvard Business Review as among the Top 50 CEOs in the world, Greehey led Valero Energy Corporation to become North America's largest independent refiner.
In 2005, Greehey's transformational $25 million gift to St. Mary's University resulted in the naming of the business school in his honor. To date, his gifts and pledges to the university total in excess of $40 million. Our School has benefited immeasurably because of his example and generosity. We are forever grateful to him and his family for their incredible support.
Greehey Scholars Program
The Greehey Scholars Program is a once-in-a-lifetime opportunity for incoming freshmen who are exceptional scholars committed to excellence in every aspect of their lives. Thanks to the generosity of alumnus Bill Greehey, this renewable, four-year scholarship and leadership development program guarantees funding for tuition. The Program gives students the opportunity to visit companies around the U.S., study abroad and intern at some of America's most prestigious corporations.
Students who apply to the Greehey School of Business and meet the Program's requirements will be invited to apply for the Greehey Scholars Program.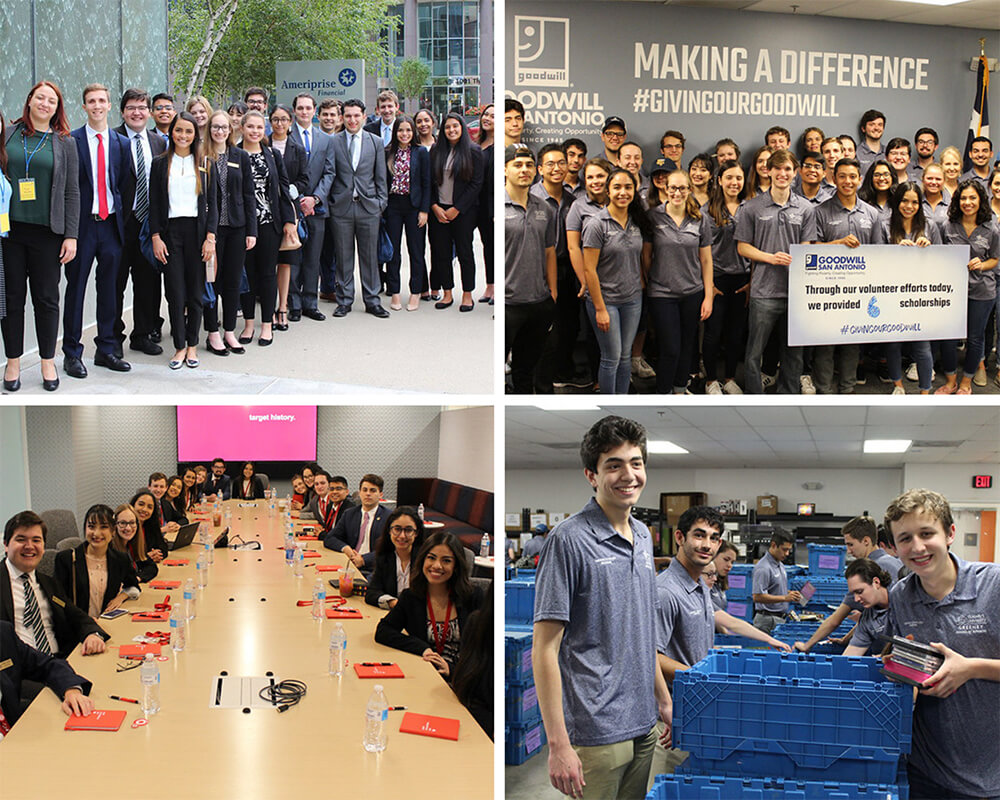 Business Fellows Program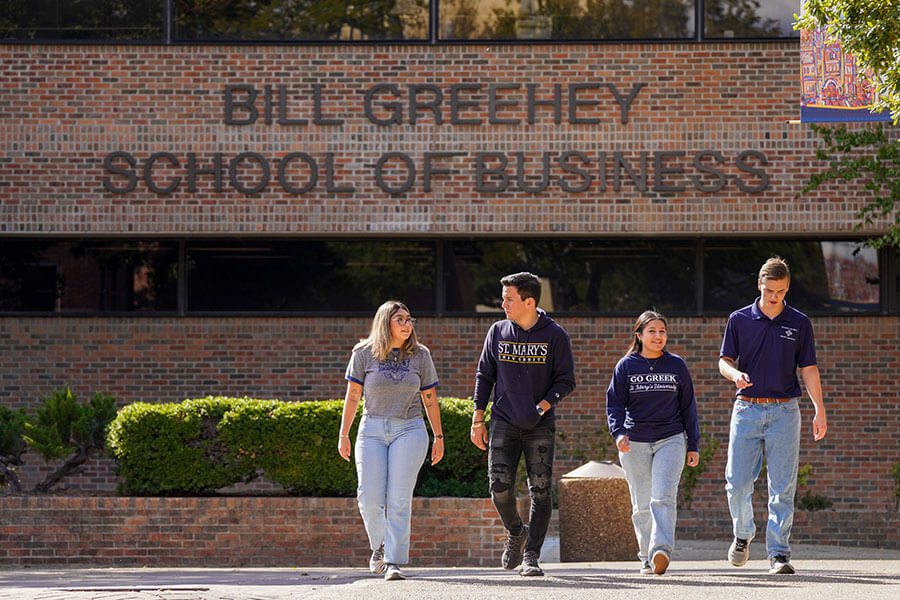 The Business Fellows Program is an exceptional opportunity for high-achieving incoming freshmen. The Program focuses on leadership development and preparing students for professional and personal success.
Business Fellows have the opportunity to work closely with the Dean and the Advisory Council of Executives for the Greehey School of Business. The Program provides students with the resources, skills and support necessary for rewarding careers in business.
Students who apply to the Greehey School of Business and meet the Program's requirements will be invited to apply for the Business Fellows Program.
Advisory Council of Executives
To ensure the excellence of our programs and high levels of industry connectivity, we have created an exceptional Advisory Council of Executives.
These outstanding individuals volunteer their time to advise the dean and the leadership team of the Greehey School of Business, provide financial support, speak in classes, attend School functions and so much more.