The Risk and Insurance Industry Summit for Student Engagement (RIS2E) provides a unique opportunity for St. Mary's students to interact with risk management and insurance industry leaders. This student-led two-day conference encourages students to build professional relationships, gain industry knowledge and strengthen their successful entry into the field by engaging with insurance brokerage and insurance company participants.
RIS2E 2022 | March 28-29, 2022
Seminar A: The Shifting Risk Landscape
2-3 p.m.
Seminar B: Market Dynamics and Ethical Issues
3:15-3:45 p.m.
Seminar C: The Changing Face of Risk Management and Ethical Issues
3:45-4:30 p.m.
Seminar D: What Does the Future Hold?
4:30-5 p.m.
Risk Management Student Recognition, Alumni and Industry Appreciation Banquet (reception and dinner)
5:45-9 p.m.
Seminar E: 2022 Spencer – RIMS GSB Risk Management Challenge Team Presentation: Focus on Reputation Risk – Starbucks
9:45-10:45 a.m.
Seminar F: "2022 Foresight" – The Next Generation of Risk & Insurance Professionals – Guest Facilitator, Tandeka Nomvete, Director QGrads at Questpro Consultants
10:45-11:30 a.m.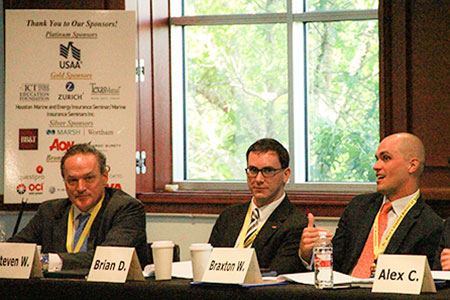 RIS2E is an excellent forum for students to connect with and learn from top business leaders in insurance and risk management. The success of RIS2E depends on our outstanding community and business support.
AIG
Marine Insurance Seminars, Inc.
USAA
Zurich
ICT
Texas Mutual Insurance
Marsh|Wortham
Questpro
Higginbotham
The Bank of San Antonio Insurance Group
Interested in becoming a RIS2E 2022 sponsor? Contact Susan Gordan at sgordon5@stmarytx.edu or 210-313-4188 for more information.