The Risk and Insurance Industry Summit for Student Engagement (RIS2E) provides a unique opportunity for St. Mary's students to interact with risk management and insurance industry leaders. This student-led two-day conference encourages students to build professional relationships, gain industry knowledge and strengthen their successful entry into the field by engaging with insurance brokerage and insurance company participants.
RIS2E 2023 | March 23-24, 2023
RIS2E Registration Hours of Operation
11:30 a.m. to 1 p.m.

Networking Luncheon
12 to 1:15 p.m.

Welcome, Orientation and Introductions
1:30 to 2 p.m.

Seminar A: The Shifting Risk Landscape
2 to 2:45 p.m.

Seminar B: Market Dynamics and Ethical Issues
2:45-3:15 p.m.

Seminar C: The Changing Face of Risk Management and Ethical Issues
3:30 to 4 p.m.

Seminar D: What Does the Future Hold?
4 to 4:30 p.m.

Day One – Closing Remarks/Announcements
4:30 to 5 p.m.

Risk Management Program Banquet (reception and dinner)
Old San Francisco Steakhouse
5:45 to 9 p.m.

Breakfast
8:30 to 9:30 a.m.

Student Competition Spotlight
9:30 to 10:15 a.m.

Seminar F: Insights from the Next Generation of Risk & Insurance Professionals
10:30 to 11:30 a.m.

Meeting Wrap-up and Announcements
11:30 to 11:45 a.m.

Informal Networking Lunch
11:45 a.m. to 1 p.m.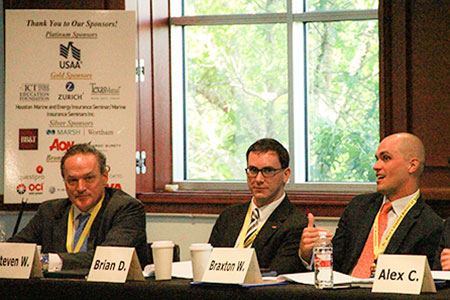 RIS2E is an excellent forum for students to connect with and learn from top business leaders in insurance and risk management. The success of RIS2E depends on our outstanding community and business support.