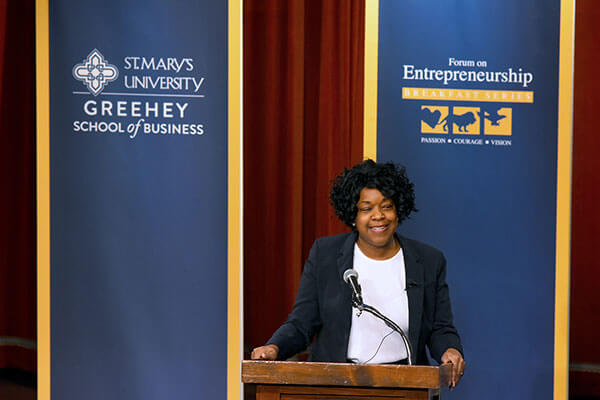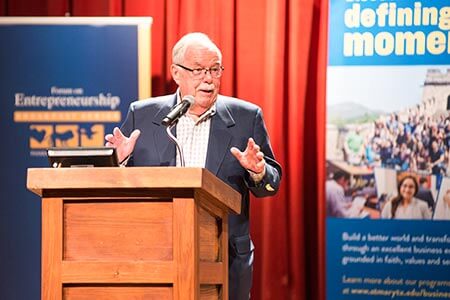 The purpose of the Forum on Entrepreneurship Series is to offer the larger San Antonio community and students of St. Mary's University a forum to hear from some of the most talented individuals in industry and government. Funds generated from the series support student scholarships and encourage entrepreneurial activities in San Antonio and the region. The Forum on Entrepreneurship Series attracts two to three hundred attendees to its bi-monthly events.
Great leaders who have served as speakers include:

Brigadier General Laura L. Lenderman, United States Air Force

Jenna Saucedo-Herrera, President and CEO, greater:SATX

Kellie Fischer, executive vice president and chief financial officer of the Texas Rangers Baseball Club

Robert Kaplan, president and CEO of the Federal Reserve Bank of Dallas

Lynda Ellis, owner, president and CEO of Capital Concierge

Mike Howard, chairman and CEO of Howard Midstream Energy Partners, LLC

Shannon Schuyler, principal, chief purpose officer and corporate responsibility leader of PwC, and president of PwC Charitable Foundation

Daymond John, founder and CEO of FUBU apparel, author, and marketing and branding judge for ABC's Shark Tank

Tom Kartsotis, founder of Fossil and Shinola

Bill Greehey, chairman of NuStar Energy, L.P.

Kelly S. King, Chairman and Chief Executive Officer, Truist Financial Corporation

Randy Harig, CEO of Texas Research & Technology Foundation and VelocityTX

Angela Yochem, EVP and Chief Digital and Technology Officer, Novant Health

Lorenzo Gomez III, community builder, author and public speaker, former director of Rackspace

Jacqueline Darna, CEO and medical inventor of the NoMo Nausea, NoMo Migraine and NoMo Sleepless Nights

Past Speakers
2023 Forum on Entrepreneurship Series Speakers
April 27, 2023
7-9 a.m. | Virtual event
About the Speaker – Anna M. Alvarado

Alvarado is a business-oriented, operationally focused executive who is bilingual (fluent in Spanish) and bicultural. She has broad-based expertise leading business and legal advisory services (domestically and internally), including being lead on business strategy, M&A and compliance initiatives. In her current role, she is responsible for supervising and coordinating all legal services for the company, serving as key legal advisor to the Board of Directors, ensuring legal compliance with all securities laws, and banking regulations, serving as the lead legal advisor on all the firm's strategic initiatives, commercial and transactional matters, advising the bank on litigation risks, primary liaison with regulators, and a member of the firm's Operating Committee. Her strengths include M&A, executive, management, talent development, corporate and public company governance, ESG, public relations and board management.

Alvarado joined Texas Capital in October 2021 to help the firm rebuild and transform itself into the flagship financial services firm in Texas, bringing more than ten years of experience in broad-based expertise leading business and legal advisory services, including scalability, expansion and integration domestically and internationally. A key mandate of Alvarado and a strategic component of the firm's transformation is creating and standing up the Investment Banking Division and its Broker-Dealer: TCBI Securities, Inc. d/b/a Texas Capital Securitas, which obtained its FINRA license in December 2021.

Previously, Alvarado served as the global General Counsel for FirstCash, Inc (NASDAQ®: FCFS), a consumer financial services and retail company and the leading international operator of retail pawn stores. During her tenure there, Alvarado oversaw an international team of more than 50 people and led several important initiatives, including the company's Latin American expansion and several domestic acquisitions. Before FirstCash, she served as a trial attorney at Texas-based firms Tanner & Associates PC and Hill Gilstrap PC.
Sponsorship Opportunities
To renew your sponsorship, become a new Forum on Entrepreneurship Sponsor, or for additional information about attending, contact forum@stmarytx.edu or 210-436-3124.

Hernandez Financial Strategies, LLC / Fred Olivares, CPA/CFF, PLLC

Inventures | STR Ventures
President
Paul Hensley, HOLT CAT

Chairman
Sergio Palacios, Ph.D., St. Mary's University

Vice President-Speakers
Hector Hernandez, Hernandez Financial Strategies, LLC

Vice President-Sponsors
Beth Hair, Vaco

Treasurer
Julia Hamon, Wells Fargo

Secretary
Pamela A. Luna, St. Mary's University

Rhonda Calvert, Comerica Bank

Chris C. Edelen, Safe Showers, LLC

Paul Garro, Vascular Perfusion Solutions

Jeffrey Landers, Encore Bank

Violeta Diaz, Ph.D., St. Mary's University

David G. Pope, Labatt Food Service

Rowena Ortiz-Walters, Ph.D., St. Mary's University