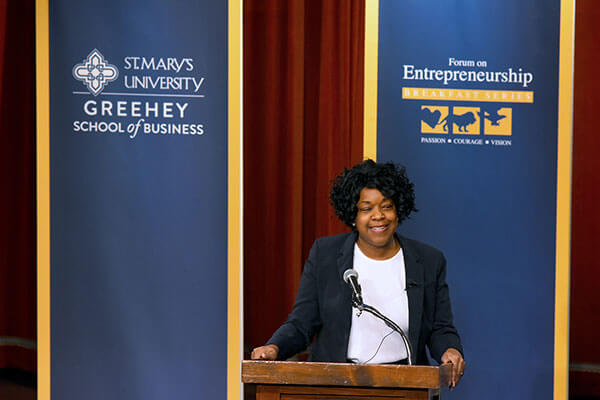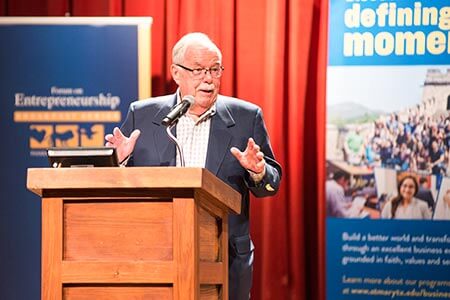 The purpose of the Forum on Entrepreneurship Series is to offer the larger San Antonio community and students of St. Mary's University a forum to hear from some of the most talented individuals in industry and government. Funds generated from the series support student scholarships and encourage entrepreneurial activities in San Antonio and the region. The Forum on Entrepreneurship Series attracts two to three hundred attendees to its bi-monthly events.
Great leaders who have served as speakers include:

Brigadier General Laura L. Lenderman, United States Air Force
Jenna Saucedo-Herrera, President and CEO, SAEDF
Jim Sinegal, co-founder, Costco Wholesale
Lanham Napier, co-founder and CEO, BuildGroup
Chad McNair, CEO, McNair Java Partners, LLC
Kellie Fischer, executive vice president and chief financial officer of the Texas Rangers Baseball Club
Robert Kaplan, president and CEO of the Federal Reserve Bank of Dallas
Lynda Ellis, owner, president and CEO of Capital Concierge
James Garvin, Ph.D., CEO, president and director of CytoBioScience, Inc.
Dennis Noll, CEO of San Antonio Area Foundation
Bryant Ambelang, president and CEO of NatureSweet Brands LTD
Mike Howard, chairman and CEO of Howard Midstream Energy Partners, LLC

Shannon Schuyler, principal, chief purpose officer and corporate responsibility leader of PwC, and president of PwC Charitable Foundation
Adam L. Hamilton, P.E., president of Southwest Research Institute
Stuart Parker (M.B.A. '95), CEO of USAA
Daymond John, founder and CEO of FUBU apparel, author, and marketing and branding judge for ABC's Shark Tank
Paula Gold-Williams (B.B.A. '84), CEO of CPS Energy
Tom Kartsotis, founder of Fossil and Shinola
Bill Greehey, chairman of NuStar Energy, L.P.
Kelly S. King, Chairman and Chief Executive Officer, Truist Financial Corporation
Randy Harig, CEO of Texas Research & Technology Foundation and VelocityTX
Brad Barron, President and CEO, NuStar Energy, L.P.

Past Speakers
2021 Forum on Entrepreneurship Series Speakers
Thursday, Nov. 18
8 to 9 a.m via Zoom
Sponsorship Opportunities
To renew your sponsorship, become a new Forum on Entrepreneurship Sponsor, or for additional information about attending, contact forum@stmarytx.edu or 210-436-3124.

Hernandez Financial Strategies, LLC / Fred Olivares, CPA/CFF, PLLC
President
Paul Hensley, HOLT CAT

Chairman
Sergio Palacios, Ph.D., St. Mary's University

Vice President-Speakers
Hector Hernandez, Hernandez Financial Strategies, LLC

Vice President-Sponsors
Beth Hair, Vaco

Treasurer
Julia Hamon, Wells Fargo

Secretary
Pamela A. Luna, St. Mary's University

John Bruce, BKD, LLP
Rhonda Calvert, Comerica Bank
Jon D. Crumley, PwC
Tres Doran, KPMG LLP
Chris C. Edelen, Sterling Home Technologies and Safe Showers, LLC

Paul Garro, Vascular Perfusion Solutions
Jeffrey Landers, Encore Bank
Violeta Diaz, Ph.D., St. Mary's University

Gary McDaniel, Norton Rose Fulbright
David G. Pope, Texas Capital Bank
Rowena Ortiz-Walters, Ph.D., St. Mary's University