What is the Advantage Mentor Program?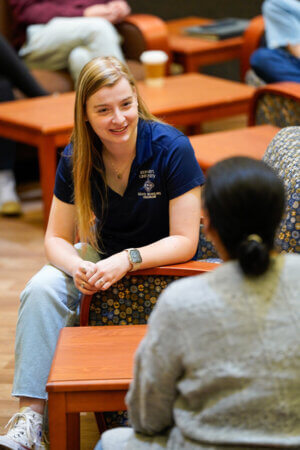 The Greehey School of Business Advantage Mentor Program provides a valuable opportunity for first-time students to get a strong footing on their educational journey. The year-long program connects first-time students with experienced business students (mentors) to promote personal and academic success.
This program enhances the student experience by linking them one-on-one with a peer mentor. Students are paired with someone invested in their success — a person ready to listen, inspire and help them navigate challenges and recognize opportunities.
Students will gain advice and valuable insights, while learning what to expect in school and how to approach challenges. Mentors will build their networks and develop skills to become better professionals and leaders.
How the Advantage Mentor Program works
Students will be matched with a mentor based on common interests, background, academics, life experiences and professional aspirations. To get started, students and mentors register and complete an online survey to assess personality and experience. Mentees and mentors will then have access to a mentoring platform called Mentor Collective.
Why join the Advantage Mentor Program?
The program is designed to:
Shorten the college life learning curve

Develop your strengths and maximize your potential

Provide a supportive environment

Expand your social, peer network

Make your first year at St. Mary's successful and positive
The program is mutually beneficial for mentors. Mentors gain valuable skills in leadership and communication, and the opportunity to live the Marianist charism of community, mission and inclusivity.
Frequently Asked Questions
Greehey School of Business sophomores, juniors and seniors are eligible to become mentors.

Who is eligible to become a mentor?
Mentors are asked to commit to one full academic year.

How long is the commitment to being a mentor?
…provides a sense of fulfillment.

…develops leadership qualities.

…increases self-confidence.

…improves communication skills.

…increases your circle of friends.

…provides networking opportunities.

…enhances resumes. Employers love it!

…builds camaraderie within the Greehey School of Business community.

Why should I be a mentor?
Some possible topics for mentors and mentees to discuss include:

How will my major impact my professional options?

How do I balance the demands of school, responsibilities and socializing?

How can I set myself up for academic, social and career success?

How do I make connections with peers and professional contacts?

What do mentors and mentees discuss?