For former Accounting major and student-athlete Paige Weiss (B.B.A. '19), balancing school, golf, internships, volunteering, travel and her social life wasn't always easy, but it was worth it.
The first in her family to attend college, Weiss was born in California and raised in a farming family. She moved to Texas at the age of 12 where she pursued her many loves, including agriculture, golf, music and gymnastics.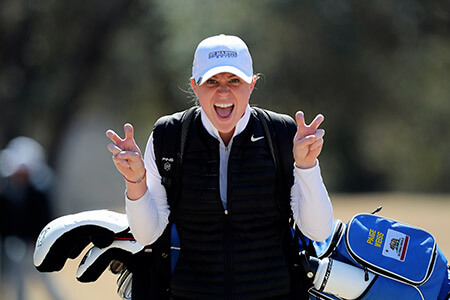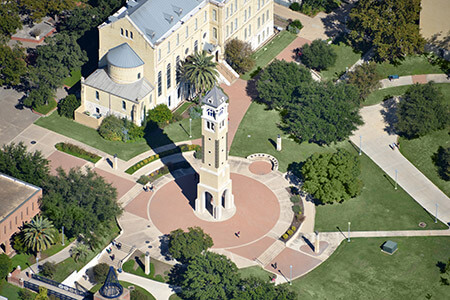 During her time in the Greehey School of Business at St. Mary's University, she was a stand-out student.
Weiss had two auditing internships with KPMG, one of the world's Big 4 accounting firms. She has also interned in accounting with ATKG and with the global healthcare company Acelity. Across the university, 56% of undergraduate students — and 75% of Greehey School students — complete an internship while enrolled.
Among the many highlights of her experience at the Greehey School of Business were the University-sponsored trips with her fellow students and professors. She went to Dubai, where she toured businesses and immersed herself in the culture.
After graduating in the Spring 2019, she spent the summer in Europe with KPMG's Global Engagement Team working with some of the world's largest companies. Afterwards, she attended the University of Missouri to earn her master's degree in Accounting, completely paid for by KPMG.
On the golf course, Weiss excelled as a member of the Rattler Women's Golf team. She went to the NCAA Division II National Tournament in Ohio in 2017. She was twice named the Heartland Conference athlete of the week, won two individual golf titles, and was named a Women's Golf Coaches Association All-American Scholar.
Most importantly, Weiss, like so many other St. Mary's business students and alumni, is a humble leader who understands the importance of sharing her talents and gifts with others. While at St. Mary's, Weiss volunteered with San Antonio Youth Literacy, Volunteer Income Tax Assistance Program (VITA), the Humane Society, the Down's Syndrome Association of South Texas, First Tee of San Antonio, Meals on Wheels, the San Antonio Food Bank and Haven for Hope, to name a few.
"I truly found a family here at St. Mary's. I've always felt like St. Mary's was the perfect support system for me," said Weiss.
I knew I could succeed here, because there are so many other students here like me. The faculty are completely focused on student success.

Paige Weiss