The Greehey Scholars Program is a once-in-a-lifetime opportunity for qualified incoming undergraduate freshmen who are exceptional scholars committed to excellence in every aspect of their lives.
Due to the generosity of alumnus Bill Greehey, the Greehey Scholars Program awards four-year,  renewable scholarships to each Greehey Scholar that include:
St. Mary's University tuition

Stipends for St. Mary's University study abroad opportunities

Funding for extra-curricular activities such as business travel within the Program
The Greehey Scholars Program develops students who exhibit outstanding ethical leadership, technical excellence, global awareness and professional orientation, challenging them to the highest standards of commitment and achievement. Scholars set this example by engaging in the principles of constant learning, serving and leading, not only in business environments, but also in their communities.
As a Registered Student Organization, the Program's officers help plan and organize events such as the Orientation and Senior Reception. Officers also elect committee chairpersons who hone their leadership skills.
Students can apply to St. Mary's University as early as Aug. 14, 2023. The Greehey Scholars Program will conduct a holistic review of all Program applications. Admission into the Greehey Scholars Program is competitive with a limited number of positions in the cohort available each year.
The following are the minimum application Program requirements:
2024 high school graduate with cumulative high school GPA of 3.8 or higher (recommended).

Applicant to St. Mary's University as a declared business major beginning as early as Aug. 14, 2023.

Application to the Greehey Scholars Program is by invitation only. To apply, qualified students need to submit a Greehey Scholars Program application, Letter of Recommendation, résumé, and two-minute video by Jan. 29, 2024.

Top applicants selected for an interview will be notified starting Feb. 5, 2024.

Interviews will be conducted Feb. 23-24, 2024, on-campus/in-person.

Applicants will be notified of a decision no later than March 8, 2024.

Selected applicants must accept or decline the scholarship offer by April 12, 2024.
One of the hallmarks of the Greehey Scholars Program is that our students have many opportunities to lead and develop as leaders, through many activities, including internships and service work.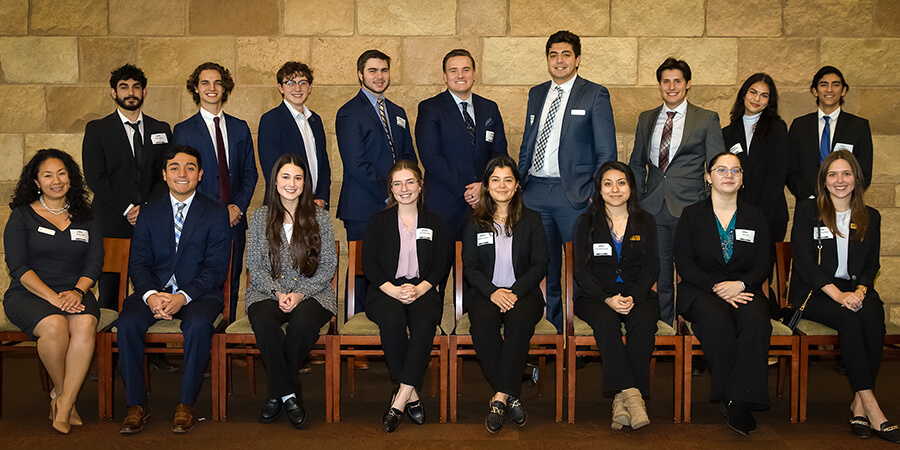 Being able to take part in so many different business immersion experiences allows for us to interact one-on-one with business executives and professionals. This, paired with alumni relations and help from the Center for Career and Professional Development, provide scholars with many opportunities to secure internships throughout our time at St. Mary's.
Companies that scholars have interned with include:
JP Morgan – New York City

Goldman Sachs – New York City

Hansa Ltda. – La Paz, Bolivia
Spurs Sports and Entertainment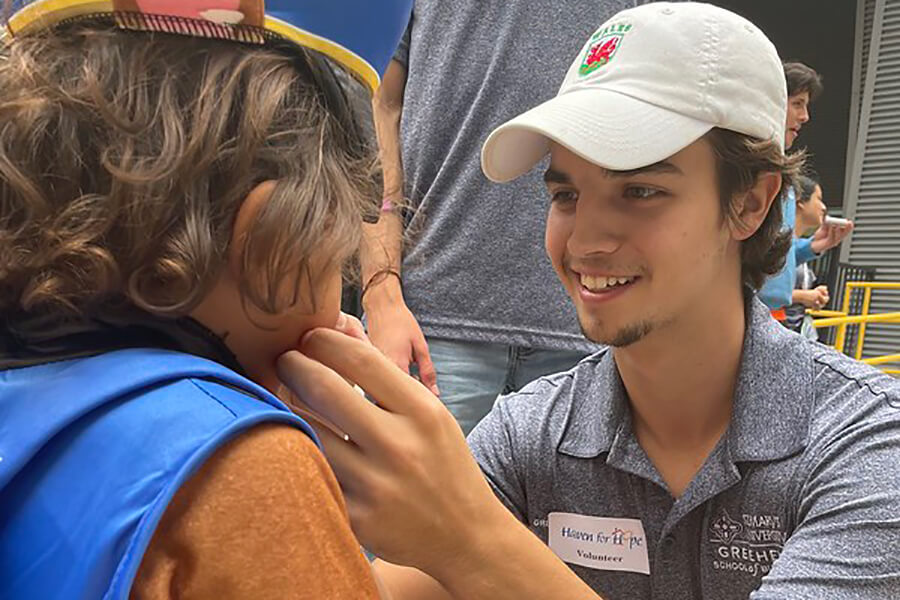 As a group, we also engage in a year-long initiative, partnering with a service organization on a student-led, faculty-advised project. We form two to three project groups each year and have worked with:
Down Syndrome Association

Volunteer Income Tax Assistance
San Antonio Humane Society

St. John Bosco Elementary School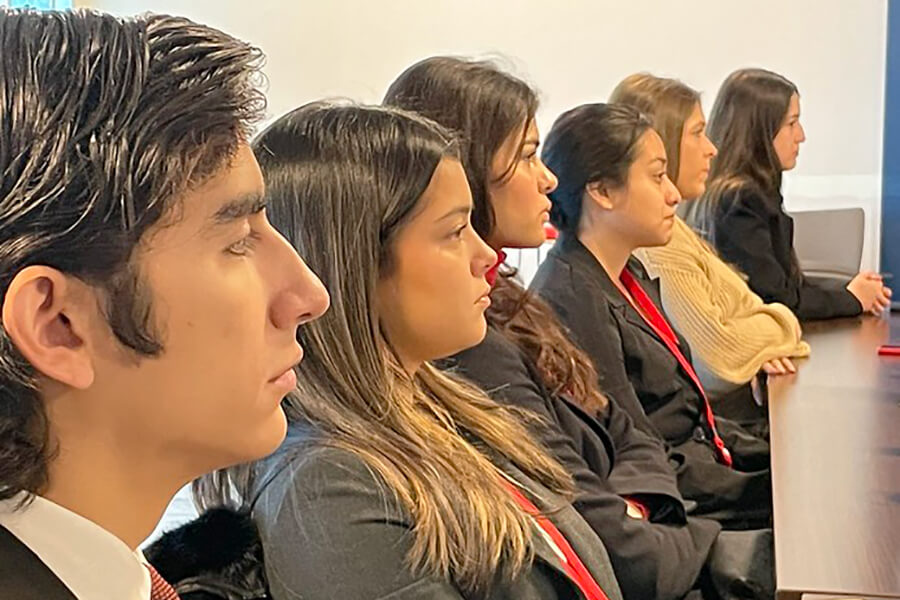 Scholars meet weekly to plan for upcoming service initiatives, engage in team-building activities and listen to guest speakers discuss topics such as professionalism, ethics, industry trends, and global awareness.
Throughout the year, scholars tour local and out-of-state organizations, discuss business issues with and ask questions of management, and establish professional contacts for future projects, internships and jobs.

Some examples of businesses the Scholars have visited include NuStar, SAWS, CDC Foundation, Amazon, Starbucks, Comcast, Sling, Boeing, ABC Studios, Bloomberg, Merrill Lynch, Tesoro Oil Corporation, Union Pacific, Google, PayPal, LinkedIn, San Antonio Food Bank, Kroenke Sports & Entertainment, and Mutual Trust Company.
The Forum on Entrepreneurship Series is another opportunity for students to interact with business executives. Four breakfast meetings throughout the year feature prominent entrepreneurs who share experiences and insight with students, other business leaders, and community members.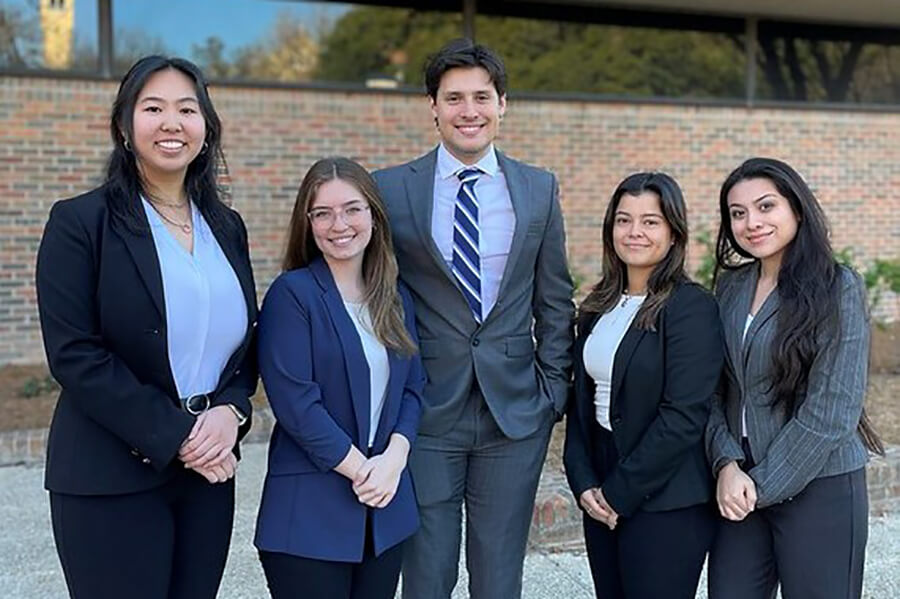 The Greehey Scholars Program brings together diverse minds that create a rich academic and cultural environment thanks to the accessibility of the Program's application process. Students from all over Texas, the U.S. and the world have chosen St. Mary's University as their collegiate home, each bringing something unique to the Program.
Greehey Scholar Orientation
It's not just a meet and greet. At the start of each fall semester, there is an off-campus retreat in order to prepare the scholars for the upcoming year.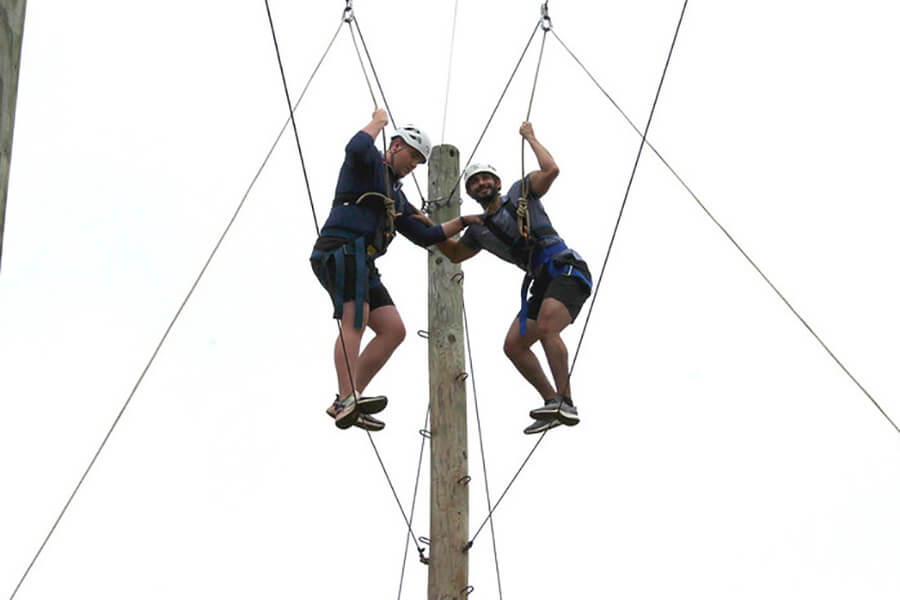 At the orientation, we discuss requirements and new opportunities, plan for group service initiatives and remind ourselves what it means to be a Greehey Scholar. The retreat also includes team-building activities, opportunities to deepen relationships among our group and a focus on the further development of our ethical leadership.
The Greehey Scholars Program offers a renewable scholarship for high-achieving students who are qualified, regardless of family or economic situation. It covers St. Mary's University tuition for four years.

Contingent upon fulfilling requirements of the Program, the scholarship also provides stipends for study abroad opportunities and funds a majority of the travel experiences within the Program.
For more information, contact Rosie Perez, Program Coordinator, at 210-436-3644 or rperez62@stmarytx.edu.