What Matters at St. Mary's
It only takes one degree of change to make a world of difference. It only takes one University to make learners for life.
It only takes one educator to begin this journey.
St. Mary's University is the one place for all people and beliefs to gather at one table for the common good.
St. Mary's builds servant-leaders for the greater good.
The St. Mary's Edge
Students experience a nurturing and vibrant community atmosphere that encourages and facilitates community engagement, undergraduate and graduate research, faculty mentoring and service learning. The strong community environment is rooted in the University's Catholic and Marianist commitments to providing a holistic education in a faith-centered, family-spirit environment.

As a Catholic and Marianist University, we foster the formation of deep Christian faith in our students and educate ethical leaders for the common good. For more than 165 years, our Marianist brothers and lay faculty and staff have gently mentored St. Mary's students to graduate with generous spirits and humble hearts, and to view their careers as vocational journeys, not simply jobs.

St. Mary's is known for quality academic programs and excellent faculty. All undergraduates take the St. Mary's Core Curriculum, which broadens students' knowledge and transforms their understanding of their place in the world and their social responsibilities. These courses also develop crucial skills employers seek, such as critical thinking and problem-solving.

The enduring values of integrity, respect for others, humility and a collaborative orientation are uniformly prized by employers, patients, clients and customers. St. Mary's graduates overachieve in the workplace and find financial success, and aspire to lives purposefully lived.
Mission and Identity
We invite men and women of all faiths, and of no faith, to join our community and search for truth together.
We host lectures, symposia, events and discussions to discuss and explore the Catholic Intellectual Tradition, which is at the heart of the educational enterprise of St. Mary's University.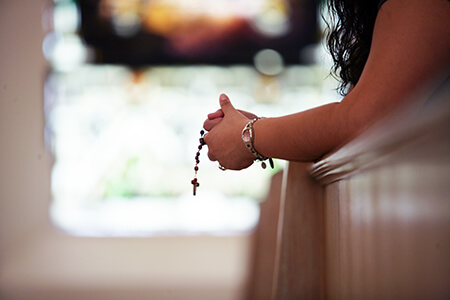 The Center for Catholic Studies at St. Mary's University encourages faculty, staff and students to explore the Catholic Intellectual Tradition and its impact on knowledge, culture and faith.
St. Mary's University hosts annual lectures and viewings of The Heritage Edition of the Saint John's Bible through the Escobedo Saint John's Bible Lecture Series. St. Mary's faculty and visiting scholars use the seven-volume, full-scale reproduction of the world's newest handwritten, hand-illuminated, grand-scale Bible as a backdrop to discuss and explore the Catholic Intellectual Tradition.
The MacTaggart Catholic Intellectual Tradition Lecture Series annually hosts men and women who have shaped the Catholic Intellectual Tradition to St. Mary's to share their knowledge and engage in dialogue with the wider San Antonio community.