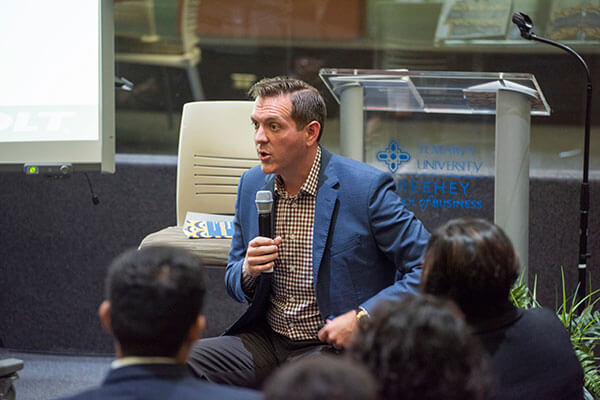 Business Week is an excellent forum for students to connect with and learn from top business and civic leaders.
While traditionally Business Week has been an in-person event, this year we are going virtual to accommodate the health and safety measures needed to keep our community safe from COVID-19.
Some highlights of the weeklong event include the La Quinta Keynote Lecture, the CPS Energy Diversity, Equity and Inclusion Panel, and a virtual career fair. Additionally throughout the week, mentoring workshops and additional moderated panels and speakers will be happening. You will hear from and interact with top leaders about today's most critical issues that will prepare you for your career aspirations. The week concludes with an awards ceremony to celebrate student and faculty achievements.
This event is a longstanding tradition in the Greehey School of Business. It began in 1975 to connect the classroom to the business world under the guidance of Brother Paul Goelz, S.M., a beloved member of the Society of Mary and the San Antonio business community. Brother Goelz's vision was to bring real-world leaders to our classrooms to share, not just their expertise, but also their passion for business and community. While the Greehey School of Business continues to innovate and grow, we have always been committed to the program's original mission of providing relevant and responsive education that focuses on developing business professionals who are skilled, ethical, globally aware, and prepared for careers of meaning and purpose.
Business Week 2020
Ethical Leadership and Innovation During Times of Change
Monday, Oct. 12 – Mentoring Monday
The Future of Careers: Virtual Job Searching Techniques
TBA
T. Tylor Behrens, Ed.D., Associate Vice President for Career Services, St. Mary's University
Networking Through Your Career
9:20 to 10:35 a.m.
Abraham Saldivar (B.B.A. '07), Director, Napier Park Global Capital
How to Prepare for Interviews
10:45 a.m. to 12 p.m.
Francisco Ramirez-Gaston (B.B.A. '11), Investment Banking Coach, SEO (Sponsors for Educational Opportunity)
The 3 Paragraph Cover Letter
12:20 to 1:35 p.m.
Kathe Lehman-Meyer, Director, Academic Media Center, St. Mary's University
Resume Tips – Dos and Don'ts
1:45 to 3 p.m.
Sarah Vasquez (B.B.A. '15), Human Resources Executive Team Leader, Target
La Quinta Keynote Speaker
9:45 to 11 a.m.
Angela Yochem, Executive Vice President and Chief Digital and Technology Officer, Novant Health
Carmen Canales, Chief Human Resources Officer, Novant Health
Lety Duran Nettles, EVP and Divisional CIO, LPL Financial
CPS Energy Diversity, Equity and Inclusion Panel
2 to 3:15 p.m.
Moderator – Thomas M. Mengler, J.D., President, St. Mary's University
Paula Gold-Williams (B.B.A. '84), President and CEO, CPS Energy
Shelton Goode, D.P.A., CEO, Icarus Consulting; Chief Diversity Officer, Metropolitan Atlanta Rapid Transit Authority (MARTA)
Norma Ramirez Montague, Ph.D., Associate Dean of Master's in Management Program and Associate Professor of Accounting, Wake Forest University
Destined to Fail, Destined to Succeed
5 to 6 p.m.
Being Marianist During Times of Change
9:15 to 10:30 a.m.
Moderator – Jessica González Uhlig, Ed.D., Executive Director, Marianist Educational Associates, St. Mary's University
Brother Bernard J. Ploeger, S.M., Ph.D., Assistant Provincial, U.S. Marianists
Rev. Tim Eden, S.M., Ed.D., Vice President for Mission, St. Mary's University
Sister Nicole Trahan, F.M.I., Provisional Assistant for Education, Daughters of Mary Immaculate
Henry Van de Putte, CEO, American Red Cross Texas Gulf Coast Region
Risky Business: How to Plan for your Career Goals During Uncertain Times
11 a.m. to 12 p.m.
Devan Hartung (B.B.A. '15), Store Director, Target
Sarah Cantu (B.B.A. '16), Earth Class Mail
Elijah Lopez (B.B.A. '16), Financial Advisor, Manske Wealth Management
Priya Bhakta (B.B.A. '18, M.B.A. '19 ),Treasury Analyst, USAA
Ginnette Garcia (B.B.A. '14), Sales Manager, Union Pacific
Sabrina Martinez (B.B.A. '19), Program Coordinator, Maestro Entrepreneur Center
John Diaz (B.B.A. '18), Associate, Bain Capital
Ryan Salts (B.B.A. '13), Director, Launch SA
Fernanda Sandoval (B.B.A. '20), Global Market Analyst, Goldman Sachs; Co-founder, Bulli$h
The Economy and Society: How Does It Keep Moving Forward?
2 to 3 p.m.
Julissa Carielo (B.B.A '95), Founder and President, Tejas Premier Building Contractor, Inc.; Founder, Maestro Entrepreneur Center
Rene Garcia, President, DreamOn Development Company, LLC.
Future Leaders Series
9:45 to 11 a.m.
Albert Cruz (B.B.A. '06), Global Knowledge Management, International Finance Corporation (IFC)
Kevin Barthold, C.P.A., City Auditor, City of San Antonio
Morgan Playle (B.B.A. '19), Community Manager, MullenLowe U.S.
Future Leaders Series
11:10 a.m. to 12:25 p.m.
Susan Gonzales, Lexington Energy PLM and Vice President, AIGRM Branch Manager/AIGRM National Energy Leader, AIG
Chris Talley, Former Chief Communications Officer, USAA
Luisa Rodrigues-Holland, Business Unit Director, H-E-B
Virtual Career Fair
2 to 5 p.m.
Business Week Awards Ceremony
7 to 8:30 p.m.
Friday, Oct. 16 – Follow-up Friday
Recruitment interactions between students and employers, as needed.