Explore Student Housing at St. Mary's
Living on campus at St. Mary's University will enhance your experience at St. Mary's in a multitude of ways. The community that comes with on-campus living is what makes St. Mary's so special.
St. Mary's University is home to 13 residence halls that provide a wide variety of communities. Students may be eligible to choose from several halls, depending on their age, major and classification. Each hall serves a different type of community and provides a variety of programs and spaces to relax, study and play.
Amenities in The Village at St. Mary's like the outdoor pool, sand volleyball court, hammock garden, grills and fire pits are available to all residents for use.
Experiencing the University firsthand and speaking with faculty, staff and fellow students are some of the best ways to make your college choice.
6
On-Campus Dining Options
969
Undergraduate students living on campus (Fall 2022)
7
Living-Learning Communities
What is life like on campus at St. Mary's?
Living on campus can be one of the most rewarding experiences of a lifetime. It's an opportunity to meet people who may become long-lasting friends and a chance to discover more about yourself. It's a time for new challenges, new friends and new experiences. The community in each residence hall is one that students will cherish during their college experience. Furthermore, living on campus in a supportive educational environment is an excellent way to make the major transition to college easier.
Students who live on campus:
are more likely to complete their degree

are more involved in campus life

are more satisfied with their college experience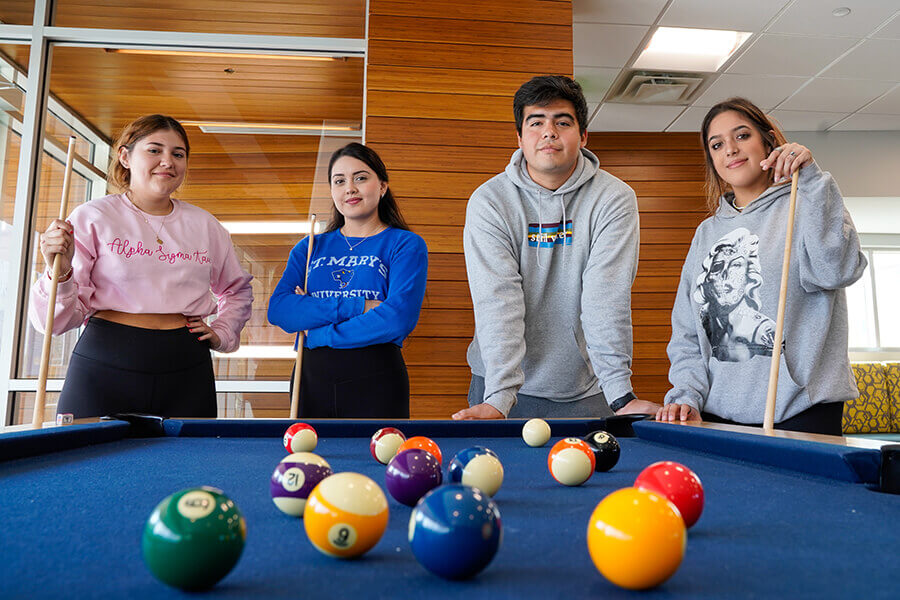 Get to know St. Mary's on-campus dining options.

Diamondback Café — or The Caf — is a buffet-style dining facility on the first floor of the University Center. The Caf has a salad bar, pasta bar and pizza buffet, as well as a rotating menu that includes vegetarian and healthy options.

Starbucks is centrally located to campus in the Charles L. Cotrell Learning Commons, or The Commons for short. Grab a coffee, tea or snack to go, or enjoy it in The Commons while studying or chatting with friends.

Located on the first floor of the University Center, Chick-fil-A boasts a menu of fan favorites like the chicken sandwich, nuggets, waffle fries, lemonade and more. Gluten-free and healthy options available.

The P.O.D., or Provisions on Demand officially, has all your campus daily essentials and offers food-to-go like snacks, coffee, sandwiches, fresh fruit shakes. On weekday mornings, The P.O.D. sells a Texas favorite and San Antonio staple — breakfast tacos.

Located in the heart of campus in the old Boiler Plant building, Subway provides a healthy alternative with handcrafted sandwiches, pizza and salads using fresh ingredients.

The re-established Pub at St. Mary's — originally open on campus in the 1970s and 1980s — is a campus favorite. Students, faculty and staff flock to The Pub, the adjacent Contreras Student Lounge and the exterior Contreras Family Terrace for fun and fellowship. The Pub offers a small menu of shared bites, sandwiches and pizza.
It's easy to get involved, make friends and explore your interests.

We encourage students to participate in student-led campus organizations. These clubs and organizations will connect you with the campus community, develop your team building and leadership skills, and provide an opportunity for you to make new friends who share your common interests.

Fraternity and Sorority Life (FSL) at St. Mary's University strives to empower members of Greek-letter organizations to excel, promote, and preserve the four principles of brotherhood/sisterhood, leadership, scholarship and service. 

Intramural sports are open to current St. Mary's University students, faculty and staff, and it is easy to get involved. Playing on an intramural team is a great way to meet new people, make new friends and enjoy your college experience.

St. Mary's is a Catholic and Marianist university, but we welcome students from all denominations and faiths to come together to learn and share at St. Mary's University. We offer Mass and Confession and other events hosted by University Ministry.

St. Mary's University is home to Rattler Athletics, a proud member of NCAA Division II sports and the Lone Star Conference, and home to the first-of-its-kind varsity Esports program in San Antonio.
There's always something happening on campus. I quickly learned that St. Mary's is a tight-knit community that wanted every student to excel academically, spiritually, and emotionally.

— Victoria Olguin, Business Management and Biology major
St. Mary's is just minutes from downtown San Antonio where local art, culture and restaurants thrive. Downtown is the heart of San Antonio, where visitors and locals alike experience the richness of diverse, South Texan culture including art and history museums, the King William Historic District and the Blue Star Arts Complex.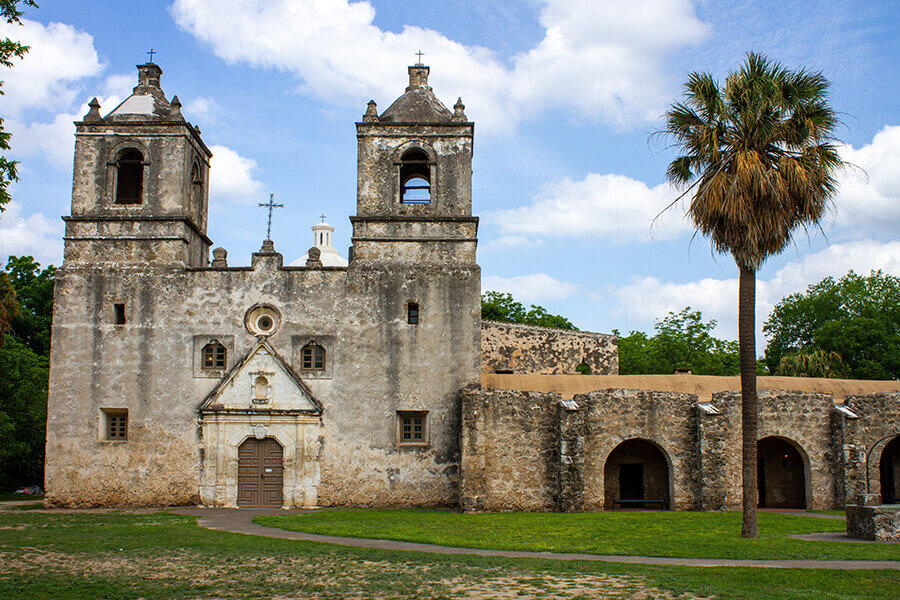 Discover our campus living options.
Living on campus is cost-efficient. Residents are entitled to amenities and services that can potentially serve as extra costs at off-campus apartments and housing, such as Internet access, cable and meal plans.
New undergraduate students with a permanent address outside Bexar County are required to live on campus. See the campus residency requirement policy for details and exemptions.
Single occupancy halls include Treadaway Hall (community bathroom) and single-suite style halls include Chaminade Hall (Grad/Law/over 21 years old), Leies Hall (Upperclassmen), and Périgueux Hall (Upperclassmen).
Double occupancy halls include Anthony Frederick, Cremer, Dougherty, Founders, Lourdes and Marian.
Adele, Bordeaux, and John Donohoo (JD) will be offline for the 2023-2024 academic year.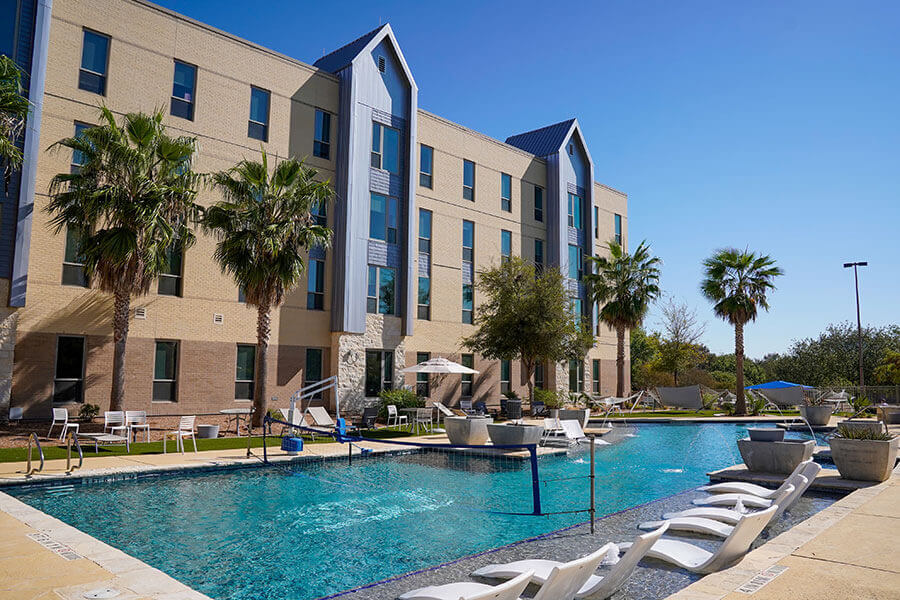 Périgueux Hall, the newest residence hall at St. Mary's, gives students views of downtown San Antonio and of our beautiful campus including Dickson Stadium.
This contemporary, suite-style living community is for junior- and senior-level students with four private rooms and two complete bathrooms.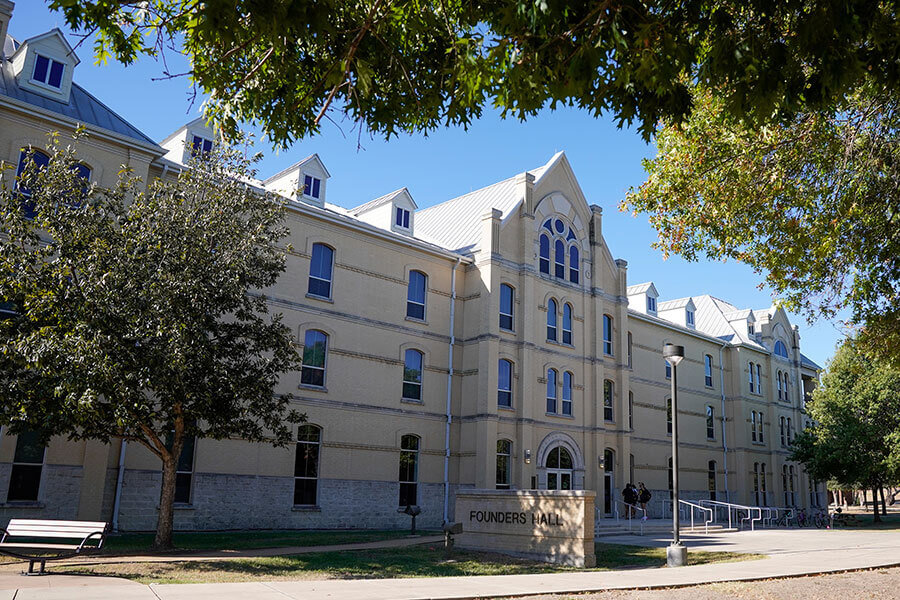 Founders Hall is available to second-year students and is a three-story hall with double rooms that are the same gender by room and suite and a suited bathroom. Each room has an interior hallway entrance, built-in closets and a sink.
Each resident also has a set of movable furniture including a twin bed that can be lofted, desk, bookshelf, dresser and chair.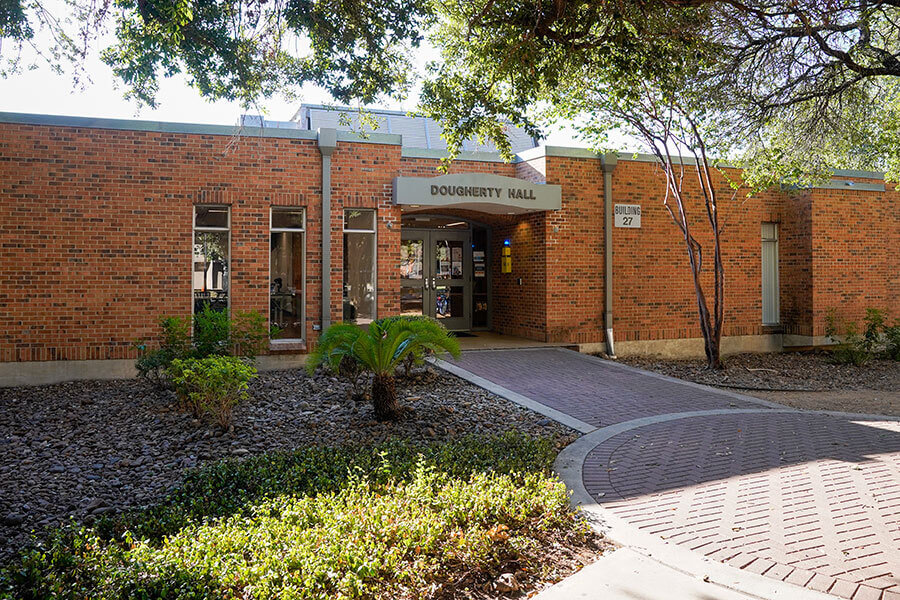 Remodeled in 2018, Dougherty Hall is available to first-year students and, as a two-story, suite-style residence hall, this hall accommodates two people per room that are the same gender by room and suite.
Each room has an interior hallway entrance, built-in closets, drawers and desks with a chair and twin bed for each person.
Ready to apply to live on campus?
All students living on campus must pay a nonrefundable $100 housing application fee each academic year when applying to live on campus. Applications will not be considered complete until the $100 application fee is received and all the pages of the application have been submitted online. Housing Application fees are applied back to the student's account after the 12th class day of the fall semester if they do live on campus. If a student cancels their housing, the fee is forfeited.
In order to apply for housing at St. Mary's, students must be accepted to the University. After being accepted, the Office of Admission will notify the student once Online Enrollment has been opened. Applying for housing is part of the Online Enrollment Confirmation Process. If you have questions about the Online Enrollment process, please contact the Office of Admission at 210-436-3126.

Room assignments are made on a "first-come, first served" basis, using the date the housing application fee is received via the Online Enrollment Confirmation Process.

All undergraduate students living on campus are required to purchase a meal plan. The meal plan amount purchased is credited to the student's account and is accessible for purchases at the Diamondback Café, Subway, Chick-fil-A and Starbucks via the St. Mary's Rattler ID Card.

Every student living on campus is required to have health insurance. The University automatically charges every resident for the minimum recommended health insurance policy unless the individual student waives the school health insurance as instructed. Deadlines for waiving the insurance are very strict. Once the University has paid for your insurance, you cannot receive a refund. For more information on the health insurance waiver, please contact the Student Health Center at 210-436-3506.

New Students
Students living on campus are required to have health insurance, and will be automatically charged when they select housing. If the student has adequate health insurance from another source, they may waive the St. Mary's student health insurance through the St. Mary's Student Health Center.

Undergraduate students living on campus must choose between Meal Plan 5 or Meal Plan 7. Graduate and Law residents are exempt from this requirement but may purchase a meal plan, if desired.

Returning Residents
Students wanting to live on campus for the summer must also fill out a summer housing application. There are two summer applications available: Summer I and Summer II. Access available housing applications through the St. Mary's University Housing Portal on Gateway.

Summer Residents
Residence Life
The Village at St. Mary's
Leies Hall, Rooms 101-105
Office Hours
Monday through Friday
8 a.m. to 5 p.m.
Ready to Apply for Housing?
Apply now on the StMU Housing Portal.