Students in the Greehey School of Business at St. Mary's University learn first-hand that business leaders are most successful when they make the world a better place. Each semester, our students meet with senior executives from the world's best organizations who talk about their values. And, those executives teach our students how to apply their own values at work to build a better world.
Recently, our students have interacted in their classrooms with ethical leaders from Starbucks, PricewaterhouseCoopers, Valero, Merck & Company, Frost Bank, the San Antonio Spurs, AT&T, Dell, Zachry Industrial, USAA, and so many more.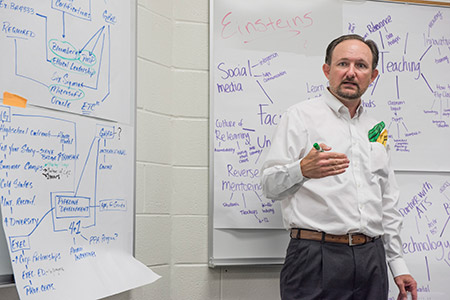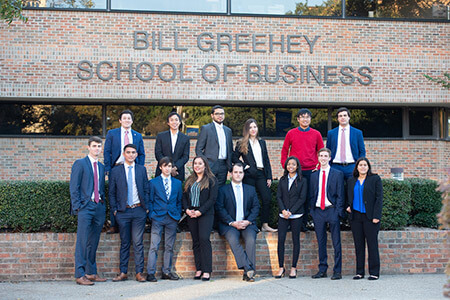 When you become a student here, you'll meet those leaders face-to-face and start building a top-notch professional network. That's the beauty of a small, industry-connected business school like ours. 
Our commitment to socially responsible business runs deep in the Greehey School of Business. In 2007, we launched the Greater San Antonio Ethics and Compliance Roundtable in partnership with more than a dozen of the region's best companies. Today, this group of almost 50 senior executives meets regularly at St. Mary's to discuss ethics challenges in their organizations. Since its founding, the Roundtable has given our students many opportunities to learn from experienced, high-integrity business executives.
Leading our many initiatives in ethics and responsible business is Matthew Gilley, Ph.D., who holds the Bill Greehey Chair in Business Ethics and Corporate Social Responsibility at St. Mary's. Gilley is an internationally known thought leader on the topic of ethical leadership and business strategy whose research has been cited more than 4,000 times in top academic journals and media outlets.
Gilley is also one of only a handful of professors from top business schools around the United States who is a Fellow of the Ethics and Compliance Initiative (ECI) in Washington, D.C., the world's premier think-tank on business ethics. Gilley has led three research groups for the ECI to study the future of the ethics profession, presenting his findings to hundreds of senior leaders from businesses like Boeing, General Motors, Microsoft, Google, Bank of America, and many others.
Gilley said, "One of our goals in the Greehey School is to help students understand the important role that ethical business leaders play in our global society. Business can be a force for good, and we work hard to create leaders who know that and who go out into the world ready to make a difference. Our unique combination of leading-edge research in corporate social responsibility, deep connections with industry, and small classes gives our students such an advantage as future business leaders." 
As you can see, when you become a student at the Greehey School, you'll be taught not only how to be a successful business leader, but also to understand that you do well by doing good.