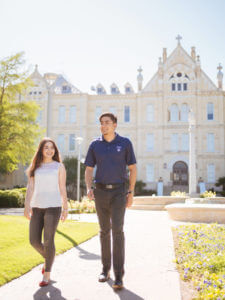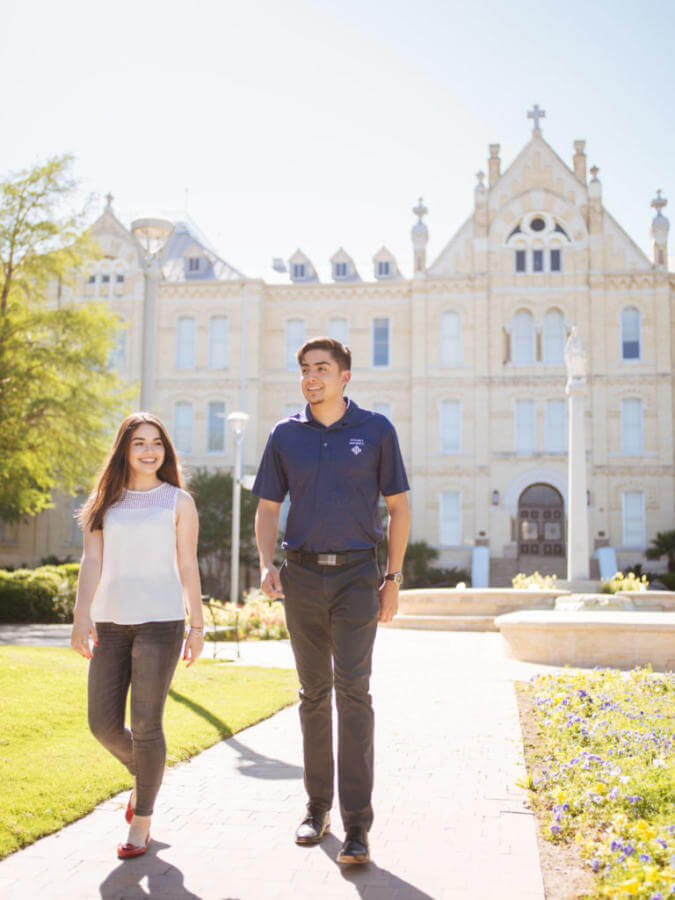 One of the best ways to determine if a college or university is good for you is to get there and experience the campus for yourself.
The St. Mary's community is excited to welcome you to campus as you explore our academic offerings and learn more about what it means to live and learn as a St. Mary's student.
We offer many visit options to fit the most hectic schedules. If, after reviewing the options below, you still don't find an option that works best for you, give us a call at 210-436-3126 or send us an email and we'll see what we can work out.
We look forward to welcoming you to St. Mary's University and our beautiful hometown, San Antonio.
---
Daily Campus Visits
Fall and Spring Visits
During the school year our campus visits are offered Monday through Friday.
High school seniors and transfer students may choose to:
Attend an actual St. Mary's class (open only to prospective students)
Meet with an admission counselor
Meet with a financial aid counselor
Take a campus tour
Attend a St. Mary's information session
High school freshmen, sophomores and juniors may choose to:
Take a campus tour
Attend a St. Mary's information session
Schedule your campus visit on a day that works best for you and your family. We can't wait to show you around.
Prospective students and families are encouraged to schedule your visit at least one week in advance.
---
Open House Programs
Saturday Showcase
Open to all prospective students and their families, Saturday Showcase provides you the opportunity to spend part of a Saturday at St.Mary's University. You will have the chance to learn more about our academic and co-curricular offerings as well as the opportunity to meet St. Mary's faculty, staff, and students. This is a great introduction to St. Mary's and the college application process here at St. Mary's.
Additional highlights of this program include an academic fair, complimentary lunch in the Diamondback Cafe, and a student panel of current St. Mary's Rattlers offering their perspective.
Sleeping Bag Weekend
We know your questions about campus extend beyond what happens in the classroom. You'll study here, but you'll sleep and eat here, too. Sleeping Bag Weekend – typically occur once in the fall and twice in the spring – is your chance to live on campus. Spend the night in a residence hall with current students, visit a class, celebrate Mass on campus, and dine on San Antonio's world-famous Riverwalk.
Families are invited to tour campus, ask questions at a financial aid question and answer session and explore the academic benefits of a St. Mary's education with our academic deans.
Nov. 17 to 18, 2019March 1 to 2, 2020March 22 to 23, 2020
---
Planning your trip
Driving directions
View the campus map to get directions. We suggest that you enter at the main entrance near Culebra and Memorial Drive or the NW 36th Street entrance.
Transportation
St. Mary's University is located approximately 20 minutes from the San Antonio Airport. A taxicab to campus costs about $35 to- $40 each way. In addition, Uber and Lyft provide pickup services from the San Antonio Airport.
Visitor resources
University Map (visitor parking lots can be found here)
For lost and found inquiries, please email the University Police at code3@stmarytx.edu or call 210-436-3472.
Maps
Bring up a Google Map of campus to get driving directions.
We also have an interactive campus map so you'll know where to go once you arrive on campus.