As a Catholic and Marianist University, St. Mary's is committed to providing students with experiential learning opportunities that inform their development of faith and vocation, their understanding of justice and the common good, and their journey to becoming leaders in our local, national and global communities.
Through involvement with ongoing local volunteer opportunities, service-learning classes, advocacy work, immersion experiences and civic leadership – all rooted in reflection and shaped by our Catholic identity – the Office of Community Engagement serves to connect our students to the world around them as they identify where their passions, skills and talents meet the world's needs. Simultaneously, our office works to build and maintain healthy and mutually beneficial relationships with community partners, particularly those on the West Side of San Antonio.
We serve as the connector of our students and neighbors in a joint effort to learn from one another in a process of community growth and development, heeding Father Chaminade's wisdom that "new times call for new methods," and working together to discover our best possible response.
40 Days of Lent and Service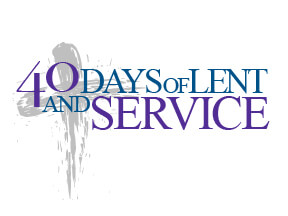 In the spring of 2016, St. Mary's President Tom Mengler initiated a city-wide effort bringing together Catholic institutions of learning and Catholic Charities of San Antonio. This effort, 40 Days of Lent and Service, is now an annual program that St. Mary's participates in. Departments, student organizations, athletic teams and residence halls come together to offer a robust and diverse range of service activity throughout the Lenten season, which is kicked off by our spring Continuing the Heritage program.
Examples of the service programming that occur during the 40 Days of Lent and Service include:
Stop Hunger Now – prepare over 10,000 meals to assist school feeding programs, orphanages and crisis relief
Faculty and Staff Afternoon of Service at Guadalupe Community Center
Blood drive benefiting South Texas Blood and Tissue Center
Residence Halls Service Day – each residence hall plans a day of service for their residents at various sites around the West Side
Mass and Manna – the community joins together for weekly liturgy while collecting canned food for the pantry at Guadalupe Community Center
40 Days of Lent and Service began with Continuing the Heritage on Saturday, Feb. 29, 2020.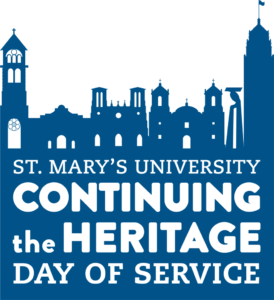 Continuing the Heritage Day of Service Event (CTH) is a University-wide service project that takes place at the beginning of each semester. The event is sponsored and organized by the Office of Community Engagement.
Spring 2020 Continuing the Heritage Day of Service
Saturday, Feb. 29
9 a.m. to noon
Starting location: Flex Field
Traditionally, more than 700 St. Mary's volunteers come together to give more than 3,000 hours of service in the community per year.
Each year, students, faculty, staff and alumni come out in droves to volunteer for community projects around San Antonio. They lend their time and talent to paint houses for the elderly in the St. Mary's neighborhood area, work in community gardens, serve food to the homeless at Haven for Hope, paint playgrounds at Head Start locations, remove graffiti and more.
Since 2003, nearly 7,500 volunteers have offered approximately 41,000 hours to organizations providing much-needed service throughout San Antonio.
Previous partners have included Ronald McDonald House, Habitat for Humanity, Guadalupe Home, Catholic Charities, Roy Maas Alternative Thrift Store, Grace Place for Alzheimer's, St. Mary's Legal and Social Justice Center, Root of Change Community Garden, CHRISTUS Santa Rosa Children's Hospital and many more.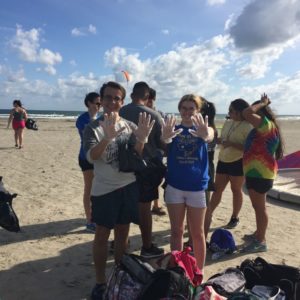 While our students engage in service opportunities that allow them to respond to immediate community needs, we know that the way to make long-term change is to challenge structure of injustice – structures that they learn about first hand through those aforementioned service activities. As students build community relationships that allow them to see personally how our neighbors are affected by unjust structures and policies, we accompany them in their journey to grow into more fully informed faithful citizens. St. Mary's students engage in efforts of social justice education and advocacy both on and off campus to help create a shift in our global, national and local community narratives, working intentionally and diligently toward a more just and peaceful world.
Examples of the education and advocacy programs our students participate in is voter education and registration, hosting lectures and group discussions and dialogue, informative sessions on immersion experiences, and educational programming around key social issues such as comprehensive immigration reform, global poverty, hunger and homelessness awareness. Our programs are rooted in our Catholic faith tradition and the social teachings we embrace including honoring the dignity of all people, solidarity, subsidiarity and the communal call to work for a more enriched quality of life for all people, focusing most on those who are most vulnerable and are on the margins.
Summer of Service Program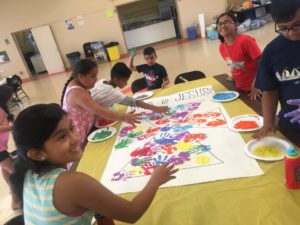 The Summer of Service Program gives St. Mary's students the opportunity to host a five-week summer camp for children of the Gateway District, West Side community of San Antonio. The purpose of this program is two-fold: to respond to needs of our neighborhood and community, offering children a safe place to spend their days while school is not in session and alleviating stress for parents of costly child-care options that may be outside of the community in which they live, and to offer St. Mary's University students the opportunity to live in community while working together to implement a service project, giving them a shared mission through which to enter into deeper faith formation and a more profound sense of living in small Christian community guided by the Marianist charism.
A three-way partnership yielded what has become the Summer of Service program: Catholic Charities of San Antonio, whose program and curriculum is the base for the summer camp and who provide camp supplies and guest nonprofit partner presence; Holy Rosary, who offers the space for the summer camp to take place and whose parishioners are the target for attendance at the camp; and St. Mary's University, who offers eight student interns the opportunity to execute the Catholic Charities program at Holy Rosary. Each week campers from both Catholic Charities sites (Holy Rosary and Guadalupe Community Center) also visit campus for educational visits to various offices and departments. Through these visits, children from the West Side receive tours of campus, residence halls, the Blume library and media center, make use of aquatic facilities, to highlight some of the on-campus activities.
While the summer camp takes place over five weeks, Summer of Service student interns commit to an eight-week program if accepted. Students spend the first week engaged in faith formation and community-building activities, learning processes of theological reflection, spend time learning more about the West Side of San Antonio and meeting with key community partners. The last week interns spend in further exploration of how their Summer of Service experience affects their vocation and personal faith journey. Throughout the summer, students meet weekly for spirituality nights, as well as for meals with invited community partners. They develop a community focused on growth in the Marianist charism, simplicity, justice and greater understanding of their leadership roles in working towards the common good.
The summer camp runs from 9 a.m. to 4 p.m. Monday through Friday and is available, free of charge, to members of Holy Rosary parish. Parents or guardians must submit an application at the Parish office in the month of May (one application per child); acceptance is on a first-come basis until we reach a maximum of 45 campers, ages 8 to 17. Children will receive lunch and snack each day through the free lunch program of the San Antonio Food Bank.
Marianist Leadership Program
The Marianist Leadership Program (MLP) works through the Office of Community Engagement and is a community of equals that cultivates relationships through hospitality, selfless servant leadership, and faith for the purpose of making a positive change with the students of St. Mary's University in the San Antonio community. MLP has existed for 20 years and is designed to provide students with educational and experiential opportunities focused on faith and leadership within the five pillars of the Marianist Charism – Faith, Mission, Mary, Inclusivity, and Community. The Marianist Leadership Program at its core strives to embody the Marianist Charism, to actively build the community, and to be the servant leaders for the St. Mary's campus and surrounding community.