2018-2019 Presidential Award Winners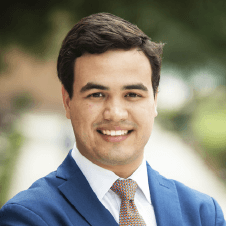 Hometown: San Salvador, El Salvador
Degree: B.B.A. in Finance and Risk Management
Future Plans: Sebastian has accepted a position with Goldman Sachs in New York in the Investment Banking Division.
"The Marianist culture has shaped me into a well-rounded, intellectually curious, successful and caring person. St. Mary's has helped me prepare for my profession as well as helped me to understand the world around me. St. Mary's has taught me that the sky is the limit. As a student, opportunities are not served to you on a silver platter; however, if you put in the work, surround yourself with the right people and believe in yourself, there is nothing that can stop you. I will be forever in debt to St. Mary's for everything she has done for me, and I will always represent my alma mater with pride and respect."
Jennifer Baltazar-Salinas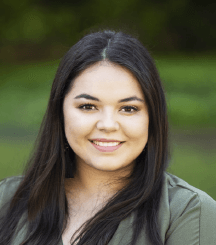 Hometown: San Fernando Valley, California
Degree: B.B.A. in Finance and Risk Management
Future Plans: Jennifer will continue to work with Independent Agents Foundation of San Antonio. Her personal goal is to do everything in life with the intention of contributing to the common good.
"Everything I do in life, I do with the intention of promoting the common good. At St. Mary's, there is a strong emphasis on faith formation and helping the community that's combined with preparing students for competitive positions in the workforce. Through my many experiences as a student, I have grown as a person. Through the Marianist Leadership Program, I have been part of a community committed to service while focusing on my faith, leadership and Marianist education. I have grown as a contributing member of the University community, I have learned the importance of a strong and efficient work ethic, and I have developed a strong willingness and ability to lead."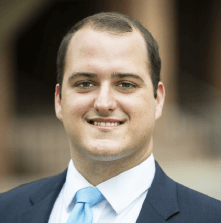 Hometown: Trophy Club, Texas
Degree: B.B.A. in Finance and Risk Management
Future Plans: Kyle will join Goldman Sachs in Dallas as a member of the Realty Management Division.
"Vocation was not something I had ever thought of before I came to St. Mary's, yet the importance of my experience and the developmental journey I'm on directly relates to vocation. Having a core competency of producing servant leaders is a bold claim for St. Mary's to make, but a servant leader is an embodiment of the characteristics of the Marianist approach to education. I have developed two life-long goals while here: to alleviate poverty and improve childhood literacy rates worldwide. Thanks to my education, I don't think of service as something good to do; rather, serving my community and making the world a better place is what I am meant to be doing."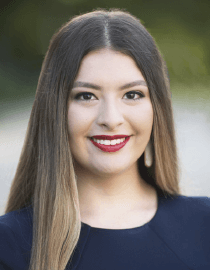 Hometown: San Antonio, Texas
Degree: B.B.A. in Management
Future Plans: Iliana has accepted the position of St. Mary's University Office of Community Engagement coordinator beginning this summer and eventually will pursue a master's in Higher Education Administration at the University of Dayton.
"I learned at St. Mary's what 'vocation' means, and discovered who God is calling me to be. I found that higher education is at the heart of my vocation, and my discernment would never have happened without the education St. Mary's provides, and the mentors I have encountered while here. I learned to appreciate the culture I came from. It was recognizing my privilege and participating in Summer of Service that helped me to see the injustices in our own backyard. By seeing the needs of our neighbors, I can envision a more just reality.  I know my experience of service in a Catholic, Marianist university has laid the groundwork for who I am called to become."
Hometown: San Antonio, Texas
Degree: B.B.A. in Finance and Risk Management
Future Plans: Hannah plans to earn a Juris Doctorate in the United States and later pursue an LL.M. in Europe. Her goal is to work for the United Nations.
"When I interviewed for the Greehey Scholars Program, I was candid about who I was. I pointed out the lack of diversity in business and my desire to disrupt the status quo. I picked St. Mary's because I knew that my values of justice and equity echoed sentiments of many core Catholic teachings. At St. Mary's, I studied ethics and bolstered my theological education. I took business courses, from accounting to business law. Now, I hope to attain a global legal education and work with the United Nations to combat human rights violations by developing attainable international policy. I will continue the St. Mary's legacy by promoting Marianist values in law school and beyond."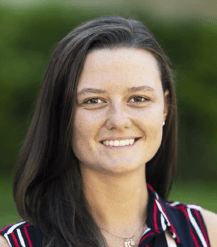 Hometown: Houston, Texas
Degree: B.B.A. in Finance and Risk Management
Future Plans: Hannah will participate in the St. Mary's University Capstone Study Abroad at Oxford University this summer. In October, she will begin her career in finance with a focus on environmental, social, and governance and impact investing in Luxembourg.
"I chose St. Mary's because I knew this was right where God wanted me to be to make the biggest impact possible. I was able to flourish in many life-changing events, on campus and outside of its gates. St. Mary's has not only prepared me professionally, but also helped me understand the world around me. Every season brings challenges, but the University family never failed to shower me with overwhelming grace, love and encouragement. You don't have to leave a place before giving back. My metric of success is helping others before, alongside and after me. I will leave St. Mary's humbled with gratitude, confident in my values and eager to return."
2017-2018 Presidential Award Winners
Guillermo Jose Avelar Guerrero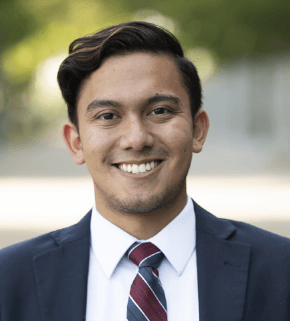 Hometown: San Salvador, El Salvador
Degree: B.B.A. in Marketing
Future Plans: Guillermo will work as a Technical Design
and Development Specialist at Southwest Business Corporation (SWBC) while applying for graduate school.
"The most influential part of attending a Catholic university for me has been the people. It has been interacting with the Marianist brothers and priests — specifically, Father Jim Tobin, who has been my mentor throughout my college experience. A defining moment for me was traveling to Bangalore, India, for three spring breaks in a row to work with the Marianists. It made me realize that I can use my passion, my vocation and my skills to make a difference in the world. The people at St. Mary's are always friendly and willing to help. That is what made me fall in love with St. Mary's. I fell in love with the culture, with the mission and with the Marianist values, because they are ingrained in everything."
Mei-Ling Alejandra Camacho Acevedo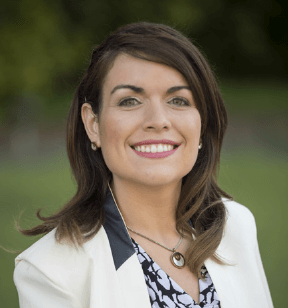 Hometown: Manatí, Puerto Rico
Degree: B.B.A. in Marketing
Future Plans: Mei-Ling will join the work force to gain more experience in the marketing field and hopes to work toward a Ph.D. in Marketing.
"When Hurricane Maria came up in September 2017, it was a defining moment for me. Staff and Marianists gathered all of the students from Puerto Rico, or who have family there, for pizza and prayer. When we got together, we had already started counting how many hours it had been without talking to our families, how we just didn't know if it was going to be days or weeks before we knew if everyone was fine. That moment of support, of coming together in prayer, really transformed me. I knew the community genuinely cared, and students I didn't know were asking me if my family was OK. We supported each other, made a plan for helping the people in Puerto Rico. We learned ways to deal with our own pain. I could see that there was a real community at St. Mary's."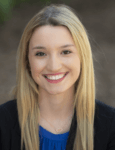 Hometown: San Antonio, Texas
Degrees: B.B.A. in Finance and Risk Management, B.B.A. in Marketing
Future Plans: Meghan will pursue a Master's in Business Administration and hopes to work for a publicly traded company in a role that will allow her to blend her passion for finance and marketing.
"St. Mary's University provided me with a fantastic and holistic education with professional training in business, plus courses in the liberal arts, which has made me a citizen of the world. The best decision I made at St. Mary's was entering the Greehey School of Business, where I found many areas I was interested in. I enjoyed learning about the business school community, where they push you to be competitive in a business world. The Marianists have played a role in my experience by revealing their community side and spiritual side, as well as the fun side of life, to me. They've shown me there is a world out there that is beautiful and community-oriented. In the future, I will strive to make every place where I happen to work or live a community in itself."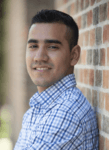 Hometown: La Ceiba, Honduras
Degree: B.B.A. in Finance and Risk Management
Future Plans: Andrés plans on pursuing his master's degree in Finance and returning home to Honduras to work with his father and become the next CEO of their family company. Andrés also plans to share his knowledge to help his community in any way possible and pursue his dream of becoming a city manager.
"Coming from a very small third-world country, I was able to come here to the U.S. and get so much knowledge and experience. I want to be one of those who goes back to Honduras and gives back, helping out in any way that I can after I graduate. I want to make things better. I think the most important part of being at St. Mary's University is how I found my vocation rather than a career. I realize that I can become much more than what my job will be. I think that's a life-changing realization that has really helped me understand that I can become the person I truly want to be. At St. Mary's, I learned what it means to be Marianist. I am well prepared to go back to Honduras and make positive change."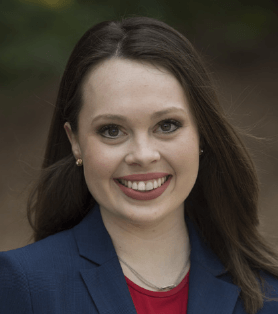 Hometown: Reston, Virginia
Degree: B.B.A. in Marketing
Future Plans: Katelan will enroll in the Greehey MBA Program for Values-Driven Leaders at St. Mary's.
"When I first came to St. Mary's University, I was far from home. One of the most surprising and beautiful aspects of beginning my journey here was how quickly I found comfort and friends and an environment of a family spirit. I felt a sense of purpose. My college education taught me to do things that I'm passionate about and to work toward specific career goals but, most of all, to have value and purpose in everything I do. After I finish my MBA, I will find a career in which I'm influencing and adding value to the world around me, and that's because of St. Mary's. I've learned valuable lessons in the classroom, and I've learned how to translate that outside of the classroom through service. That's something very central to St. Mary's."
John Santikos (1927–2014)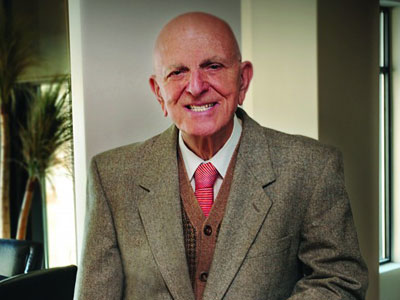 The late John Santikos was a theater and real estate entrepreneur who established South Texas movie theater chain Santikos Theatres in 1958. He earned a marketing degree from St. Mary's in 1949, then worked at his father's movie theater business, which started in Waco in 1911. The rest is history. Santikos died in 2014 at age 87.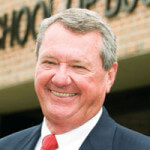 Greehey is the Chairman of NuStar Energy and former Chairman and CEO of Valero Energy. He is also a philanthropist who served on the Board of Trustees of St. Mary's, which named him a Distinguished Alumnus and granted him an honorary doctorate of philosophy. The School of Business bears his name thanks to his University-record $25 million gift, and the arena within the Alumni Athletics & Convocation Center is named after him in honor of his service as campaign chairman.
Gold-Williams (B.B.A. '84) became interim CEO of CPS Energy in September 2015. She was an honoree of the San Antonio Women's Chamber of Commerce, served as an Honorary Joint Base San Antonio Commander, and received Best CFO and Finance awards from the San Antonio Business Journal and La Prensa.
Parker, who earned an MBA in Finance from St. Mary's University in 1995, is CEO of USAA – one of America's leading financial services companies. USAA has served military families since 1922, offering members insurance, banking, investment products and financial advice and planning services. The association owns or manages assets of more than $222 billion.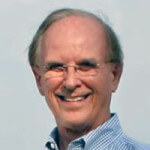 Wolff has served in the Texas House of Representatives, the Texas Senate and the San Antonio City Council. He was San Antonio mayor from 1991–95 and is currently serving as Bexar County Judge – making him the second person in more than a century to have held both offices. He earned B.B.A. and J.D. degrees at St. Mary's.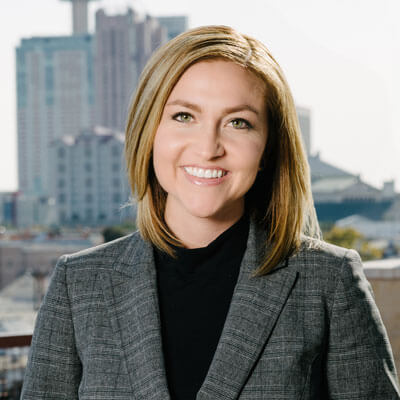 Saucedo-Herrera is President and CEO of the San Antonio Economic Development Foundation. She is the first woman to earn that role, and the youngest CEO to be hired at age 29. Just six years after receiving her B.B.A. from St. Mary's in 2009, she became the youngest vice president in the history of CPS Energy. The San Antonio Business Journal named her one of the 2015 Women's Leadership Award winners and the 2017 40 Under 40 Woman of the Year.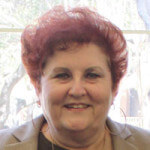 Lopez practiced law for 25 years and was the first Hispanic woman to serve on Texas' Fourth Court of Appeals. She was also the first Hispanic woman to serve as Chief Justice of the State of Texas. She graduated from St. Mary's University with a B.B.A., followed by a J.D. from the School of Law. She is enshrined in the San Antonio Women's Hall of Fame for Public Service.