For Taxpayers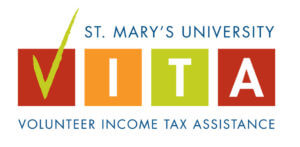 Out of an abundance of caution and changes in schedules due to the coronavirus, the St. Mary's VITA Program will prepare tax returns in a virtual environment only in the Spring of 2021*. Taxpayers whose annual household income is $55,000 or less are eligible for tax assistance through the St. Mary's VITA program.
Taxpayers eligible for assistance will need to be able to furnish the following in order to receive assistance:
Driver's license or photo I.D. for the taxpayer and spouse (if applicable)
Social Security Card or Individual Tax Identification Number (ITIN) for all household family members (copies are accepted)
All W-2 Forms and 1099 tax forms
Other tax forms received (if applicable)
Copy of prior year tax return (if applicable)
If filing jointly, both spouses must consent that St. Mary's has their authorization to file the return.
Documentation for any deductible expenses
A valid email address and/or telephone number.
*As of December 4, 2020, the StMU plan for online virtual VITA operations is pending IRS approval. As soon as details regarding operations are confirmed, that information will be posted at this site. We expect to begin return preparation on or around February 1, 2021.
For Volunteers
For new volunteers, participation in the VITA program requires completion of an IRS certification examination on using the tax software and applying basic tax laws to real-life client scenarios. St. Mary's students who will be NEW volunteers should log into GivePulse via Gateway, add themselves to the VITA Group, and provide the information requested.
New volunteers who are not St. Mary's students should register at the VITA website in GivePulse, create an account and provide the information requested.
Volunteers with previous VITA experience who have NOT already established GivePulse accounts in a prior year should register at the VITA website, create an account and provide the information requested.
All St. Mary's VITA training will occur through Canvas courses. Experienced volunteers may complete this training on their own.
We will, however, provide instructor-led training on March 6 and 13.  Please register through the VITA website in GivePulse to receive additional instructions. 
Tax Return Preparation – Spring 2021
For Spring 2021, we will prepare tax returns through synchronous Zoom sessions in which both experienced and new volunteers are present.
The schedule for preparation sessions is also posted in GivePulse.
If you are interested in volunteering in the VITA program, please contact vitavolunteer@stmarytx.edu or add yourself to the StMU Volunteer Income Tax Assistance (VITA) group in GivePulse and accept the Canvas invitations to our training courses.