For Taxpayers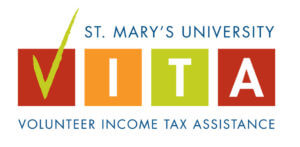 Out of an abundance of caution and changes in schedules due to the coronavirus, this service has been suspended. Please visit the Emergency Notifications page for the most up-to-date information on campus operations.
The VITA program offers free tax help to households with incomes of $55,000 or less. IRS Certified volunteers will prepare tax returns for the current year on Saturdays during the tax season at the Center for Legal and Social Justice, 2507 NW 36th St., San Antonio, Texas 78228.
The St. Mary's site operates Saturdays only from Jan. 25 through April 4 from 9 a.m. to 4 p.m. with no appointment needed. Returns are prepared on a first come, first served basis.
Taxpayers must bring the following to receive assistance:
Driver's license or photo I.D. for the taxpayer and spouse (if applicable)
Social Security Card or Individual Tax Identification Number (ITIN) for all household family members (copies are accepted)
All W-2 Forms and 1099 tax forms
Other tax forms received (if applicable)
Copy of prior year tax return (if applicable)
If filing jointly, both spouses must be present when the tax return is signed
Documentation for any deductible expenses
For Volunteers
For new volunteers, participation in the VITA program requires one day of basic training to teach proper tax software usage and how to apply basic tax laws to real-life client scenarios. Prior tax or accounting knowledge is helpful but is not required. At the VITA website, you will first register as a New User, provide basic demographic information and log out. Then, log back in as a Returning User and select a basic training session.
Volunteers with previous VITA experience must also first register at the VITA website as a New User, provide demographic information, then log out and log back in as a Returning User. As an experienced volunteer, you may sign up directly for advanced training and need not complete the basic training, unless you choose to do so. The advanced training session is designed to refresh an experienced volunteer on the VITA basics and provide preparation to handle advanced situations when working at the VITA site.
Training begins at 9 a.m. and finishes at 5 p.m. Training materials, as well as snacks, light meals will be provided. All training occurs in the Albert B. Alkek Business Building at St. Mary's University.
Friday, Jan. 10, 2020
Saturday, Jan. 11, 2020
Friday, Jan. 17, 2020
Saturday, Jan. 18, 2020
Saturday, Jan. 25, 2020