Volunteer Income Tax Assistance (VITA) provides free tax filing services to qualifying families that make less than $55,000 a year. The St. Mary's University VITA site is open to the entire community, but specifically targets residents on the West Side within the University's Neighborhood Revitalization area.
Taxpayers whose annual household income is $55,000 or less are eligible for tax assistance through the St. Mary's VITA program.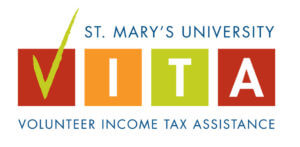 The St. Mary's VITA site is located at the Center for Legal & Social Justice at 2507 NW 36th Street, 78228. We will open on Saturdays only, 9 a.m. to 4 p.m., from January 28, to April 8, 2023.
Eligible taxpayers are asked to bring with them:
Driver's license or photo I.D. for the taxpayer and spouse (if applicable)
Social Security Card or Individual Tax Identification Number (ITIN) for all household family members (copies are accepted)
All W-2 Forms and/or all 1098, 1099 tax forms
Form 1095-A if health insurance is through ACA (Marketplace)
Other tax forms received (if applicable)
Copy of 2021 and 2020 tax returns (if available)
If filing jointly, both spouses must consent that St. Mary's has their authorization to file the return.
Bank Routing Numbers and Account Numbers for Direct Deposit
Documentation for any deductible expenses
A valid email address and/or telephone number
Participation in the VITA program requires training and completion of an IRS certification exam on using tax software and applying basic tax laws to real-life client scenarios. St. Mary's VITA program will host training sessions in the Alkek Building on Campus on Saturday, January 14, 21, and 28, 9 a.m. to 5 p.m. Volunteers are required to complete only one training session.
Please bring your own laptop/computer if possible. We only have a few loaners. A light breakfast and lunch will be provided. Please register for a training date in GivePulse so that we can properly schedule classrooms and order food appropriately. New volunteers should register for the BASIC training sessions. Law students, more experienced volunteers, or volunteers who have completed BASIC training recently may register for ADVANCED training sessions.
For Spring 2023, tax preparation will primarily occur on Saturdays from 9 a.m. to 4 p.m. at the Center for Legal & Social Justice. We plan to operate the site beginning Saturday, January 28, through Saturday, April 8. Our site primarily serves low-income working families and the elderly, many of whom have limited or no access to technology so most tax preparation takes place in a face-to-face environment. We do expect to have some opportunities for virtual volunteering. Tax preparation sessions will be scheduled in GivePulse so volunteers may sign up for those that fit their schedules.