Risk Management and Insurance Career Fair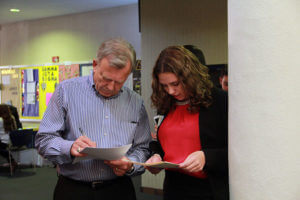 All organizations recruiting candidates for jobs or internships in the areas of insurance, risk management or financial services are encouraged to attend the Risk Management and Insurance Career Fair, held each Fall at St. Mary's University.
Every year, the fair welcomes over 30 organizations and is attended by about 100 students. It is an opportunity for students to develop their professional network, apply for jobs and be educated about some of the best companies in the risk management and insurance industry.
Tenth annual Risk Management and Insurance Career Fair
Tuesday, Sept. 12, 2017
5:30 – 7:30 p.m.
For more information on the Risk Management and Insurance Career Fair, contact David Sommer, Ph.D., at dsommer@stmarytx.edu or 210-431-8055.
---
Participating Organizations
Below are some of the companies who have participated in the Risk Management and Insurance Career Fair in recent years:
Alamo Chapter CPCU
Alamo Insurance Group
All Risks, Ltd.
Allstate
Argo Group
AXA Advisors
Business Financial Group
Catto & Catto
Chartered Property Casualty Underwriter Society
Chase Bank
Frost Insurance
HEB
Independent Agents of San Antonio
Marsh
MassMutual South Texas
National Association of Professional Surplus Lines Office
Nationwide
New York Life
Northwestern Mutual
Planto Roe Financial Services
Platinum Wealth Solutions
Quirk and Company
South Texas Risk and Insurance Management Society
State Farm
SWBC
Texas Mutual Insurance Company
Texas Security General Insurance Agency
Texas Surplus Lines Association
The Hartford
Travelers
Union Standard Insurance Company
USAA
Waddell and Reed Financial Advisors
Wells Fargo
Willis
Wortham
Young Risk Professionals of Texas
---
Interviews
On-campus interviews can be set up through the Office of Career Services by contacting Lauren McLeaird at lmcleaird@stmarytx.edu or 210-436-3102.
---
Registration and Sponsorship
If you receive an error message, please email dsommer@stmarytx.edu directly to register.