Forum on Entrepreneurship Breakfast Series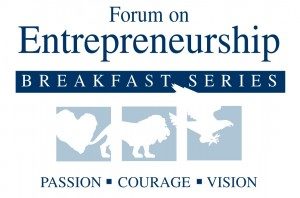 The Meadows Center for Entrepreneurial Studies promotes and encourages entrepreneurial thought, business and activities locally, regionally and nationally.
The purpose of the Forum on Entrepreneurship Breakfast Series is to offer the larger San Antonio community and students of St. Mary's University a forum to hear from some of the most talented individuals in industry and government. Funds generated from the series support student scholarships and encourage entrepreneurial activities in San Antonio and the region.
The Forum on Entrepreneurship Breakfast Series attracts two to three hundred attendees to its bi-monthly breakfast meetings.
Past Speakers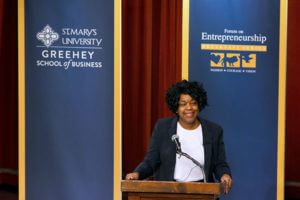 Great leaders who have served as speakers include:
Lynda Ellis, owner, president and CEO of Capital Concierge
James Garvin, Ph.D., CEO, president and director of CytoBioScience, Inc.
Dennis Noll, CEO of San Antonio Area Foundation
Bryant Ambelang, president and CEO of NatureSweet Brands LTD
Mike Howard, chairman and CEO of Howard Midstream Energy Partners, LLC
Shannon Schuyler, principal, chief purpose officer and corporate responsibility leader of PwC, and president of PwC Charitable Foundation
Robert Kaplan, president and CEO of Federal Reserve Bank of Dallas
Adam L. Hamilton, P.E., president of Southwest Research Institute
Stuart Parker (M.B.A. '95), CEO of USAA
Daymond John, founder and CEO of FUBU apparel, author, and marketing and branding judge for ABC's Shark Tank
Paula Gold-Williams (B.B.A. '84), CEO of CPS Energy
Tom Kartsotis, founder of Fossil and Shinola
Bill Greehey, chairman of NuStar Energy, L.P.
Upcoming Events
Thursday, Oct. 4, 2018
Thomas W. Horton
Former chairman and CEO of American Airlines, and senior adviser at Warburg Pincus
---
Next Forum Breakfast
Guest Speaker
Lynda Ellis (B.A.S. '81)
Owner, president and CEO of Capitol Concierge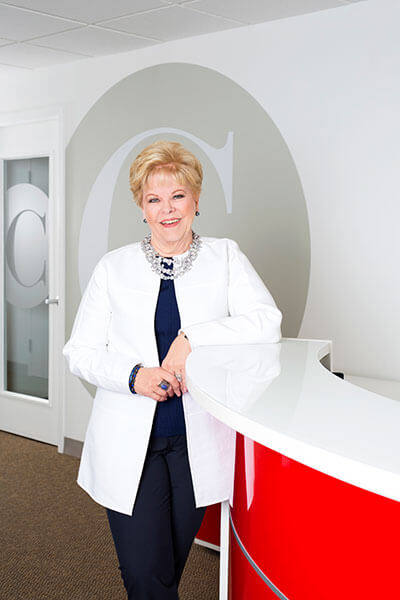 Lynda Ellis is owner, president and CEO of Washington, D.C.-based Capitol Concierge, the nation's first provider of corporate, residential and commercial concierge services. She joined Capitol Concierge in 1998 and purchased the company in 2007. Since then, she has been redefining the concierge industry.
Ellis leads Capitol Concierge based on the philosophy that service matters — her commitment to customer satisfaction is paramount. From using the latest technology to introducing virtual concierge services and adding new services that help professionals manage their busy schedules, Ellis is always looking for ways to transform the concierge service experience. Last year, Ellis and the Capitol Concierge leadership team implemented a bold strategy to expand their business base by taking the company to the international market. Today, the company serves more than one million people worldwide.
As an entrepreneur and a business owner, Ellis has a track record of growing companies and taking them to the next level. While a student at St. Mary's University, she started a customized gift company which she later sold for nearly $1 million. Prior to purchasing Capitol Concierge, she was co-owner of a successful $25 million instructional technology company. With each of her businesses, Ellis has let the adage, "do the right thing — even when no one is looking," guide her and believes it is the reason behind her success.
Ellis believes it is important to give back to the community she serves and was instrumental in launching Capitol Cares, the philanthropic arm of Capitol Concierge. Capitol Cares has logged thousands of hours of pro bono work in addition to countless forms of community service through organizations such as the Salvation Army, Red Cross and Wounded Warriors. Ellis is a member of the Red Cross Tiffany Circle and serves as an ambassador with the Yellow Ribbon Fund, an organization that strives to meet the unmet needs of injured veterans and their caregivers and families through the recovery process. In addition, she is on the Washington, D.C., Police Association Board and speaks to at-risk kids about alternatives to gangs and drugs. As a mentor, Ellis frequently speaks at schools, focusing her message on young women.
Some of Ellis' recent accomplishments include joining the Board of Trustees for St. Mary's University and receiving the 2017 Moxie Award for Business Boldness and Innovation. In addition, she was named the 2016 Profiles in Success Award Winner; CEO World Award's 2016 Female CEO Gold Winner; and Golden Bridge Award's 2015 Women Executive of the Year Gold Winner. As an industry thought leader, Ellis has shared her expertise in numerous publications and is a sought-after speaker.
Event will be held at the Pearl Stable. Registration begins at 7 a.m., followed by the program from 8-9 a.m.
---
Sponsorship Opportunities
To renew your sponsorship, become a new Forum on Entrepreneurship Sponsor, or for additional information about attending, contact forumbreakfast@stmarytx.edu or 210-436-3124.
Forum Sponsors
Title Sponsor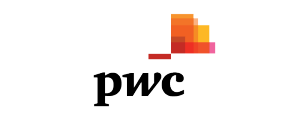 Platinum Level
Gold Level
Silver Level
Venue Sponsor
---
Past Events
Feb. 2, 2017 Forum Breakfast featuring Shannon Schuyler, principal, chief purpose officer and corporate responsibility leader of PricewaterhouseCoopers LLP


April 7, 2016 Forum Breakfast featuring Stuart Parker (M.B.A. '95), CEO of USAA
---
Board of Directors
Officers
Chairman
Chris C. Edelen, St. Mary's University and Sterling Home Technologies
President
Paul Hensley, Holt CAT
Vice President-Speakers
Hector Hernandez, Hernandez Financial Strategies L.L.C.
Vice President-Sponsors
Beth Hair, Aventine Hill Partners
Treasurer
Julia Hamon, Wells Fargo
Secretary
Pamela A. Luna, CAP-OM, St. Mary's University
Members
John Bruce, BKD, LLP – CPAs & Advisors
Rhonda Calvert, Comerica Bank
Jon D. Crumley, PwC
Tres Doran, KPMG LLP
Tom Madison, Ph.D., St. Mary's University
Gary McDaniel, Norton Rose Fulbright
David G. Pope, Texas Capital Bank
Tanuja Singh, D.B.A., St. Mary's University