What is the Marianist Leadership Program?
The Marianist Leadership Program (MLP) is a community of equals that cultivates relationships through hospitality, selfless servant leadership and faith for the purpose of making a positive change to the San Antonio community by St. Mary's students. MLP is designed to provide students with educational and experiential opportunities focused on faith and leadership within the five pillars of the Marianist Charism.
MLP works through civic engagement to foster a sense of servant-leadership. Freshmen and sophomore members are required to volunteer with a nonprofit agency for three to four hours a week. Students are encouraged to engage in any of the multitude of service projects, either on a one-time basis or in smaller time increments over a longer period of time. Members also serve as leaders of Continuing the Heritage.
To apply to become a member of the Marianist Leadership Program, view the application information below. The application form will be available for submission mid-November.
Opportunities within the Program
Living-Learning Community
Members of MLP live in community within the Anthony Frederick Residence Hall located in The Village in order for program members to form relationships, assist one another academically and to build a support system within the Program.

Marianist Lay Communities
Marianist Lay Communities are small faith communities made up of four to six members from each classification within MLP. These communities are the foundation of our program, they are designed to support students in their faith journeys and to challenge them to make a positive impact in the St. Mary's and San Antonio Community.
Semi-Annual Retreats
Spring Retreat: The spring retreat focuses on each classification's developmental needs. Freshmen, sophomores, juniors and seniors each learn more intentionally about what it means to be faith leader in our society today.
Immersion Trips
Members will have the opportunity attend, promote and serve as student leaders for immersion experiences, which provide an extremely unique opportunity to gain insight on social justice issues and the opportunity to stand in solidarity with those living on the margins of society. All immersion trips are open to the broad undergraduate community, with the exception of the Los Angeles Immersion trip, which collaborates with the two other Marianist Universities, University of Dayton and Chaminade University, to bring the Marianist Charism to the homeless in Los Angeles.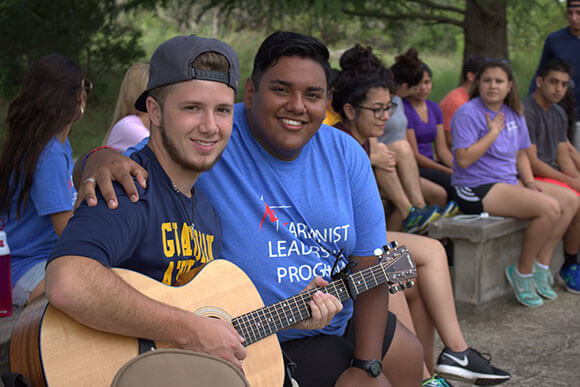 Who Should Apply?
Anyone! MLP is a diverse community and is searching for students from any academic discipline or faith background. We are a vibrant faith community that loves to serve together, grow together, and most importantly, laugh together!
Scholarship
Each member that fulfills the yearly obligations of MLP receives the Marianist Leadership Scholarship of $3,500 per year. Approximately 16 students are admitted to the program each year.
Application Form for Current St. Mary's University Students
You must provide one reference that is not related to you. (Ex: Parish member, high school teacher or staff member, community member.) If you are a current student at St. Mary's University (freshman or sophomore), your recommendation must be from a St. Mary's faculty or staff member.
Applications are only open to current freshmen and sophomores. Applications closed at 11:59 p.m. on Tuesday, Nov. 10, 2020.
Application for New St. Mary's University Students
The Marianist Leadership Program application form is now available for first-time freshmen who are applying to join the St. Mary's University Class of 2025.
The MLP application deadline has been extended through Wednesday, Jan. 20, 2021.
In addition to a complete application form, Marianist Leadership Program applicants must also submit:
A student résumé
A head shot
Two (2) letters of reference (details below)
You must also provide two (2) references/recommendations: one (1) professional reference (Ex. Teacher, Supervisor, Coach), and one (1) spiritual reference (Ex. Priest/Pastor/Minister, Parish member, spiritual mentor).