The Student Counseling Center (SCC) utilizes an integrated health approach in promoting mental and emotional wellness. Our goal is to support students' intellectual, emotional, social and cultural development. We welcome all students, regardless of race, gender, ethnic background, age, sexual orientation, religion, citizenship or disability.
St. Mary's University Counseling Services
Being a college student comes with many changes and exciting opportunities. However, it is also common that students experience distress or personal crisis, which can result in feeling overwhelmed, confused or unsure during their time at St. Mary's. At the Student Counseling Center, it is our responsibility to listen to student concerns and make recommendations that will help them be the best version of themselves. In most situations, our brief service model is appropriate to what college students will benefit from. At times, a student may have a need for a higher level of care than what we offer, and we will assist in connecting them to an appropriate provider as needed.
Our confidential services are available year-round and at no cost to currently enrolled St. Mary's students. Services offered within our short-term therapy model include:
Single Session Consultations

Groups and Workshops (list updated at the start of each term)
*Psychiatry services are limited, and students interested in this service are asked to call our office for more information.
**Outreach requests can be made to SCC to address assorted topics related to mental health.
Students seeking services can receive services:
Telehealth (Phone/Video)

Note: Telehealth clients must be residing in the State of Texas as outlined by clinical licenses. Video sessions require a good internet connection and camera on your device (e.g., smartphone, laptop, and/or computer), as well as a private place to talk to protect your confidentiality.
Mental Health Emergency Situations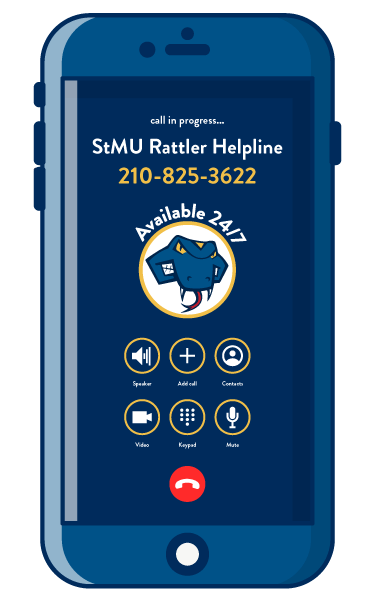 If you are in a situation that is a mental health crisis or an emergency during business hours, you are welcome to walk into our office, located in the Center for Life Directions and let our front desk know you need crisis support.
The Clinician on Duty will meet with you to assess your needs.
If you have a mental health crisis or emergency after business hours, please contact our Rattler Helpline at 210-825-3622.
How to make an appointment at the Counseling Center
1.

Call the SCC and schedule a 15-minute phone triage. Students will be provided a recommended service after completing the triage.
2.

Follow up with recommended service/treatment.
3.

Accomplish your mental health and wellness goals.
Phone: 210-436-3135 (for appointments and support during business hours)
Crisis line: 210-825-3622 (available 24/7, 365 days a year)