What is the Marianist Leadership Program?
The Marianist Leadership Program (MLP) is a faith-based leadership and service program that cultivates and nurtures community.
MLP is designed to provide students with educational and experiential opportunities focused on faith and leadership to make an impact and positive change both in the San Antonio community and on St. Mary's campus.
MLP works under the Office of Mission and works collaboratively with Community Engagement and University Ministry.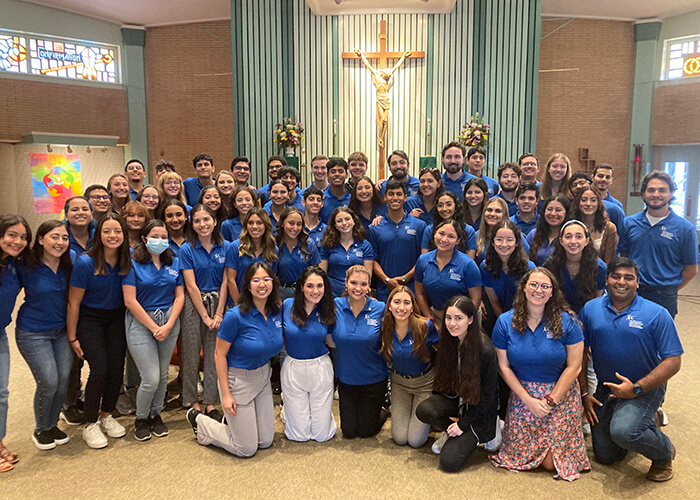 Throughout any given month, students can expect to devote at least 12-15 hours per month to the program by attending a 1-hour bi-monthly large group session, a 1-hour bi-monthly small group session, a 2-hour monthly gathering of all MLP students to discuss issues of social justice, providing 4-5 hours of monthly service to a non-profit, and attending a few special events each semester.
All monthly activities are designed to support the values of faith, community, leadership and service.
Opportunities within the Program
Living-Learning Community

Freshmen and sophomore members of MLP live in community within the Anthony Frederick Residence Hall located in The Village in order for members of MLP to form relationships, assist one another academically, and to build a support system within the Program.

There are two weekend retreats that serve as a spring board for the beginning of the fall and spring semesters. During these retreats, students will be exposed to the Marianist charism, the Founders of the Marianist Family, aspects of faith and social justice, community, the role of Mary, Discernment, Vocation, and many other themes that will allow the student to grow deeper in their faith.
Marianist Families are small communities of faith comprised of 8-9 members from each classification within MLP. These communities compliment the formation that happens in the full MLP gatherings, and are designed for prayer and support. Marianist Family gatherings offer an opportunity for discussion and self-reflection as it relates to being a leader in service to others. Within the family they reflect on topics such as Catholic Social Teaching and Marianist spirituality.

Members will have the opportunity attend, promote and serve as student leaders for immersion experiences, which provide an extremely unique opportunity to gain insight on social justice issues and the opportunity to stand in solidarity with those living on the margins of society. All immersion trips are open to the broad undergraduate community, with the exception of the Los Angeles Immersion trip, which collaborates with the two other Marianist Universities, University of Dayton and Chaminade University, to bring the Marianist Charism to the homeless in Los Angeles.
Each semester, all members of MLP offer leadership and service at the biggest one-day St. Mary's service event in the San Antonio area called Continuing the Heritage (CTH). Each semester hundreds of students, faculty and staff offer a morning of service to dozens of off-campus non-profits. This is a great opportunity for all to demonstrate a faith that incorporates the head, the heart, and hands.

Each member that successfully fulfills the yearly obligations of MLP receives the Marianist Leadership Scholarship of $4,000 per year. There are 12 scholarships that will be awarded this year.
MLP is open to any student who already embraces the values of faith, community, leadership and service.
Students who apply to this program should be able to demonstrate through past involvements that they embrace these values and that they want to grow deeper in each of these areas.
MLP is a diverse community of students from many different faith backgrounds and academic interests. Together as a community of faith, members are able to grow together, learn together, struggle together and laugh together!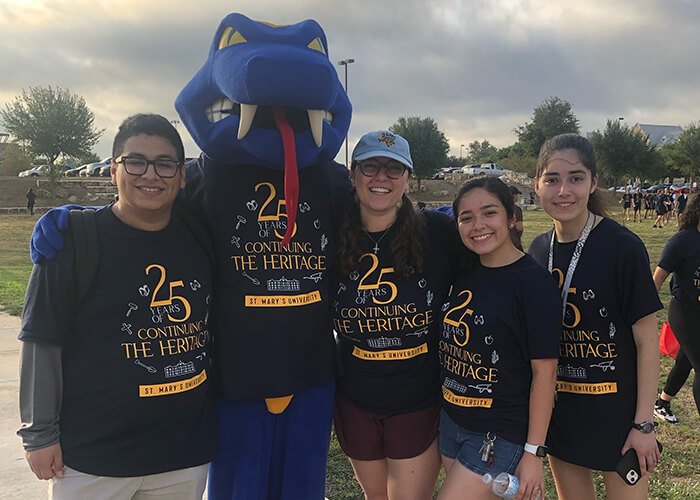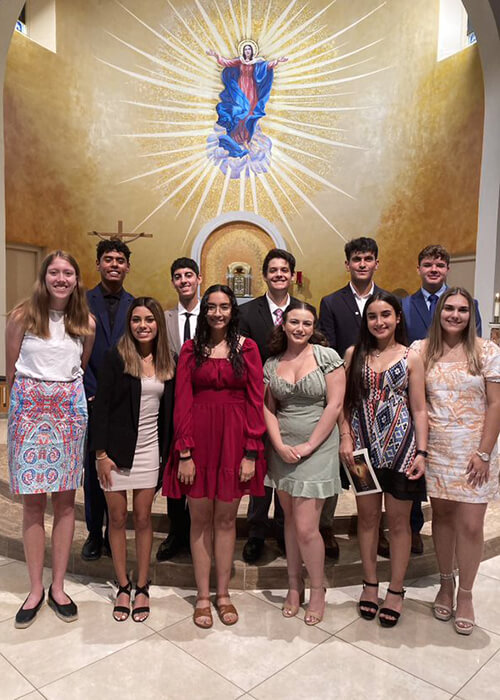 Application for New St. Mary's University Students
The Marianist Leadership Program application form is now available for first-time freshmen who are applying to join the St. Mary's University Class of 2027.
The MLP application deadline is Feb. 17, 2023.
In addition to a complete application form, Marianist Leadership Program applicants must also submit:
Two (2) letters of reference (details below)
You must also provide two (2) references/recommendations: one (1) professional reference (Ex. Teacher, Supervisor, Coach), and one (1) spiritual reference (Ex. Priest/Pastor/Minister, Parish member, spiritual mentor).