Student Staff at St. Mary's University are a central component to our Residence Life program. They go through a thorough selection and training process in order to help them be fully prepared to help our residents throughout their transitions and development in college.
Resident Assistants (RAs)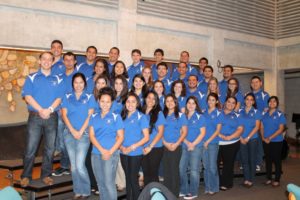 RAs are student leaders who are selected and trained on a variety of topics to help residents in their transitions through college. They live in the halls with the residents and provide assistance to students who are having roommate conflicts, need maintenance repairs, need help finding offices around campus, or are looking for ways to get involved around campus.
RAs organize programs for their residents based on the characteristics of a Marianist Education: Formation of Faith, Quality Education, Family Spirit, Service, Justice and Peace, and Adaptation and Change, with the goal of educating and helping residents apply the things they learn to their life to help them develop and grow.
An RA is on duty in each residential area from 7 p.m. each night to 2 a.m. each morning while school is in session, including short break periods. The RA will conduct rounds in the building during this time and report any incidents that occur to the Residence Hall Director. Additionally, an RA will be at the front desk and/or hall office each night from 7 p.m. to 10 p.m.
Community Coordinators (CCs)
Community Coordinators are student leaders hired because of their direct experience with the living learning community they are assigned. They live with that community and work closely with faculty and staff to develop the program and plan activities related to topic area. Community Coordinators will also provide a variety of activities to help with the formation and development of the community, and are tasked with keeping community members up to date with up coming programs.
Hall Assistants are students hired through our university work study program that provide support to the hall director in their role of managing the operations of a hall office. They often serve as a receptionist for the hall office, answering phone calls and questions received about the residence hall and campus resources. If you are interested in learning more about working as a hall assistant contact the Office of Financial Assistance to find out if you qualify for work study and any available openings for hall assistants.
Summer Assistants are seasonal positions hired jointly with the Office of Residence Life and Summer Conferences. Summer Assistants help coordinate summer conference groups staying in the residence hall, serve on-call, complete desk hours, and plan programs for the resident students staying on-campus.
How to apply for a student staff position
The RA selection process begins every October for potential hire for the fall semester the next year. You must attend announced information sessions in mid to late October, complete an application, and interview process. Top candidates will then be invited to take the RA class in the spring semester, and the final selection of RAs for the next year takes place in late April.
The CC selection process begins in March for hire for the next fall semester. To apply for the CC position you must have been active and/or be considered a part of the community you would like be the CC for. There is an application, interview, and recommendation process that goes into selection decision for the CC.
The Summer Assistant selection process begins in the spring semester.
Announcements and applications are available on Gateway, the St. Mary's intranet portal.