We know that having a loved one away at college can be a transition for both the student and the family. To help you both through this transitional period we've listed some information for parents and family about how you can stay in touch while your student is away.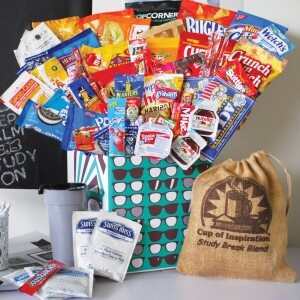 In order to let your student know you are thinking about them during their most stressful time of the year, you can order him or her a finals study week care package. The Residence Hall Association sponsors an opportunity for parents and loved ones to send their students a care package that will be delivered to hall offices during Study Week. Students will be notified that they have a care package and can pick them up at their Residence Hall Office. For more information on the care packages available and to order, please visit the Official Care Package Program.
Before the student moves in it is important to have a conversation about both of your expectations around the frequency, method, and time of day that contact will be made. Student rooms do not come with phones in them, but they may use the hall office telephones to make calls as needed within the Unites States. Other methods such as email, text message, cell phone use, or video calling over the internet may also be preferable to students.
If you have not heard from your student after some attempts to make contact with them, you may contact the Office of Residence Life at 210-431-4312 and request a check on your student. Office of Residence Life staff will relay a message for your desire to speak with the student. The student has the ultimate choice to act upon that message.
If you have an immediate concern of safety for your student it is recommended that you call the Campus Police non-emergency number at 210-436-3330, and in an emergency you can reach them at 210-431-1911.
Send your own letters or packages to a student using the following address as a guide. To get the specific building and room number please ask the individual student directly, as staff are not allowed to share that information.
Name of Resident
St. Mary's University
1 Camino Santa Maria
Hall Abbreviation and Room Number
San Antonio, TX, Zip Code
Building abbreviations and zip codes for residence halls:
| Hall | Abbreviation | Zip Code |
| --- | --- | --- |
| Adele | AD | 78228-8619 |
| Anthony Frederick | AF | 78228-8610 |
| Bordeaux | BD | 78228-8618 |
| Chaminade | CH | 78228-8611 |
| Cremer | CR | 78228-8620 |
| Dougherty | DO | 78228-8612 |
| Founders | FN | 78228-8622 |
| John Donohoo | JD | 78228-8613 |
| Marian | MA | 78228-8614 |
| Lourdes | LO | 78228-8615 |
| Leies | HJL | 78228-8621 |
| Périgueux | PE | 78228 |
| Treadaway | TR | 78228-8616 |
Mail is delivered Monday through Friday to each residence hall before 5 p.m. There is no delivery on Saturday, Sunday, holidays, break periods, or when the University is closed. Mail delivered in the residence hall is not insured and the University is not liable for its misrouting, disappearance or theft.
Packages are delivered to the Treadaway Mail Center, and a packing slip is placed in the resident's hall mailbox to notify them a package has arrived.