St. Mary's University's Center for International Programs is here to help our international students transition to life as a college student in the United States. Prior to your arrival on campus, we can provide advice on such matters as how to apply for a visa and entry into the U.S. After you arrive, we will give you orientation information that explains your rights and responsibilities as an international student and advice on adjusting to American culture.
Center for International Programs
Center for Life Directions, Room 132
210-431-5091
Throughout your studies at St. Mary's University, we are here to answer your questions about immigration issues, host cultural and social events, and refer you to the appropriate campus and government offices when your need is outside our support. Beyond our technical services, we want to get to know you and ensure that your experience at St. Mary's is a positive one.
If English is your second language, our Intensive English Program offers part-time and full-time course options to help you improve your English speaking, writing and listening skills.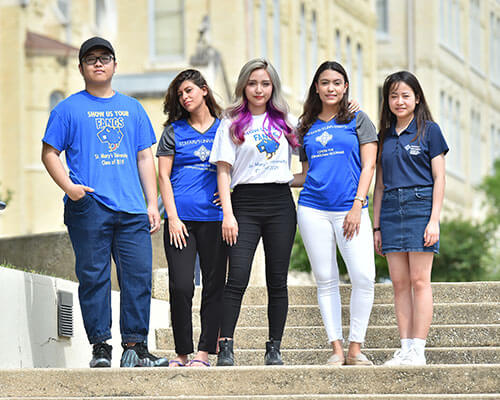 On-campus employment opportunities
There are two types of on-campus employment: Non-College Work Study and Student Employment.
Non-College Work Study is awarded through the Office of Financial Assistance.
Student Employment is granted by individual offices and departments on campus. To find Student Employment positions, inquire at offices where you would like to work. Approval Needed: You don't need authorization from International Student and Scholar Services or the Department of Homeland Security to work on campus, but you must be careful not to work more than 20 hours a week while school is in session. Employment may begin upon arrival at St. Mary's University. If you do not currently have a Social Security number, please fill out the Social Security form.
If you don't have a car and need to get around San Antonio, check out our local bus service, VIA Metropolitan Transit, also known as VIA. The VIA website lists routes and schedules.
VIA's five-month student Semester Pass is $35. Getting a semester pass is as easy — all you need is your school photo ID, proof of current class registration and proof of paid tuition along with filling out the required VIA forms.
Are you an occasional bus rider and don't feel you need a semester bus pass? Students qualify for a free VIA Student Reduced Fare ID. With this card, you can a half-price monthly Big Pass or pay half fare each time you board, including VIA's Special Event Park & Ride Service.
Texas Identification Card (Texas ID)
This is a card with your picture, name, birthday, address and Texas identification number. You can prove that you are living in Texas with this card. Many stores, nightclubs, and other places ask for some kind of identification. They usually ask for driver's license.
Since your passport is such an important document it is better to leave it in a safe place at home. When you get your Texas ID you will not need to carry your passport with you, at least while you are in San Antonio.
Apply at:
Texas Department of Public Safety (DPS)
1258 Babcock Road, San Antonio, Texas 78201-6644
210-737-1911
If you want to drive in Texas, you must get a Texas driver's license. (You may drive with an international driver's license for 90 days). In Texas, most people use their driver's license as an identification card. If you get a driver's license, you do not need a Texas ID. In order to get a driver's license, you must take a written test and a driving test. If you are between the ages of 18 and 24, you also must provide proof of Adult Driver Education.
Apply at:
Texas Department of Public Safety (DPS)
1258 Babcock Road, San Antonio, Texas 78201-6644
210-737-1911