Scholarships for South Texans
When asked about his defining moment at St. Mary's University, Antonio "Tony" Sanchez Jr. (B.B.A. '65, J.D. '69) paused for a moment before answering, "economics."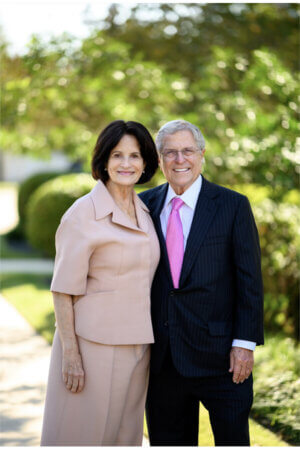 As a first-generation student from Laredo, Sanchez's views on what he wanted to do with his career started to emerge during that pivotal undergraduate class.
"A guy who came from a small, South Texas border town never really thinks about economics," said Sanchez, who now lives in Houston. "When I got there and took this class, my eyes opened up to the world around me. It was just fantastic."
After graduating, Sanchez ventured into careers ranging from banker to oilman to venture capitalist — all while finding a way to give back to St. Mary's. He served as a member of the Board of Trustees from 1981 to 1986, received the Distinguished Alumni Award in 1983 and was a co-chair of The Defining Moment Comprehensive Campaign.
To ensure other students from Webb County can attend St. Mary's, Sanchez and his wife founded the A.R. "Tony" and Maria J. Sanchez Endowed Scholarship — a $1 million gift supporting undergraduate students who demonstrate financial need and remain in good academic standing.
The scholarship benefits students attending the School of Science, Engineering and Technology.
"I was very blessed to be given the opportunity to go to St. Mary's," he said. "I will never forget that."
Q: What do you remember the most about your time at St. Mary's?
A: I really enjoyed the faculty and also meeting so many people. It was amazing to meet students from all over the United States, many of whom I remain friends with.
Q: Why did you choose to give?
A: I chose to give because I wanted to help people advance their careers, particularly students who find it difficult to move forward in education due to financial hardships. St. Mary's is my alma mater and I have a deep affection for it, so I wanted to help the students there. I think of them as my family.
Q: What impact do you hope your gift has on students?
A: I hope they feel excited. I hope they have dreams about going to college and about becoming professors, accountants or various other areas they want to focus on. When we are able to give money, I want to help them achieve those dreams.
Q: What do you think the future holds for St. Mary's?
A: The future of St. Mary's is fantastic. I am so happy that at one time in my life, I got to be part of it. I'm proud of St. Mary's. I'm proud of what they do. I'm going to continue to help as long as I can.