Giving for the next generation
For Juan Valadez Jr. (B.S. '03, M.S. '06, M.B.A. '11), attending St. Mary's University has become a family affair.
Earning his three degrees with St. Mary's, Valadez said his son, Michael, recently transferred to the University. When hearing about one of his days at school, Valadez said he was not surprised at how things played out.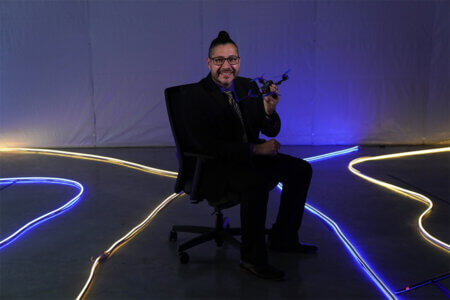 "He was telling me a story the other day where he walked into the music building, because he's a musician, and they recognized him as a new guy and came over to introduce themselves," Valadez said. "I told him, 'Yeah, that's St. Mary's.'"
While he's happy to see the welcoming personalities of people haven't changed, Valadez said he felt compelled to donate to The Defining Moment Comprehensive Campaign to help future students. His gift supported the new Unmanned Aerial Systems Laboratory, aka Drone Lab.
"It's my turn to give back," said Valadez, who is an IT consultant and Assistant Professor at the University of Texas at San Antonio. "When I was at St. Mary's, I had grants and scholarships. That money comes from somewhere. This is my chance to give back to future generations."
Q: What drew you here initially?
A: I was going to go to the University of Texas at Austin, but I remember thinking the one thing I didn't like about their Engineering program was how the classes were insanely large. I was literally a number and I did not want that. Someone told me about St. Mary's and I applied, was accepted and decided, "You know, I'm going to take a chance." I'm super grateful I went through with that because it single-handedly created my career.
Q: What was your defining moment?
A: It was an opportunity to work as a junior UNIX administrator. Professor of Electrical Engineering Mehran Aminian, Ph.D., ran an advanced research lab. He was talking about the job and I remember going up to him and telling him, "You know, I'm dabbling in UNIX myself." He gave me an insane amount of trust and responsibility. I loved it.
Q: What else do you remember about your time here?
A: The community. Even to this day, all my classmates and colleagues, we're like a family. We all wanted to succeed together. It helped that the faculty was very immersing, and the upperclassmen were good at embracing us too. It was my sophomore year when I realized helping those coming up behind us is what we do.
Q: Why did you choose to give?
A: I've always been supportive of the vision of Professor of Electrical Engineering Bahman Rezaie, Ph.D., because he's worked tirelessly to expand the program and try to give the University and the students the tools they need to succeed and be competitive.
Q: What impact do you hope the gift has?
A: These students, they're my replacement. I have to start thinking I'm part of the older generation and I'm OK with that. But part of that comes with a lot of responsibility. My responsibility is to support the younger generations. It's a cycle.
Q: What do you think the future holds for St. Mary's?
A: This Defining Moment Comprehensive Campaign has been huge. It really shows the University has put emphasis on fundraising. It's important we as alumni have confidence in it for future students. I'm excited about that.