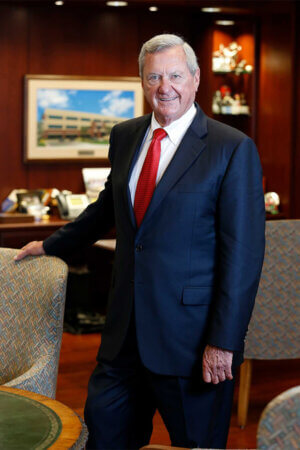 The definition of success is different for everyone. But for Bill Greehey (B.B.A. '60), his definition is very specific. "Marianist values are very important," Greehey previously told the San Antonio Express-News in an interview about his donations to the University. "You're never a success unless you share that success."
As the largest donor in St. Mary's University's history, Greehey has continuously shared his success with his alma mater. As honorary co-chair of The Defining Moment Comprehensive Campaign, he donated significantly in the push to reach the initial goal of $130 million.
From Fort Dodge, Iowa, Greehey dreamed of a college education but was raised in a poor, working-class family unable to afford to send him to school. After graduating high school, Greehey joined the U.S. Air Force to attend school on the GI Bill.
After four years in the military, Greehey attended St. Mary's. He was recognized with many academic honors while working nights and weekends parking cars at the Nix Hospital to support his family.
"You're never a success unless you share that success."

Bill Greehey
As an alumnus, Greehey has served on the St. Mary's Board of Trustees from 1981 to 1988, and again from 2001 to 2007. He received the Distinguished Alumni Award in 1986, the business school's Kohnen Award in 1993 and an honorary doctorate in 1998.
For his accomplishments in business, Greehey was inducted into the Texas Business Hall of Fame. In 2000, he also received the Horatio Alger Award, which recognizes individuals who climbed from humble beginnings to personal and professional success.
The students who have benefited from Greehey's gifts say certain opportunities would not exist without his support.
Mikayla Durham, a Finance and Risk Management major who graduated in December, was a recipient of the Greehey Scholars Program and speaks highly of the scholarship he made possible. Durham, a Dallas native, heard about the scholarship after deciding to attend St. Mary's and join the Women's Soccer team.
As she started doing research, she said the application process felt intimidating. When she learned who Greehey was, she was even more nervous. But her work paid off. Getting the scholarship was her first defining moment at St. Mary's, she said.
"When they called me and told me I was selected, I just yelled," she said. "It was a great moment because I know that's how my journey got started here."
From there, Durham said being part of the program has helped her become the best version of herself, through self-motivation and the support and competition among her peers.
"The scholarship has changed my life for the better."

Mikayla Durham
Part of the scholarship required her to maintain a certain GPA and engage in service projects with different organizations, such as the Downs Syndrome Association and Haven for Hope.
Durham's ultimate goal is to be able to give back to help future students like Greehey has. She also said she was personally thankful to him for what he has done.
"The scholarship has changed my life for the better," Durham said. "Honestly, I can't verbally express how grateful I am for Mr. Greehey's generosity and what he has done for me."