When Charles T. Barrett Jr. (B.B.A. '62) decided to enroll at St. Mary's University, he did so wanting to get back to a school with Marianist teachings.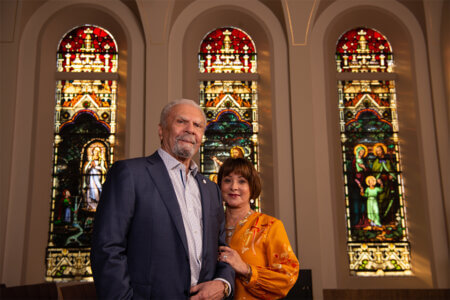 After starting at Central Catholic High School, Barrett would eventually transfer and graduate from the nearby public Thomas Jefferson High School.
Looking back between the two curriculums, Barrett said he appreciated the Marianist approach to teaching and the value of service and giving back. It was one of his main reasons to apply to the University.
Barrett said he experienced his first defining moment at the time of admissions when Brother Thomas J. Treadaway, S.M., let him know he'd been accepted and set him on a new path.
During his time at St. Mary's, Barrett fondly recalled taking an ethics course taught by Brother John Totten, S.M., a class in which he learned many philosophies he still practices to this day. Barrett also called Totten "one of the most articulate and intelligent people I have ever known."
"He instilled in his pupils a work ethic and a feeling of responsibility in logical treatment of people and business," Barrett said.
That work ethic, Barrett said, is what helped him in his career as a CPA-turned-car dealer, then later as president and CEO of Barrett Holdings Inc. His treatment of people and businesses has helped Barrett receive many accolades from the community and his alma mater, including the Distinguished Alumnus Award in 2016 and the 2001 Brother Paul C. Goelz, S.M., Award, which honors business school graduates for their entrepreneurial feats.
Barrett and his family have also been supportive of St. Mary's and its mission. In 2018, Charles Barrett and his wife, Melissa Barrett, donated $1 million to the Peer Ministry Program — a program that builds off the Marianist value of living in community and brings faith formation to students on campus.
The other donation — the one Barrett calls his second defining moment at St. Mary's — is the $490,000 donation to help build the Barrett Memorial Bell Tower. Its dedication, made in 2007, was made in honor of his late mother, Susana Barrett.
"It's helpful to have interactions with other people from other societal customs to make life more complete."

Charles T. Barrett Jr.
Before her death, Barrett said they shared a viewing of The Bells of St. Mary's, starring Bing Crosby, because it was one of her favorite films. Years later, Barrett said he wanted to do something to honor her while giving the campus a central structure.
"When I had the resources where I could dedicate something special for my mother, I realized there was no bell tower at St. Mary's," he said. "So, I and some friends decided to build the Bell Tower and make that in memory of my mother."
Barrett, who lives near San Antonio, said it is important for the school to continue to offer opportunities for students to grow personally. One of the best things about attending college, he said, is being thrown out of one's comfort zone and getting to interact with people of various backgrounds. Updated buildings, curriculums and classes will attract more students, he added.
"It's helpful to have interactions with other people from other societal customs to make life more complete," he said. "It provides students the opportunity to experience different situations that will help them when they get into the business world or whatever career path they choose."
Watch a video of the 3 O'Clock Prayer at the Barrett Memorial Bell Tower below.