When Charles Scholz (B.B.A. '60) left Marshall, Texas, to attend St. Mary's University, he did so only because his family knew relatives in San Antonio would keep a watchful eye on him at college.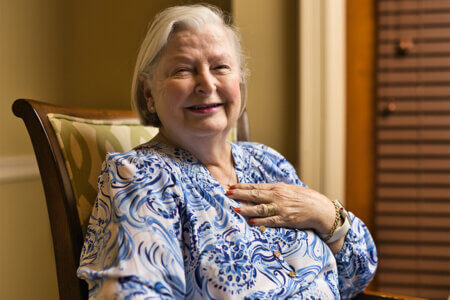 Scholz's wife, Sally Scholz, described her late husband's upbringing as humble. His father was a machinist who worked for the railroad. Charles Scholz was the first person in his immediate family to go to college.
When his father died of cancer during his freshman year, Charles Scholz contemplated leaving school because he was not sure how he would pay for his education.
That's when the Marianists of St. Mary's University stepped in to help.
Giving him odd jobs around campus and helping him secure a position in the library, the brothers helped Charles Scholz slowly save enough money to keep going to class.
He joined ROTC his junior year and occasionally received $10 from his mother. Charles Scholz was able to continue his education before finally graduating with a degree in Marketing.
Upon graduation, Charles Scholz left school to join the U.S. Army as a second lieutenant. He later worked for oil and gas companies, eventually retiring as vice president of Nippon Oil Exploration U.S.A. Limited.
He met his future wife on a train ride when they were both going home for Thanksgiving. According to her, he kept calling her afterward until she finally agreed to a date. He knew how to work a room no matter where he went, said Sally, calling his approach "extroverted on steroids."
No matter where life took him, Sally Scholz said her husband was always grateful for the opportunity given to him when he was a student and talked about how much it helped him get to where he was.
"If it had not been for the brothers of St. Mary's, Charles would have never had any hope of finishing school,"
she said.
"The scholarship was made because he knew how some kids don't have a chance other than a scholarship."

Sally Scholz
As fortune favored them, Charles Scholz never forgot where he came from or how hard it was to get there.
To help students in need, the Charles and Sally Scholz Endowed Scholarship Fund was founded in 2018, shortly after his death. The scholarship benefits undergraduate students, including incoming freshmen, who demonstrate financial need and meet GPA requirements.
In total, the couple has donated more than $1 million to the scholarship.
"Charles loved St. Mary's," Sally Scholz said. "The scholarship was made because he knew how some kids don't have a chance other than a scholarship. He was a very generous and very kind man."