The best way to keep up with the rapidly changing world is by leaning into change and allowing it to take you where it goes, said Robert "Bob" Elizondo (B.S. '67).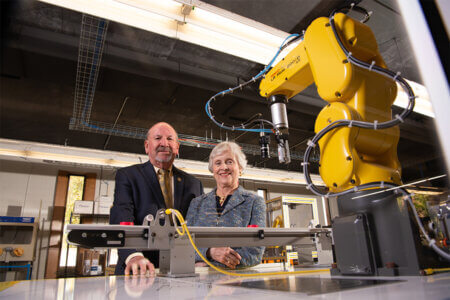 The example he uses derives from when he was an Engineering student at St. Mary's University. Back then, he said, he was just one of 11 students in the program with classes taught in the basement of Reinbolt Hall.
Now, the Engineering program has expanded to not just having its own building, but also includes additional areas of study, such as Mechanical, Computer, Electrical, Software and Industrial Engineering.
As technology in the industry improves, Elizondo said the best way to keep students informed is to make sure everything is up to date so they can have the best advantages in their careers.
"You have to ensure St. Mary's University continues to attract students and, to be able to do that, you need to be able to keep up with what's going on with the new advancements in education," he said.
Bob Elizondo and his wife, Anna Elizondo, of San Antonio, have gifted the University $500,000 for the Innovation Center of the School of Science, Engineering and Technology expected to break ground this year and provide space for innovation. A new building and new equipment, Elizondo said, will help keep St. Mary's competitive with other schools.
"If you can't provide the facilities, the technology or the professors, you can't attract the students," he said.
But technology and education are not the only things at St. Mary's to which Elizondo credited for his success.
"St. Mary's gave me the opportunities to have a successful career and a successful life."

Robert "Bob" Elizondo
As a student, Elizondo said he juggled multiple jobs to pay for school, such as selling shoes and working with the Texas Department of Transportation.
In July 1966, his senior year at St. Mary's, Elizondo married Anna Elizondo, whom he has known since first grade.
He also joined Rho Beta Gamma, a fraternity no longer active at St. Mary's. He says the organization enabled him to make some of his closest friends. Most of them still get together for golf or other outings.
Balancing school, work and friendships eventually paid off later in life.
"It's an opportunity to be able to learn how to manage your life," he said. "That's one of those things you really learn how to do in college."
Elizondo retired as the Miami-based vice president of operations in the Americas for United Parcel Service in 2001 after working for the company for 31 years. Before joining UPS, he served as a first lieutenant in the U.S. Army and with the Boeing Company's Launch Systems Branch.
He also served as a member of the St. Mary's Board of Trustees from 1996 to 2004 and as the chair from 2008 to 2012. He received the Distinguished Alumnus Award in 2005 and the Marianist Heritage Award in 2012.
Elizondo believes people do not become successful on their own, but do so with the support of family, community and a good educational institution. Giving back is the best way to help those coming behind you.
"St. Mary's gave me the opportunities to have a successful career and a successful life," he said. "By doing some of these things, it gives me an opportunity to pay it back."