Lynda Ellis (B.A.S. '81) would be the first to tell you the business world is not easy.
As the CEO and owner of Capitol Concierge, Ellis knows the pressure of having to make day-to-day decisions that not only affect her life, but also the lives of the 345 employees who work for the company based near the nation's capital.
The ebbs and flows of the marketplace can be exhausting, Ellis said. But even with the turmoil, there are times when being a woman in business can be even harder.
In the past, she said women in executive manager roles could be seen as cold, unfeeling and callous. Ellis recalls a time when a woman she had worked with on multiple committees came up to her — after three years — and finally said she liked her as a person.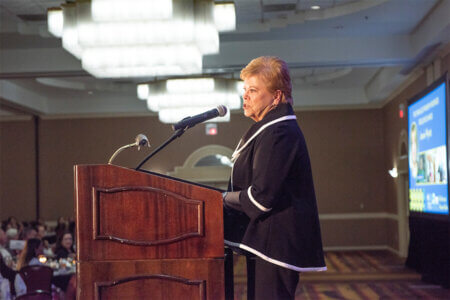 The perception of the hard-nosed woman in executive roles is changing, said Ellis, who is also the Chair-elect of the University's Board of Trustees.
"Over time, verbal and nonverbal communication has become easier as men and women consciously begin to embrace and accept one another as peers and not specifically as the opposite gender," Ellis said.
To help encourage students — especially young women — to make their mark on the world, Ellis founded the Lynda Ellis Women in Business Excellence Award and Scholarship at St. Mary's University.
The annual award, created in 2018, will be distributed over 10 years and goes to a student entering her senior year. A separate award also recognizes an alumna or female member of the local business community each year.
"It meant a lot to me that I could make a difference in someone else's life," she said, "that we could hold women in business up and say, 'You can be this.'"
When she was a student at St. Mary's, Ellis recalled being older than some of her classmates, working multiple jobs and carrying a full course load.
But the support she received from her faculty and advisers helped carry her to the end of her studies. In addition to classwork, Ellis said professors pushed her to see other points of view.
"At St. Mary's, we understand there is only one you, whoever you are, and we celebrate that. That's the magic of St. Mary's."

Lynda Ellis
When she signed up for what would have been her third class with longtime Philosophy Professor Brother John Totten, S.M., she was surprised to learn he moved her to a different instructor for that course.
"That was the defining moment because he looked at me and he said, 'You need to get other perspectives, Lynda, not just from me.'"
Her experiences throughout her life and with different educational institutions have
given her an appreciation for how St. Mary's treats each student as a person and not just a number.
"At St. Mary's, we understand there is only one you, whoever you are, and we celebrate that," she said. "That's the magic of St. Mary's."