Robert Massie, (B.A.M. '07, M.S. '14), D.Sc., lives by a simple hierarchy: at the top is service to God, followed by friends and family and, finally, himself.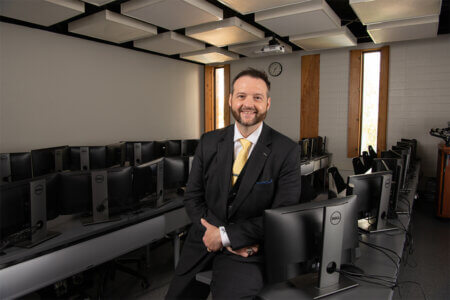 As a Catholic, serving God comes naturally to Massie. When talking about friends and family, he lights up. But when asked to talk about himself, Massie tends to focus on the accomplishments of others.
When the senior software engineer at USAA discusses how St. Mary's University impacted his life, however, he's practically radiant. 
His willingness to serve others coincides with the Marianist mission at St. Mary's. Massie, who has donated multiple gifts to the University, will tell you he did so simply to serve others.
"I just want to help people," Massie said. "You don't do this to tell everybody, 'Hey, look at me.'"
One gift will go toward the new Innovation Center for the School of Science, Engineering and Technology expected to break ground this year. Another funded an endowed athletic scholarship available to student-athletes in any sport.
While the athletic scholarship bears his name, he said both gifts were made in memory of his mother, Maria del Carmen Flores Massie, who he said was a big supporter of higher education.
"My mom was very proud of me for graduating. She didn't see me get my master's or my doctorate, but she saw me get my bachelor's from St. Mary's," he said.
For the athletic scholarship, Massie said his mother's love of sports inspired him.
I just want to help people.

Robert Massie
The Innovation Center gift comes because Massie spent a lot of time in the School of Science, Engineering and Technology buildings while pursuing his master's in Computer Science.
"If it weren't for Professor Douglas Hall taking me aside, I wouldn't be here today," Massie said. "If it weren't for Professor Carol Redfield saying I could get my doctorate, I probably wouldn't have done it. This University changed my life."
As St. Mary's looks to its future, Massie said he hopes people — especially women — will continue to explore futures in STEM fields.
"How many women in STEM are there? There are not a lot," Massie said. "So, I decided to give, hopefully, a transformative legacy in my mom's name."