Helping students discover themselves
RaSheeda Keir (B.A. '01, M.A. '02) made the decision to attend St. Mary's University when her coworker at a grocery store, who at the time was attending the University's School of Law, thought she would be a good fit with the University.
As a first-generation college student, Keir attributed a lot of her success at St. Mary's to a scholarship created for Black students, as well as support from faculty and her friends on campus.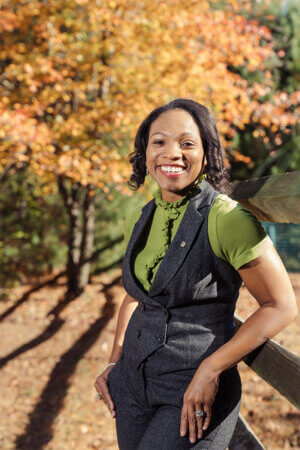 Now living near Washington, D.C., Keir has given back to the University by creating a scholarship. The scholarship, which honors the legacy of the Rev. Norbert Brockman, S.M., a longtime St. Mary's Associate Professor of Political Science, will be awarded to a Black student of the College of Arts, Humanities and Social Sciences over the course of three years.
"I just want to say I owe my success to St. Mary's," said Keir, who also serves on the College's Advisory Council.
Q: What do you remember most about your time at St. Mary's?
A: The Quad, the basketball games and, of course, the professors. I would also say the community service — I did a lot of community service at St. Mary's through the Student Government Association and the Black Student Union. It was like having an extended family. It's hard to feel lost when you have that family.
Q: Was there a faculty member who had a significant impact on you?
A: Norbert Brockman and Professor of Political Science and International Relations Larry Hufford, Ph.D. For anybody who was an International Relations major, those were two of the most important professors of my time.
Q: Why did you choose to give?
A: When I was a college student, there was a scholarship for Black students. They only gave out two of those. I applied and I was given one of them. After that, Brockman told me, "If you apply every year, I'll give this scholarship to you." It relieved the burden of financial pressure. And because he did that for me, I'm paying it forward to do the same.
Q: What do you hope a student feels when they receive
your scholarship?
A: I hope they feel blessed. We alumni recognize how the scholarship money affects students' lives. It gives them the opportunity to focus on their studies. I hope their scholarship relieves some burden. I hope they recognize somebody thought about them because God put that gift in my heart.