Hugo P. Salazar Jr., M.D.
St. Mary's University Student Health Center Physician
by Melanie Skaggs (M.A. '02)
Q: How has the COVID-19 pandemic impacted your work?
A: The University itself began to talk about COVID-19 when we finished with the winter break. We were already discussing things like what if something happens, what if it starts creeping into the United States, Texas or San Antonio? We were able to think through some basic planning. Later in the spring, the school decided to send everyone home and keep everyone safe.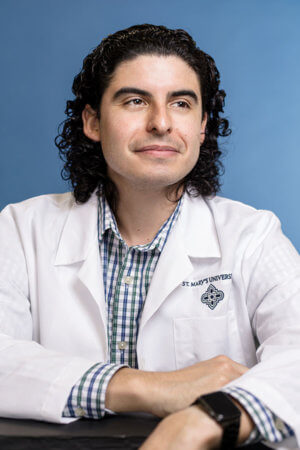 I've had to apply my knowledge and help the University figure out plans when plans weren't coming from anyone. We didn't know much about the virus and tried to get everything done as quickly as we could and as safely as we could with the little information we had.
Q: What was your approach in switching to things like virtual services in a short period of time?
A: We are fortunate to have electronic health records instead of paper charting. It made it relatively easy to transition to providing telemedicine visits for our students. … Since we could provide telemedicine visits, our students could refill their asthma inhaler or get a rash seen. That was a considerable adaptation.
Q: How have you reflected on your role in continuing the St. Mary's mission during this time?
A: I think the part of the mission that stands out the most for me is adaptation and change. … We kept reminding ourselves that, even though things are changing, it's in our mission. It's on us to not only adapt to these situations, but adapt to them safely. To see everybody, early on, recognize this as something we need to do for our community's betterment was exceptional. We know we need to re-evaluate, adjust and live the mission to keep everyone safe.