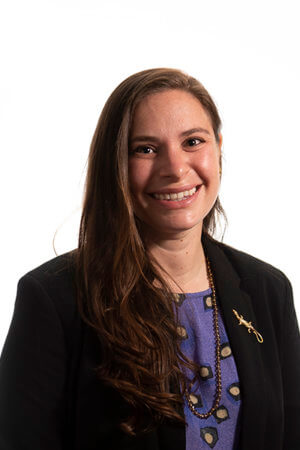 Taking advantage of the flexibilities of online learning, Communications Assistant Professor Amanda Hill, Ph.D., has made virtual learning more beneficial for all her students.
"Virtual teaching has given me space to encourage students to focus on the research and endeavors that they have a lot of zest for, hopefully keeping their curiosity on a topic throughout a semester," said Hill, who taught class from Colorado this fall. "Being asynchronous online has allowed me to better focus on the students as individuals with individual goals."
Being a relatively recent student and Co-Director of the Community for Teaching and Learning, Hill had a head start in the transition to online learning as a professor. She implemented a new grading system so that her students could dive into learning the material, rather than completing work solely for a passing grade.
"I adopted a specifications grading system so that the focus isn't on a one-shot attempt to get the highest grade," Hill said. "Students work from a list of specifications that each assignment needs to meet; if the work doesn't meet the expectations, then we discuss ways to revise. The emphasis on revision means that students have the chance to grow and learn from their experiences and use the tools and techniques learned in class to a greater effect."
Hill quickly recognized that her students' priorities shifted during the pandemic and put their needs first.
"For some students, classwork might not be their main focus anymore," she said. "I tried to allow for flexibility in my course requirements so that students could complete their work within their own time frames."