Nelson W. Wolff (B.B.A. '66, J.D. '66)
Bexar County Judge
by Alex Z. Salinas (B.A. '11, M.A. '19)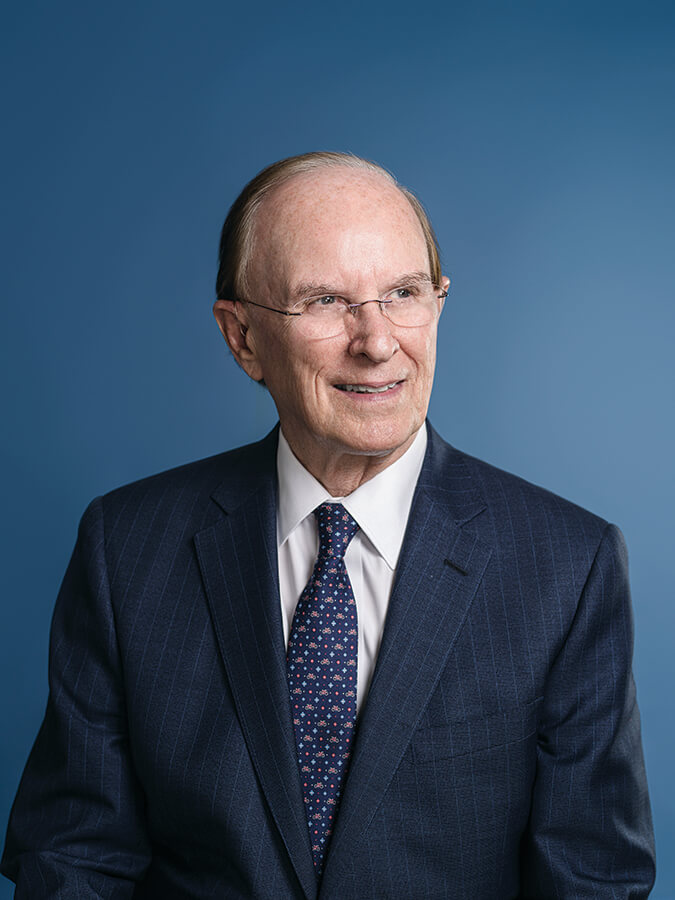 Q: How has the COVID-19 pandemic impacted your personal life?
A: I do a daily broadcast (with San Antonio Mayor Ron Nirenberg), and we've been doing this since March, can you believe it? Seven days a week for a while; now it's five days a week, every night at about 6 o'clock. Before the pandemic, I'd never heard of WebEx or Skype, and now, I'm able to do all of that. It's changed my life in the sense that I get a lot more done in a relatively short period of time. I do a lot more work at my library at home, which is cool.
Q: How has the pandemic impacted your professional life?
A: We expect about one-fourth of our workforce to continue to work at home after the COVID-19 pandemic. It's going to change our economy from low-end jobs that were in hotels and motels, and some of the jobs that automation has taken.
We'll be focusing on job training programs that will fit into industries like advanced manufacturing, health care and technology that are going to change the dynamics of the economy.
Q: How have you reflected on your role in continuing the St. Mary's mission during this time?
A: I'm big into therapeutic justice. The pandemic shows that when our jail population went down, we didn't have any more crime, because they (our police force) weren't charging people with minor offenses. … When I became Bexar County Judge, there were 4,000 people in jail. Twenty years later, we have 3,800 in jail and 500,000 more people moving to San Antonio. And that's because we've created therapeutic justice by creating specialty courts. We now have drug courts, veterans courts, where you work with somebody and you get them out on probation where they don't go into the jail. We have a reentry center. We have 80 or 90 social service agencies helping people when they come out. We're trying to put a lot of money into programs dealing with mental health and drug-use prevention.
Q: How do you feel your St. Mary's education helped prepare you for your leadership role, especially in a time of uncertainty?
A: St. Mary's is about compassion — caring for everybody, caring for the poor. St. Mary's taught me to be compassionate. I've noticed people walking around their neighborhoods, sitting on their front porches. They're making meaningful connections with other people who they never met before in their neighborhoods. There's some good coming out of this pandemic.