During a pandemic, proper cleaning is crucial. Fortunately for the St. Mary's community, the Housekeeping Department went above and beyond even before COVID-19.
When Housekeeping Superintendent David Campos received coronavirus disinfectant protocols, his response was clear: "We already got it covered."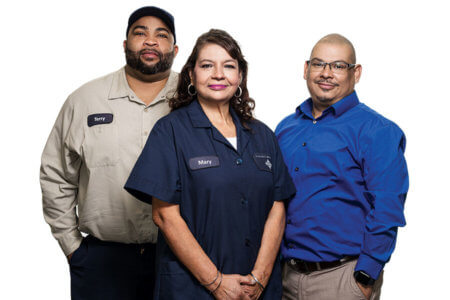 Despite the pressure to keep thousands of students, faculty and staff healthy, the team used it as an opportunity to support one another.
"I'm the type to work side-by-side with my staff," Campos said. "We're a family around here — we have to make sure we help each other out."
Housekeeping Team Leader Terry Clemons and Housekeeper Mary Leal were among those who stepped up.
"If you work as a team, you'll get nothing but positive results," Clemons said.
For Leal, she sees her role as part of a bigger mission: "We have to be like ants. We pick up that little crumb and carry it together."
And her dedication continues to be unwavering.
"If we have to clean something 10 times in a day, that's what we're here for," Leal said.