by Melanie Skaggs (M.A. '02)
Not all heroes wear capes. Some wear masks. The Mask Squad — a group of about 80 St. Mary's University students who were trained and are committed to the health and safety of every member of our community — have worked to stem the spread of COVID-19 on campus this fall.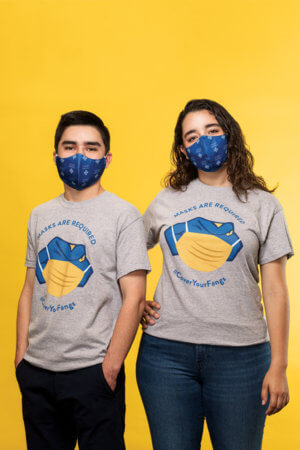 The students encourage the University community to be safe and to practice the elements of the Protect St. Mary's Pledge, which include wearing a mask and social distancing.
"Being in the Mask Squad is very important since it is a key piece in keeping campus open for students," said senior Regina de la Parra, who is from Mexico and is double majoring in International and Global Studies, and Environmental Science. "I feel like I am helping the St. Mary's community stay safe and as normal as possible."
Amid the pandemic, fellow Mask Squad member, Francisco Olivas Carmona, an Industrial Engineering senior, said, "We get to help our residents and campus community try and stay safe in the best possible way."
To adapt, Olivas Carmona has had to scale back on visiting the brothers in the Marianist Residence in person as well as traveling home to Mexico to see his parents, but he's also embraced a new online learning style and technologies to benefit from the continued level of quality teaching at St. Mary's.
Similarly, Zyania Seijas, a senior from El Paso studying Finance and Risk Management, has adapted to the seeming isolation of virtual classes by pushing herself to leave her residence hall room and meet a friend outside in the garden to log in to class together.
"St. Mary's has taken a lot of good measures when planning to bring students back to campus," Seijas said. "And the campus, in general, has been good about safety — especially the residents. If you want to stay on campus, you must follow the rules and behave a certain way."
De la Parra said seeing those on campus become aware of the necessary safety practices has been a defining moment for her.
"It is amazing to think that we all consider each other part of this great community and are willing to sacrifice some comfort in order for everyone to be safe," she said. "I know I will never forget this."