About St. Mary's University Summer Orchestra Camp
St. Mary's University proudly presents the first annual Summer Orchestra Camp this June! Join us for a structured week of orchestra rehearsals, technique classes, fun electives, and a final concert.
The camp is open to middle school and high school students in grades 6-12.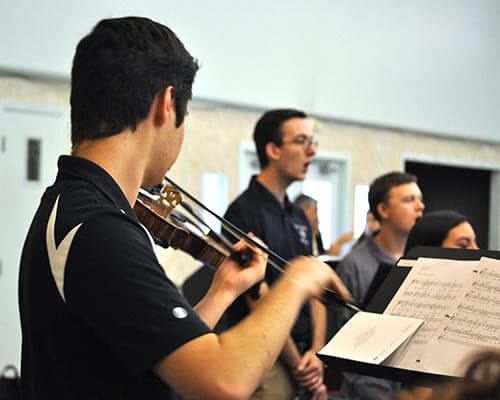 The 2021 Summer Orchestra Camp has been canceled. Please check back in 2022.
Warm-up: Meet in a designated room on the second floor of the Moody Life Sciences Center to start the morning together.
Orchestra Rehearsal: Orchestra students will rehearse music together in preparation for an end-of-week concert under the direction of Deana Johnson, the Orchestra Director of the St. Mary's University Symphony Orchestra. Students will work with highly qualified teachers who have proven success in the public schools.
Technique Class: Sections of the orchestra work specifically on fundamentals specific to their instruments to improve each student's abilities and technique.
Sectionals: Sections of the orchestra work specifically on concert music, affording each student the opportunity to improve their playing abilities on their individual parts in their respective sections, and the orchestra as a whole.
Electives: Registered students will have the opportunity to choose an elective to learn something else of their own musical interest.
Composition: Learn the fundamentals of writing music and developing your skills as a composer.
Conducting: Learn the fundamentals of leading an ensemble as the conductor. Conducting patterns, fundamentals, and how to read a score.
Introduction to Piano: Learn the fundamentals of piano playing. Intended for beginners or students looking to explore more introductory piano techniques. (Limited to the first 10 to register).

Leadership Training: Learn the necessary skills for leadership positions in your home orchestra. Designed for students looking for leadership opportunities, with a focus on how to become a strong leader.
Sight-reading and Ear Training: Develop critical fundamentals as a musician. Improve your music reading ability, intonation, listening, and performance skills. This course will arm you with tools to help you learn music faster and more effectively.
The first day of camp will include auditions to ensure each student is placed on a part that affords them the best opportunity for success as a musician. The placement auditions are supportive, encouraging, and will help our teachers place students on appropriate parts that will allow them to have the best possible camp experience.
Students are required to bring music of their own choosing to perform for the placement auditions.
Students should be prepared to play two contrasting pieces of their choice, to audition, representative of their performance level and abilities. (Examples include, but are not limited to: Solo repertoire, all/region/state audition etudes, etudes/method books, parts performed in school, and scale sheets.)
Students must bring their own instruments to Camp, but we will provide a place to store string basses. (Now is a good time to talk to your school orchestra director about borrowing a school instrument for summer use, to include Camp.)
Opening Monday

| | |
| --- | --- |
| 8:30 a.m. | Arrivals and Registration on second floor of Moody Life Sciences Center |
| 9 a.m. | Group Welcome and Instructions |
| 9:30 a.m. | Placement Auditions |
| 11:40 a.m. | Lunch |
| 1 p.m. | Ensemble Rehearsals (Students will be handed folders with part assignments based on their placement audition.) |
Tuesday – Friday
8:30 a.m.
Welcome and Warm-up
9:15 a.m.
Orchestra Rehearsals
10:35 a.m.
Sectional
11:40 a.m.
Lunch
12:30 p.m.
Elective
1:50 p.m.
Orchestra Rehearsals
3:10 p.m.
Technique Class
Daily Schedule Example
Saturday

| | |
| --- | --- |
| 10 a.m. | Blue Band Concert – Pecan Grove |
| 10:30 a.m. | Chaminade Orchestra Concert – Guadalupe Chapel |
| 11 a.m. | Gold Band Concert – Pecan Grove |
Includes camp tuition, lunch Monday-Friday, sheet music, folder, badge with name and schedule, bottled water, and camp t-shirt.
While we officially open Orchestra Camp at 8 a.m. and require students to be picked up by 4:30 p.m. every day, we can accommodate parents and guardians needing earlier arrival and/or later pickup times.
$30 Early Arrival: 7 a.m. to 8 a.m.
$30 Late Pick-up: 4:30 p.m. to 5:30 p.m.
Fees are the total for the week
Orchestra rehearsals will be held on the second floor of the Moody Life Sciences Center.
Sectionals, technique classes and electives will be held indoors in large lecture halls that can accommodate 8-15 students at one time socially distanced.
Students are asked to wear masks. After each class period, rooms will be cleaned and sanitized to ensure each class period is safe.
We do ask if you are experiencing symptoms or have been exposed to someone testing positive for COVID-19, to please stay home.
For more information about the St. Mary's University Summer Music Camp, contact the Orchestra Director at St. Mary's University, Deana Johnson at djohnson33@stmarytx.edu.