About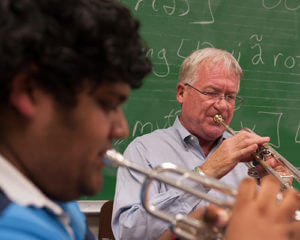 Open to middle school and high school students, Summer Band Camp at St. Mary's University is a fun and educational opportunity for students passionate about music to advance their musicianship during their summer break. Students will work with industry professionals with an aim for producing a high quality final performance.
Operating on the beautiful St. Mary's campus, the camp offers camp participants a full day of rehearsals, sectionals, technique classes, and elective classes. Students will learn from top teachers and musicians about their specific instruments and experience working with the camp's featured artist.
Camp Dates
June 10-15, 2019
2019 Featured Artist
St. Mary's is pleased to announce Michael Markowski will be our featured artist at the 2019 Summer Band Camp.
Biography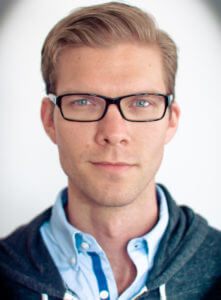 Michael Markowski graduated magna cum laude in 2010 with a Bachelor of Arts degree in 'Film Practices' from Arizona State University. While Markowski never studied music in college, he did study privately with his mentors, Jon Gomez and Dr. Karl Schindler, and has continued his education by participating in a number of extracurricular programs, such as The Art of Orchestration with Steven Scott Smalley (2008), the National Band Association's Young Composer and Conductor Mentorship Project (2008), and the NYU/ASCAP Foundation's Film Scoring Workshop (2014) where he was named one of ASCAP's Film & TV "Composers to Watch." Mark Snow, composer of The X-Files and one of the workshop's guest mentors, says Michael's music was "extremely sophisticated" and "complimented the mood and emotion of the scene with unusual maturity and sensitivity." Most recently, Markowski was invited to join the BMI Lehman Engel Musical Theatre Workshop (2015) as a composer/lyricist.
Shadow Rituals, one of Markowski's first works for concert band, was awarded first prize in Manhattan Beach Music's Frank Ticheli Composition Contest in 2006. Over the last ten years, Markowski has composed nearly twenty-five original works for wind band, nine of which were recently recorded in collaboration with the Brooklyn Wind Symphony, now available on iTunes. Joyride for Orchestra (2015) recently won the Arizona Musicfest's young composer fanfare competition, and You Are Cordially Invited (2016) recently won a fanfare competition with the Dallas Wind Symphony. He has received commissions from a number of organizations including CBDNA, The Consortium for the Advancement of Wind Band Literature, The Lesbian and Gay Band Association, the Duke Medicine Orchestra, the Florida Music Educator's Association, and has received performances from the United States Air Force bands, The Phoenix Symphony, the Arizona Musicfest Symphony Orchestra, and from hundreds of bands around the world. He has been the composer-in-residence for the 'Music for All' organization (2015), the 'Mid Europe' international wind band festival in Schladming, Austria (2013-2015), and frequently visits junior high schools, high schools, universities, and community bands around the country to share stories about his music.
He is a member of ASCAP, the Society of Composers & Lyricists, and currently lives in Brooklyn, New York.
To learn more about Michael Markowski, click here.
Summer Band Camp Services
Full Band Rehearsals
During rehearsals, students will work with Matthew Mireles, D.M.A., Assistant Professor of Music and Director of Bands at St. Mary's, and learn important skills involved with making high quality music in a collaborative ensemble.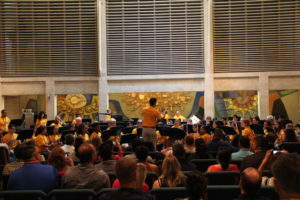 Technique Classes
Technique classes will be taught by top teachers and musicians and will involve the advancement of student abilities on their instruments. Fundamentals taught include musicality, technique, posture, breathing, articulation, intonation, warm-ups and more.
Ensemble Sectionals
Sectionals will provides students the opportunity to focus on intonation, pitch and rhythmic accuracy, style, and other details while working on music programmed for the camp concert.
Elective Classes
Elective classes are designed to afford participants a new skill, experience, or lesson. Every student will participate in an elective class of their choice. Each course will take place over a period of four-days, with the aim of producing a final project on the final day of class. Elective classes allow students to leave camp with a great learning experience and something tangible to keep when they leave.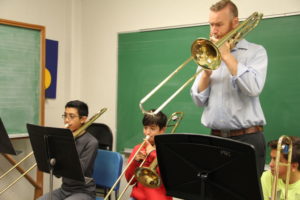 Elective Class Options
Music Theory
Jazz Band
Composition
Jazz Improvisation
Sight-reading/Ear Training
Introduction to Piano
Conducting
Drum Major Techniques
Camp Dates and Times, Cost, Meals and Auditions
2019 Camp Dates and Times
June 10-15, 2019
8:30 a.m. to 4:15 p.m.
Cost
$275 per student
Meals
Lunch will be provided by St. Mary's Summer Band Camp.
Auditions
Students will audition for part assignments after registration and camp welcome sessions. Repertoire for auditions will be made available soon. Come back soon for details.
Registration
Registration for 2019 Summer Band Camp is open.
Contact Us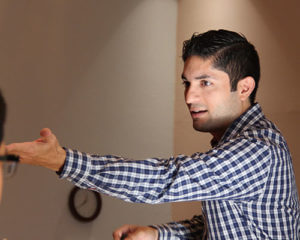 For more information about the St. Mary's University Summer Band Camp, contact Matthew Mireles, D.M.A., Assistant Professor of Music and Director of Bands, at 210-436-3421 or mmireles1@stmarytx.edu.