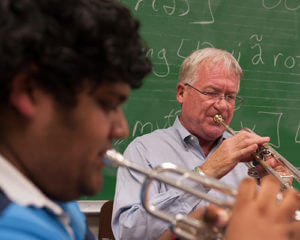 Open to middle school and high school students, Summer Band Camp at St. Mary's University is a fun and educational opportunity for students passionate about music to advance their musicianship during their summer break. Students will work with industry professionals with an aim for producing a high quality final performance.
Operating on the beautiful St. Mary's campus, the camp offers camp participants a full day of rehearsals, sectionals, technique classes, and elective classes. Students will learn from top teachers and musicians about their specific instruments and experience working with the camp's featured artist.
2018 Featured Artist
St. Mary's was pleased to have John Mackey as our featured artist at the 2018 Summer Band Camp.
Biography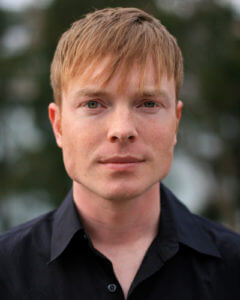 John Mackey holds degrees from the Juilliard School and the Cleveland Institute of Music, where he studied with John Corigliano and Donald Erb, respectively. John has received commissions from the Alvin Ailey Dance Company, the Brooklyn Philharmonic, the Parsons Dance Company, the New York Youth Symphony, the Cleveland Orchestra Youth Orchestra, the Dallas Theater Center, New York City Ballet, the Dallas Wind Symphony, the American Bandmasters Association, and many universities, high schools, middle schools, and military bands. His trombone concerto, "Harvest," composed for New York Philharmonic principal trombonist Joseph Alessi, has received dozens of performances worldwide and been commercially recorded three times.
John has served as composer-in-residence at the Cabrillo Contemporary Music Festival, the Vail Valley Music Festival, and with youth orchestras in Minneapolis and Seattle. He has received performances by the Dallas Symphony, the BBC Symphony Orchestra, the Minnesota Orchestra, the Bergen (Norway) Philharmonic, as well has thousands of middle school, high school, university, and military concert bands and wind ensembles. He is a two-time recipient of the ABA/Ostwald Prize, first for "Redline Tango" (his first wind band piece), and then for "Aurora Awakes" (which also received the NBA/Revelli Prize, making it one of only three pieces to ever win both prizes). The US Olympic Synchronized Swim Team won a bronze medal in the 2004 Athens Olympics performing to John's score, "Damn."
John was inducted into the American Bandmasters Association in 2013. He currently lives in Cambridge, Massachusetts.
Summer Band Camp Services
Full Band Rehearsals
During rehearsals, students will work with Matthew Mireles, D.M.A., Assistant Professor of Music and Director of Bands at St. Mary's, and learn important skills involved with making high quality music in a collaborative ensemble.

Technique Classes
Technique classes will be taught by top teachers and musicians and will involve the advancement of student abilities on their instruments. Fundamentals taught include musicality, technique, posture, breathing, articulation, intonation, warm-ups and more.
Ensemble Sectionals
Sectionals will provides students the opportunity to focus on intonation, pitch and rhythmic accuracy, style, and other details while working on music programmed for the camp concert.
Elective Classes
Elective classes are designed to afford participants a new skill, experience, or lesson. Every student will participate in an elective class of their choice. Each course will take place over a period of four-days, with the aim of producing a final project on the final day of class. Elective classes allow students to leave camp with a great learning experience and something tangible to keep when they leave.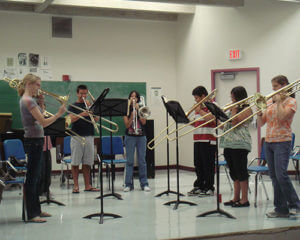 High School Elective Class Options
Drum Major
Conducting
Jazz
Composition
Music Theory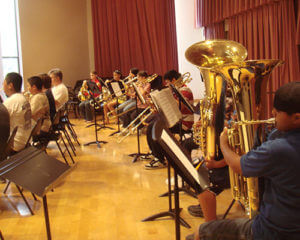 Middle School Elective Class Options
Conducting
Jazz
Composition
Music Theory
World Music
Camp Dates and Times, Cost, Meals and Auditions
2019 Camp Dates and Times
TBD
Cost
$275 per student
Meals
Lunch will be provided by St. Mary's Summer Band Camp.
Auditions
Students will audition for part assignments after registration and camp welcome sessions. Repertoire for auditions will be made available soon. Come back soon for details.
Registration
Registration for 2018 Summer Band Camp is now closed. We hope you'll consider registering next year!
Contact Us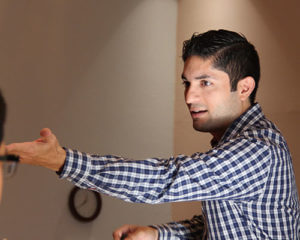 For more information about the St. Mary's University Summer Band Camp, contact Matthew Mireles, D.M.A., Assistant Professor of Music and Director of Bands, at 210-436-3421 or mmireles1@stmarytx.edu.