Pathways Into Medicine Camp
For incoming St. Mary's freshmen
June 19-22, 2023
Applications closed.
Career Explorations Workshop
For high school students
July 24-27, 2023
Applications closed.
For more information, contact Thomas E. (Ted) Macrini, Ph.D., Professor of Biological Sciences and JAMP Faculty Director, at tmacrini@stmarytx.edu.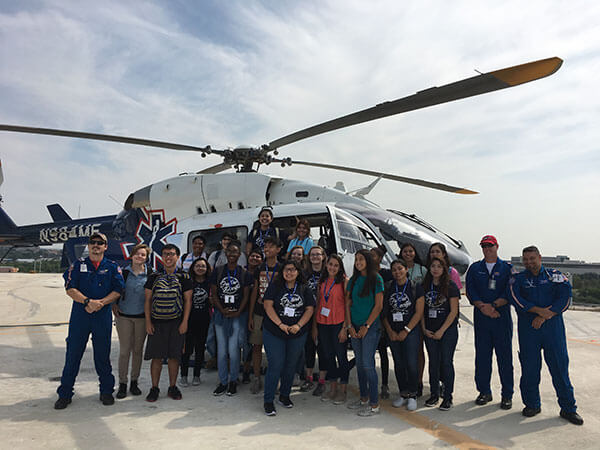 In 2010, the St. Mary's University Department of Biological Sciences received funding to hold its first pre-medical summer camp. Both the "Career Explorations Workshop" (high school juniors and seniors) and "Pathways into Medicine" (incoming St. Mary's freshman) summer camp are funded by JAMP and have two goals:
(1) Recruit and educate potential JAMP students about the JAMP program and the opportunities it provides, and (2) Present students with a unique, hands-on experience with health care professionals in a medical school environment. Both camps are free of charge.
While each camp is slightly different, typical camp activities include:
Presentations on topics such as the JAMP program, medical school admission, medical specialties and more

Hands-on laboratory activities including exploring the human brain, learning the art of suturing and arm wrapping

Guided tours of University Hospital, UT Health San Antonio, and St. Mary's University

Panel discussion with current JAMP medical students and Pre-medical students

Visiting the Bulverde Cadaver Lab

Participants in the Pathways Camp will also have time to engage in various evening activities such as community service, pool party, jumping at ThinAir, and movie night.
As a low-income student and the first in my family who will finish college, the continued support of faculty I met through the JAMP Summer Camp has guided me through the many steps needed to become a doctor, including research, networking and familiarizing myself with the health care field.

Jade Evenstad, Biology major, Class of 2021