The Summer of Service Program gives St. Mary's University students the opportunity to host a five-week summer camp for children of the Gateway District, West Side community of San Antonio.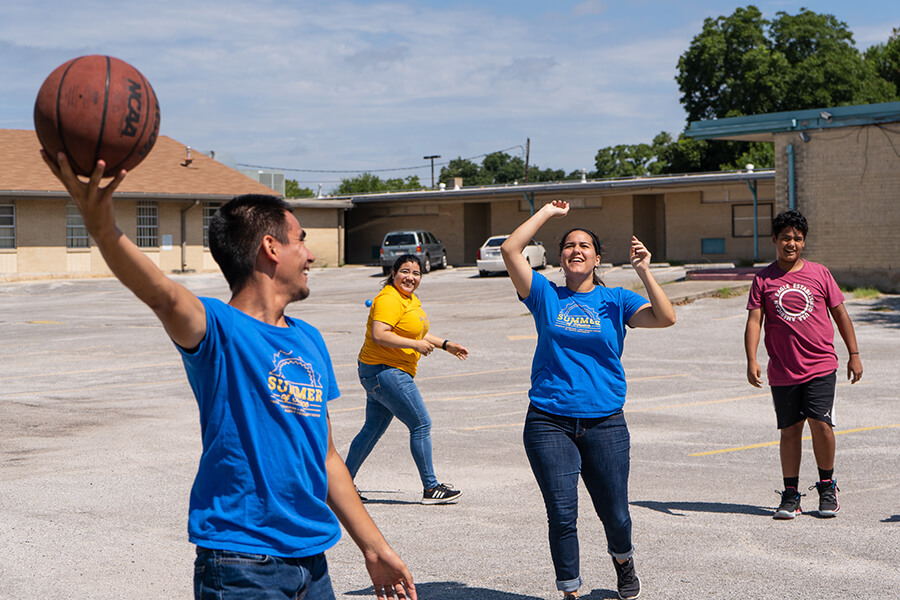 The purpose of this program is two-fold: to respond to the needs of our neighborhood and community, offering children a safe place to spend their days while school is not in session and alleviating stress for parents of costly child-care options that may be outside of the community in which they live, and to offer St. Mary's University students the opportunity to live in community while working together to implement a service project, giving them a shared mission through which to enter into deeper faith formation and a more profound sense of living in small Christian community guided by the Marianist charism.
A three-way partnership yielded what has become the Summer of Service program: Catholic Charities of San Antonio, whose program and curriculum is the base for the summer camp and who provide camp supplies and guest nonprofit partner presence; Holy Rosary, which offers the space for the summer camp to take place and whose parishioners are the target for attendance at the camp; and St. Mary's University, which offers eight student interns the opportunity to execute the Catholic Charities program at Holy Rosary. Each week campers from both Catholic Charities sites (Holy Rosary and Guadalupe Community Center) also visit campus for educational visits to various offices and departments. Through these visits, children from the West Side receive tours of campus, residence halls, the Blume Library and media center, and make use of aquatic facilities, to highlight some of the on-campus activities.
While the summer camp takes place over five weeks, Summer of Service student interns commit to an eight-week program if accepted. Students spend the first week engaged in faith formation and community-building activities, learning processes of theological reflection, spending time learning more about the West Side of San Antonio and meeting with key community partners. The last week interns spend in further exploration of how their Summer of Service experience affects their vocation and personal faith journey. Throughout the summer, students meet weekly for spirituality nights, as well as for meals with invited community partners. They develop a community focused on growth in the Marianist charism, simplicity, justice and greater understanding of their leadership roles in working towards the common good.
The summer camp runs from 9 a.m. to 4 p.m. Monday through Friday and is available, free of charge, to members of Holy Rosary parish. Parents or guardians must submit an application at the Parish office in the month of May (one application per child); acceptance is on a first-come basis until we reach a maximum of 45 campers, ages 8 to 17. Children will receive lunch and snack each day through the free lunch program of the San Antonio Food Bank.