If you are an undergraduate student who has completed courses at another institution, we want to make it easy to understand which credits will transfer. It's always best to speak with the registrar, who can review your transcripts and identify which of your credits will transfer – and which degree requirements they will meet – but you can use the resources below as a starting point in determining which credits you have already earned.
Current students who wish to take undergraduate courses at other institutions – for example, taking a summer class at SAC – please see the Registrar page on Gateway for details on how to make sure your credits transfer smoothly.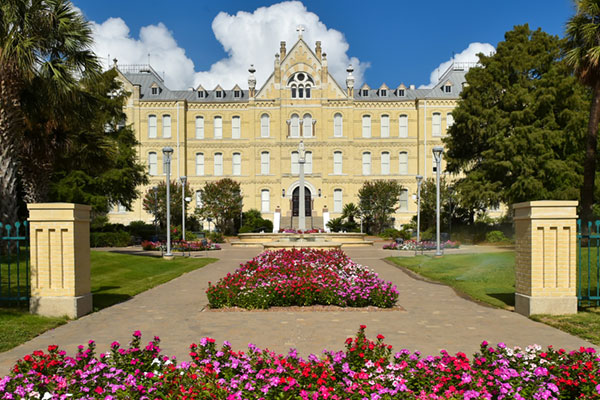 St. Mary's University Transfer Equivalency Self-Service
The Transfer Equivalency Self-Service tool is available to prospective undergraduate students to view how academic coursework earned at other institutions can be used in the transfer admission process and towards completing your degree at St. Mary's University.
All you have to do is enter the classes and the institution where you took the classes (having access to your unofficial transcript will be helpful with this step). We will share how your course work will apply towards your selected degree, an articulation report, a degree audit and even next step options.
Please note that the Transfer Equivalency Tool works best in Internet Explorer, Mozilla Firefox or Google Chrome.
Credit by Exam
You can also earn some undergraduate credits by passing an exam. We accept some AP exam scores which you can take in high school, but you can also take certain exams once you have enrolled at St. Mary's for additional credit.
St. Mary's Core Transfer Equivalents
The following courses meet each of the St. Mary's Core credit requirements.
SMC 1312 – Foundations of Reflection: Nature
General Biology I with Lab (BL 1401)
General Biology II with Lab (BL 1402)
Introduction Astronomy (PY 1310)
General Chemistry I with Lab (CH 1401)
General Chemistry II with Lab (CH 1402)
Physical Geology (ES 1301)
General Physics I (PY 1401)
General Physics II (PY 1402)
University Physics I (PY 1404)
University Physics II (PY 2404)
Perspective and Themes in Science (ST 2300/2400)
SMC 2303 – Foundations of Practice: Fine Arts
Design I (AR 1311)
Design II (AR 2301)
Acting I (DM 2321)
Drawing I (AR 1301)
Stagecraft I(DM 2352)
Painting I (AR 2321)
Perspective and Themes in Fine Arts (HU 2305)
SMC 1313 – Foundations of Reflections: Others
Introduction to Business (BA 1310)
Introduction to Criminal Justice (CJ 2300)
Macroeconomics (EC 2301)
Microeconomics (EC 2303)
State National Government (PO 1312)
National Government (PO 1311)
History of the U.S. Part I (HS 1301)
History of the U.S. Part II (HS 1302)
Western Civilization I and II (HS 1351 and 1352)
Introduction to Psychology (PS 1301)
Introduction to Sociology (SC 1311)
Perspective and Themes in Social Science (HU 2303)
Perspective and Themes in History (HU 2300)
SMC 2304 – Foundations of Practice: Literature
American Literature
British Literature
International/World Literature
School Specific Core Course Equivalents
Freshman Composition I or Rhetoric & Composition I (EN1311)
British Literature I and II
American Literature I and II
World Literature I and II (same as International Literature)
Conversational foreign language (or Sign Language) cannot be used to fulfill this requirement. If a student has taken the same foreign language in high school, or has prior knowledge of the language, he/she must fulfill the requirement in that language at the Intermediate level (6 hours).
Elementary French I and II (FR 1311 and 1312)
Intermediate French I and II (FR 2311 and 2312)
Elementary German I and II (GR 1311 and 1312)
Intermediate German I and II (GR 2311 and 2312)
Elementary Spanish I and II (SP 1311 and 1312)
Intermediate Spanish I and II (SP 2311 and 2312)
Foreign Language is not required for Accounting, or Computer, Electrical, Industrial and Mechanical Engineering majors.
Design I (AR 1311)
Design II (AR 2301)
Acting I (DM 2321)
Drawing I(AR 1301)
Stagecraft I(DM 2352)
Painting I (AR 2321)
Perspective and Themes in Fine Arts (HU 2305)
Introduction to Business (BA 1310)
Introduction to Criminal Justice (CJ 2300)
Principles of Macroeconomics (EC 2301)
Principles of Microeconomics (EC 2303)
American Texas Government, National, State & Local (PO 1312)
American Government: Problems & Policies (PO 1311)
History of the U S, Part I (HS 1301)
History of the U S, Part II (HS 1302)
Western Civilization to 17th Century (HS 1351)
Western Civilization since 17th Century (HS 1352)
Perspective and Themes in Social Science (HU 2303)
Perspective and Themes in History (HU 2300)
Fundamentals of Speech (CM 1341)
Oral Communication (CM 1341)
Business and Professional Communication (CM 2333)
General Biology I (with Lab) (BL 1401)
General Biology II (with Lab) (BL 1402)
Introductory Astronomy (no equivalent course but will satisfy Science requirement)
Principles of Astronomy (no equivalent course but will satisfy Science requirement)
General Chemistry I (with lab) (CH 1401)
General Chemistry II (with lab) (CH 1402)
Physical Geology (ES 1300)
General Physics I (PY 1401)
General Physics II (PY 1402)
University Physics I (PY l404)
University Physics II (PY 2404)
Perspective and Themes in Science (ST 2300/2400)