As a Catholic and Marianist university, we create opportunities for you to engage deeply in academics and faith. You become part of a family dedicated to excellence, the discovery of truth and a deeply rooted belief in supporting the common good.
As you explore St. Mary's University, take a moment to imagine who you can become and what you will discover as a St. Mary's Rattler.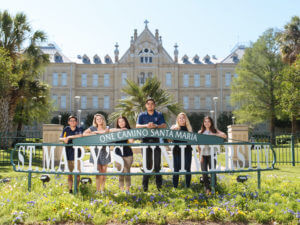 We want to make your transition to college as smooth as possible.
The Office of Undergraduate Admission is test-free when reviewing first-year applicants to the University  for Fall 2023. Standardized test scores (SAT and ACT) are not considered for admission to undergraduate programs or in awarding scholarships. Additionally, standardized test scores are not required or considered for admission into St. Mary's University Special Programs. 
Your application to St. Mary's University marks an important milestone on your college search and your path to St. Mary's. Our hope is that you view the college admission process as a journey — one of self-reflection and discovery.
As you prepare, ask yourself:
What do I want to achieve?

Does this college provide opportunities to explore the world, give back to my community and be engaged?

Will I get to engage in undergraduate research to explore my own ideas?
At St. Mary's University, students can submit one of four applications online, free of charge.
The Office of Admission accepts applications on a rolling basis for each term. The application for 2023-2024 academic year is now available.

Aug. 1 – Application available online

Oct. 1 – Free Application for Federal Student Aid (FAFSA) available online

Oct. 15 – Preferred FAFSA submission date for new students

Dec. 15 – Priority application date for admission and general merit scholarships

March 1 – FAFSA submission deadline

May 1 – Preferred enrollment deposit deadline

June – New Student Orientation sessions begin

IMPORTANT DATES FOR FALL ENROLLMENT
Frequently Asked Questions
What documents can I submit with my admission application?
Aside from the admission application, only an in-progress high school transcript is required when applying. While the following documents are not required, we will accept them for your admissions file.  
Essay, personal statement or writing sample 

One letter of recommendation 
If you feel that one or more of the non-required documents helps provide a better understanding of who you are as a student and person, we encourage you to submit them along with your application and transcript.
Are transfer students eligible to apply test-free?
Yes. Transfer applicants with 30 or more college credit hours earned applying for Fall 2023 are not required to submit standardized test-scores. Transfer students with less than 30 college credit hours earned will need to submit their high school transcript along with college transcripts, but standardized test scores will not be accepted or used in the admission evaluation.
We've prepared a step-by-step walkthrough of the St. Mary's University application process.
The online St. Mary's University application is easy to use and provides the quickest way to get your information to the Office of Admission.

Once you submit the St. Mary's University Application, you will have access to our application portal where you can track the progress of your application and receive notifications about important next steps.

St. Mary's University also accepts Common App, ApplyTexas, or the Coalition App in addition to our own application for admission. Common App, ApplyTexas, and the Coalition App allow you to use an existing application and submit it to St. Mary's University, free of charge. 

Students who submit their application to St. Mary's using Common App, ApplyTexas, or the Coalition App will receive emailed instructions on how to establish their portal account once their application is received by St. Mary's. 

1. CHOOSE YOUR APPLICATION
You've identified the application that is the best for you and you have all of your personal, demographic and educational information at hand. You're ready to begin.

PRO TIP: Don't forget to have a counselor, parent, guardian or friend review your application for errors and typos before you hit submit.

If you already started (or submitted) an application with ApplyTexas for another institution, simply add St. Mary's University in San Antonio as one of your colleges, and then hit submit.

2. Complete your application
We need your help to get your official high school transcript. You will need to follow your high school's policy for requesting official transcripts to send to St. Mary's University.

Most of the transcripts are submitted to the Office of Admission quickly but check in with your college counselor or school counselor to make sure there are not any delays.

Once your transcript is received by the Office of Admission, you will be able to see that this required document has been submitted in the St. Mary's University application portal.

3. Request transcripts
While the following documents are not required, we will accept them for your admissions file if you choose to submit them:

Essay, personal statement or writing sample 

One letter of recommendation 

If you feel that one or more of the non-required documents provides a better understanding of who you are as a student and person, we encourage you to submit them along with your application and transcript.

4. Submit additional documents (optional)