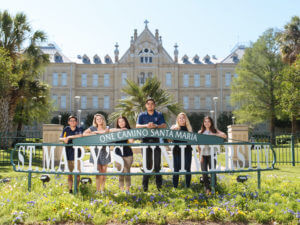 As a Catholic and Marianist University, we create opportunities for you to engage deeply in academics and faith. You become part of a family dedicated to excellence, the discovery of truth and a deeply rooted belief in supporting the common good.
As you explore St. Mary's University, take a moment to imagine who you can become and what you will discover as a St. Mary's Rattler.
Your Journey
Your application to St. Mary's University marks an important milestone on your college search and your journey to become a St. Mary's Rattler.
Our hope is that you view the college admission process as a journey – one of self-reflection and discovery.
As you prepare for your journey, ask yourself:
What do I want to achieve?
Does this college provide opportunities to explore the world, give back to my community and be engaged?
Will I get to engage in undergraduate research to explore my own ideas?
Admission Application
At St. Mary's University, students can submit one of three applications online, free of charge.
St. Mary's University Online Application
ApplyTexas
Coalition App
Required materials to complete an application to St. Mary's University:

Application for admission
Official high school transcript(s)
Official SAT or ACT standardized test scores
Application essay

Additional writing samples
Letter(s) of recommendation
School counselor reports
Student resume and activity listing

Application Checklist
Important Dates
The Office of Admission accepts applications on a rolling basis for each term. The application for 2021-2022 academic year will be available July 1.
July 1 – Application available online
Oct. 1 – Free Application for Federal Student Aid (FAFSA) available online
Oct. 15 – Preferred FAFSA submission date for new students
Dec. 15 – Priority application deadline for admission and general merit scholarships
March 1 – FAFSA submission deadline
May 1 – Preferred enrollment deposit deadline
June – Summer Zaragoza (new student orientation) sessions begin
August – Classes begin

Important Dates for Fall Enrollment
How to Apply
We've prepared a step-by-step walkthrough of the St. Mary's University application process.
The online St. Mary's University application is easy to use and provides the quickest way to get your information to the Office of Admission.

Once you submit the St. Mary's University Application, you will have access to our application portal where you can track the progress of your application and receive notifications about important next steps.

St. Mary's University accepts ApplyTexas, the Coalition App and our own application for admission. ApplyTexas and the Coalition App allow you to use an existing application and submit it to St. Mary's University, free of charge.

Students who submit their application to St. Mary's using ApplyTexas or the Coalition App will receive instructions on how to establish their portal account once their application is received by St. Mary's.

1. Pick the right application
You've identified the application that is the best for you and you have all of your personal, demographic and educational information at hand. You're ready to begin.

PRO TIP: Don't forget to have a counselor, parent, guardian or friend review your application for errors and typos before you hit submit.

If you have already started (or submitted) an ApplyTexas application or a MyCoalition application to another institution, simply add St. Mary's University as one of your target schools and hit submit.

Please note that St. Mary's University does not have a preference on which undergraduate application students submit. Students who apply via the ApplyTexas, Coalition App or the online St. Mary's University Application are equally competitive for admission and academic merit scholarships.

2. Complete your application
We need your help to get your official high school transcript. You will need to submit your high school's form to allow them to send an official transcript to St. Mary's University.

Most of the transcripts are submitted to the Office of Admission quickly, but check in with your college counselor or guidance counselor to make sure there are not any delays.

Once your transcript is received by the Office of Admission, you will be able to see that this required document has been submitted in the St. Mary's University application portal.

3. Request Transcripts
To complete your application, we need to take a look at your official SAT or ACT score reports.

PRO TIP: Submit all SAT and/or ACT results; we will use the best sub-scores across all test dates to determine your best superscore.

St. Mary's University School Codes:

ACT Code: 4158
SAT Code: 6637

Please note that St. Mary's University does not superscore across different test types. We will not mix and match the Redesigned SAT with the SAT (CR+M) from the former version of the SAT to generate a new superscore across test types.

4. Submit Official Score Reports
Take a moment and share with us what isn't reflected in your application, transcripts and through your test scores. We want to get to know you.

What drives you? What do you want to accomplish? Who are you? And, who do you want to be?

5. Write an essay
As we review your application for admission, we enjoy hearing from those who know you well. Request a recommendation from a counselor or teach and have them submit it to us at uadm@stmarytx.edu or to the address below.

6. Request a recommendation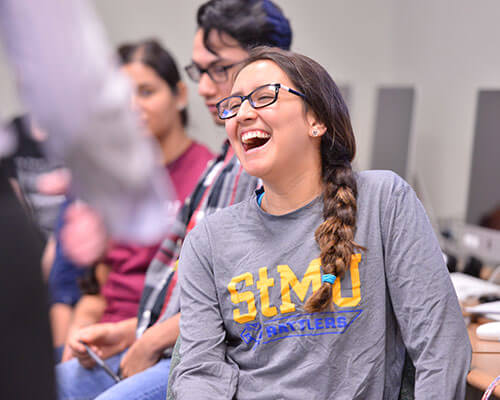 Contact Us
The Office of Admission
Chaminade Tower
One Camino Santa Maria
San Antonio, Texas 78228
210-436-3126
uadm@stmarytx.edu
Office Hours
Monday through Friday
8 a.m. to 5 p.m.